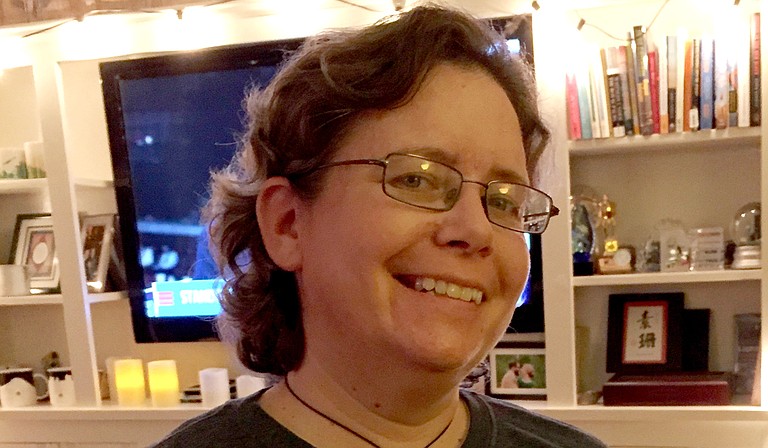 Tuesday, February 6, 2018
For local activist and filmmaker Jenni Smith, the rights of women and members of the LGBT community are close to her heart.
"I'm both," she says, "so the political is always the personal."
Smith, a longtime Mississippi resident, got involved in LGBT activism a few years after graduating from Mississippi College with bachelor's degrees in administration of justice and sociology in 1997, and later began focusing on women's issues, as well.
"I guess just being in those circles, dealing with those issues, that's sort of what is on your mind and in your conversations a lot of times," she says.
She also earned a master's degree in public policy and administration from the University of Massachusetts at Amherst in 2012.
Smith co-founded statewide LGBT organization Unity Mississippi in 2004, the same year that Mississippi legislators passed an amendment to the State Constitution that defined marriage as between one man and one woman.
"It (passed) by 86 percent, which was kind of a shock at it time—not that it passed but that it passed by such a high percentage," she says.
She and a group of friends decided that instead of waiting around for someone else to do something, they had to do it themselves, so they started Unity Mississippi.
In 2016, Mississippi lawmakers passed House Bill 1523, which protects certain "sincerely held religious beliefs" from government discrimination. Many people criticized the bill for its broad wording, which opened the door for discrimination against the LGBT community.
On June 30 of that year, U.S. District Court Judge Carlton Reeves issued a preliminary injunction to block the law from going into effect. However Gov. Phil Bryant appealed the ruling to the U.S. Fifth Circuit Court of Appeals, which ruled in his favor allowing the bill to become law. The U.S. Supreme Court refused to hear appeals on the measure, and as of today, HB 1523 is the law of the land.
Smith says the conversation around that law was similar to the one surrounding the amendment to the Mississippi Constitution, and she and fellow filmmaker Robbie Fisher knew they wanted to be a part of the response.
They decided to create a film and tell a different story than the narrative that state legislators painted, and it is that idea at the center of their new short documentary, "Dear Mr. Bryant."
"Since this law is so rooted, as it's so often described, in religious freedom, and the governor has been quoted as saying that Mississippi wants and needs the protections that this law affords, again, we knew there was a different story out there," Smith says. "We knew that that all of Mississippi didn't think this way, and that (a lot) of Mississippi was aware of the dangers of these types of laws and the problems with them, so we reached out to a couple of people, and the response that we got from faith leaders in Mississippi was just very uplifting."
"Dear Mr. Bryant," which the filmmakers shot entirely on an iPhone, features 17 Mississippi faith leaders from Christian, Jewish and Muslim traditions. Smith says that some people expected getting faith leaders to participate to be a hard task, but it did not turn out that way.
One of the goals of the film was to affirm the love, acceptance and support that already exist in Mississippi, Smith says. The filmmakers also hope that the short will reach state lawmakers, including Gov. Phil Bryant, and prompt them to consider the effect the law will have.
"The ultimate hope would, of course, be for lawmakers to realize the potential harm of the law and the hurt ... (and) damage it causes to the people of Mississippi as well as the state, and have a change of heart or mind and eventually repeal the law," she says.
However, she says that if it touches just one person, it affirms that this is a story that needs to be told.
"Dear Mr. Bryant" will screen Wednesday, Feb. 7, at 7 p.m. and Sunday, Feb. 11, at 3 p.m. as part of the Oxford Film Festival. For more information, visit oxfordfilmfest.com or find the event on Facebook.