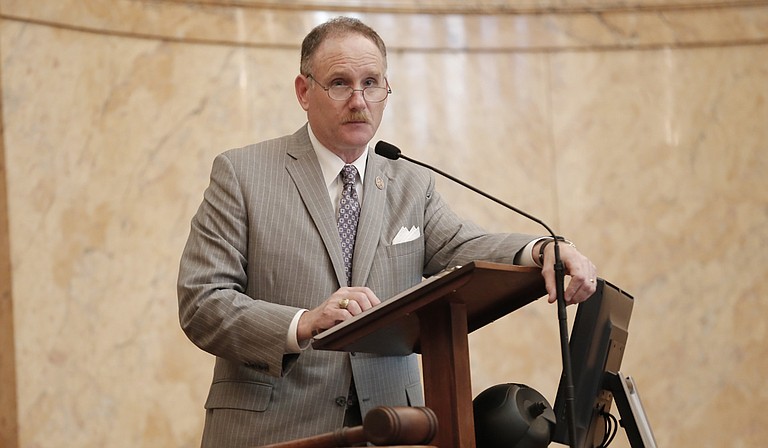 Tuesday, February 6, 2018
JACKSON — An equal pay amendment is included in a bill the Mississippi House of Representatives passed this morning prohibiting cities from raising the state minimum wage. Rep. Mark Baker, R-Brandon, introduced the equal-pay language to replace Rep. Alyce Clarke's, D-Jackson, amendment that would require all employers, public and private, to pay women the same as men for comparable work. Clarke's amendment passed the House with bi-partisan support last week.
Baker said his amendment, which is longer than Clarke's, is better and that he worked with counsel attorneys on the language. "I'm not trying to pull any punches. ... You will have set a state policy on equal pay," Baker said, referring to passage of the bill.
Clarke asked him to assure her that his language did not do any "violence" to the purpose of her initial amendment. Baker did, even committing to fix any provisions he overlooked that might do "violence" to her amendment,.
"We spent considerable time to make sure we did this right," Baker said on the House floor this morning.
The first part of Baker's amendment is almost word-for-word from the federal Equal Pay Act of 1963, which is a part of the federal minimum-wage law.
"No employer having employees subject to any provisions of the Equal Pay Act of 1963, 29 USC Section except as to those exemptions set forth in 29 USC Section 213 206 (d) shall discriminate, within any establishment in which such employees are employed, between employees on the basis of sex by paying wages to employees in such establishment at a rate less than the rate at which he pays wages to employees of the opposite sex," the amendment says.
Baker's amendment allows a Mississippian who believes he or she is discriminated against based on gender in the workplace to file a complaint in Mississippi circuit court. Public employees who bring claims against government entities would be subject to the Mississippi Tort Claims Act if the bill becomes law, however.
House Bill 1241 will prohibit municipalities and counties across the state from establishing a minimum wage or requiring nonpublic employers to provide certain fringe benefits or paid leave time to their employees. Baker said those decisions should be a matter of state policy, not for local governments to decide.
The House passed Baker's new equal-pay amendment and bill by a vote of 106-10 this morning and will move to the Senate for consideration.
Email state reporter Arielle Dreher at [email protected] and follow her on Twitter @arielle_amara.