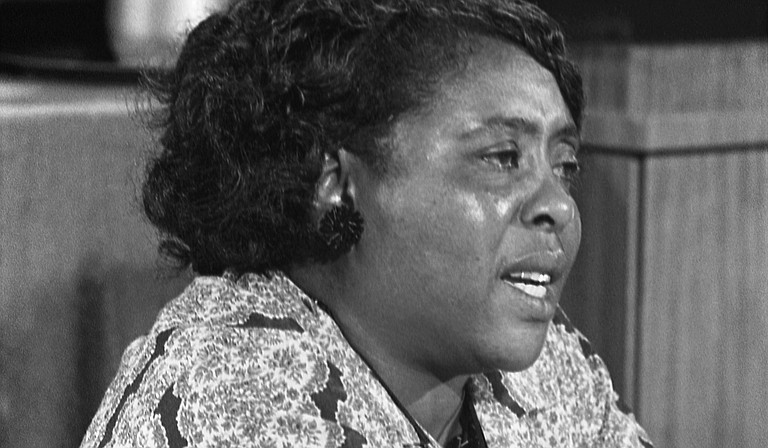 Tougaloo College announced on Jan. 19 that the W.K. Kellogg Foundation presented the school with a $272,000 grant for a new documentary on the life and legacy of Mississippi native and civil-rights icon Fannie Lou Hamer titled "Fannie Lou Hamer's America." The grant will also partially fund a new K-12 civil-rights curriculum called "Find Your Voice."
Civil-rights historian and filmmaker Keith Beauchamp, whose 2005 documentary "The Untold Story of Emmett Till" prompted the U.S. Dept. of Justice to reopen Emmett Till's murder case, is the film's executive producer. Joseph Davenport, who directed a film titled "M.F.D.P." about Hamer's formation of the Mississippi Freedom Democratic Party, is the director and editor of "Fannie Lou Hamer's America." Monica Land, a journalist and Hamer's niece, is the film's producer. "Fannie Lou Hamer's America" will feature personal letters from Hamer, as well as audio and video footage recorded during her 15-year career as a human-rights activist.
The film's producers said in a release that they chose Tougaloo as a fiscal sponsor for its deep history and commitment to social justice. The college served as a safe haven for civil-rights activists such as the Freedom Riders and Hamer herself, who frequently gave lectures at the school and received an honorary degree from the college in 1969. Tougaloo is also home to the Veterans of the Mississippi Civil Rights Movement and hosts an annual conference in their honor.
Fannie Lou Hamer authors and scholars Maegan Parker Brooks and Davis Houck are developing the civil-rights curriculum in Hamer's native Sunflower County. The program will involve teacher-student-related projects with a focus on youth empowerment and community engagement in the Mississippi Delta. The curriculum will also feature an interactive website and a young filmmaker's workshop that will teach local high school students about digital storytelling.
For more information on the documentary, visit fannielouhamerdocumentary.com.
Black History Month at USM
The University of Southern Mississippi will honor the contributions of African Americans to the college for Black History Month beginning today, Feb. 2, with the theme "Black Excellence."
Events will include the unveiling of a Mississippi Freedom Trail marker honoring Clyde Kennard, a civil-rights activist who attempted to enroll at USM, at the Thad Cochran Center on Feb. 5; an African American Student Organization Cultural Legends Ball in the Thad Cochran Center ballrooms on Feb. 7; a Soul Food Luncheon from Fresh Food Company in the Thad Cochran Center on Feb. 20; a "Lunch and Learn" event with USM Dean of Students Eddie Holloway in the Cook Library on Feb. 22; and more.
For more information about Black History Month events at the Southern Miss Hattiesburg campus, email Valencia Walls at [email protected] or call 601-266-5057. For information about Black History Month events at the Gulf Park Campus in Long Beach, visit https://news.usm.edu/article/usm-gulf-park-campus-black-history-month-programming-include-panel-discussions-theatre-and-d.
USM Participating in RecycleMania 2018
The University of Southern Mississippi will participate in RecycleMania 2018, a national recycling competition where colleges and universities compete for the title of top recycler, from Feb. 4 to March 31.
Last year, USM finished in the top 140 among the 320 schools that participated in the competition after the university recycled 78,260 pounds of waste. The 2017 tournament featured schools from 46 states, the District of Columbia and Canada. More than 400 schools are on track to compete this year so far.
USM is calling on students, faculty and staff to help in the competition by recycling all plastic, aluminum, tin, cardboard and paper. The USM Office of Sustainability is also organizing events to promote recycling and provide information on sustainability.
Among the planned events are a competition with Mississippi State University to collect recyclable materials at Pete Taylor Park on Friday, Feb. 16; a "Caught Green-Handed" event in which students will receive coupons for free meals for being seen recycling from Feb. 19 through March 2; a competition among dorms to see who can recycle the most from Feb. 26 through March 2; and a "Recycling Olympics" event on March 30 featuring recycling-themed Olympic-style events with prizes for the winners.
For more information, visit the USM Office of Sustainability website at usm.edu/green.