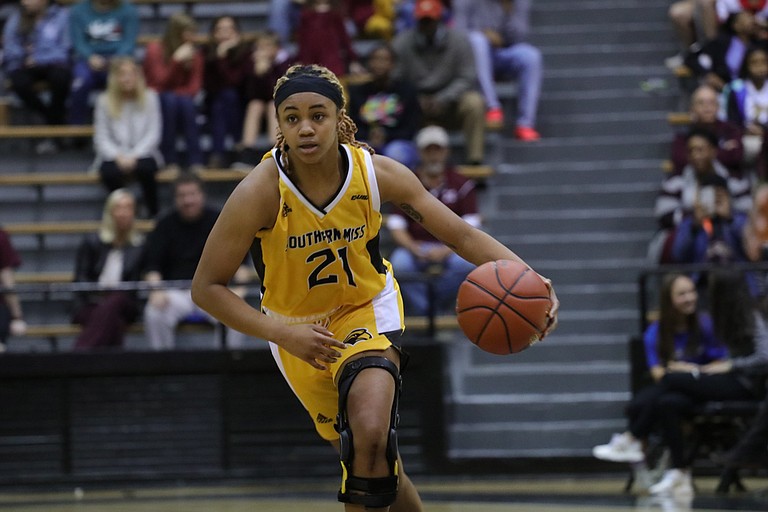 Thursday, December 20, 2018
The University of Southern Mississippi women's basketball team had to turn to youth after junior point guard Shonte Hailes went down with an injury on Dec. 14. Freshman Daishai Almond was left to take the reins of the Golden Eagles' offense during the second quarter against Mississippi State University.
The Athens, Ga., native finished with a game-high 10 points and set career highs in nearly every statistical category. She went four for seven from the field for a 57 percent shooting rate, and added three rebounds and two steals against the Bulldogs after 18 minutes on the court.
Almond's performance was not enough to take down No. 5 Mississippi State, who won 86-42, but it did gain attention from USM fans and sports media.
In the Golden Eagles' previous game against Alcorn State University on Dec. 11, Almond went two for two from the field for four points, adding two steals, a rebound and a career-high with four assists in USM's a 66-47 victory.
She also had her most significant amount of playing time up to that point at 15 minutes, though she ultimately beat that three days later against MSU. Before the Alcorn State game, previous record for playing time was eight minutes in the season opener against William Carey University—equal to her total for the next four games.
Her combined efforts against Mississippi State and Alcorn State earned her Conference USA Freshman of the Week honors for the first time. That also paved the way for her to make her first start at USM during the Dec. 18 matchup with Blue Mountain College.
Almond set several new career highs against the Toppers: in minutes played with 23, rebounds with four and assists with eight. Southern Miss crushed Blue Mountain in a 84-38 win, moving to 7-4 record. So far, USM is 7-2 at home this season but 0-2 in away games.
Before her college career, Almond was a star athlete at Peach Tree High School in several sports, including track, winning her region in the 100 and 200 meters. Her father, Sheldone Almond, was an assistant coach on her basketball team.
She lettered all four years in basketball and finished high school with 1,000 points. She was All-Region, Region Player of the Year and All-State, as well as a two-time MVP in the Middle Georgia All-Star Game. Outside of school, she played on club team Columbus Blazers.
Almond and Southern Miss will hit the floor again tonight, Dec. 20, at 6 p.m. during a road trip to Southeastern Louisiana University. USM will then close out the non-conference slate with a home game against the University of Houston on Dec. 30 with a 2 p.m. tipoff.
Southern Miss will begin Conference USA play at home on Jan. 3 against Rice University with a 6 p.m. start time.