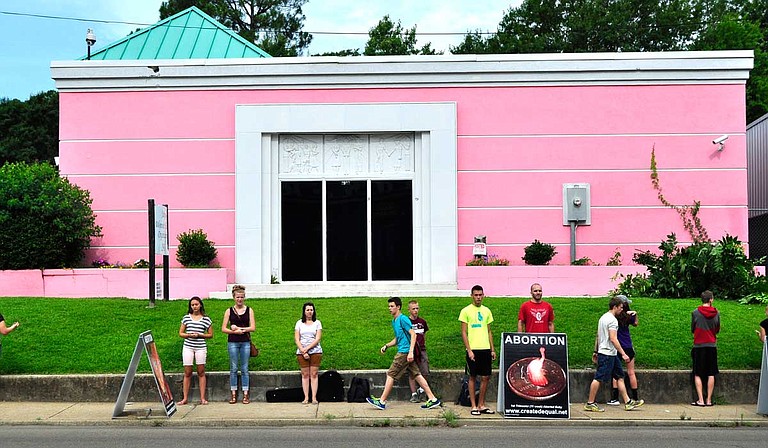 Tuesday, December 18, 2018
JACKSON — Jim Hood, Mississippi's attorney general and a 2019 gubernatorial candidate, filed an appeal on behalf of the state's 15-week abortion ban on Dec. 17, about a month after U.S. District Court Judge Carlton Reeves blocked it in a sharply worded permanent injunction that accused lawmakers of "pure gaslighting" for professing interest in women's health while remaining silent on Medicaid expansion and infant and maternal mortality rates.
House Bill 1510 was only in effect for a matter of hours on March 19 as the nation's toughest abortion ban when lawyers representing the Jackson Women's Health Organization, often called the Pink House, asked for and received a temporary restraining order to protect a woman scheduled to have an abortion the next day. It is Mississippi's only remaining abortion clinic.
Now, with Hood's signature, the lawsuit will press on to the 5th U.S. Circuit Court of Appeals.
Hillary Schneller, a staff attorney with the Center for Reproductive Rights, is one of the lawyers who represents the Pink House. She told the Jackson Free Press that oral arguments could start a year from now after both sides of the case follow briefs.
"I think our case is extremely strong," she said. "This is a bedrock, fundamental part of the right to abortion, the ultimate ability to make the decision to terminate a pregnancy before viability. The law is incredibly clear on that point."
Schneller said she found Reeves' ruling to be not only beautiful, thoughtful and clear on the law, but also reassuring, as his decision continues to block the law as the State of Mississippi builds its appeal. She does not think this particular case will go far enough to challenge U.S. Supreme Court precedent on the right to choose an abortion, as she believes the 15-week ban is not only unconstitutional, but cruel.
Hood's office declined to comment on ongoing litigation.
Many have framed this case, and others like it, as ultimately trying to overturn the 1973 Supreme Court decision in Roe v. Wade and subsequent Planned Parenthood v. Casey ruling that viability begins at 23 or 24 weeks. But Schneller points out that the Supreme Court does not have to overturn anything, including Roe, to undermine abortion access.
The 15-week ban effort really just came down to a matter of seven days—the Pink House does not perform abortions beyond 16 weeks after a woman's last menstrual period, and as the only facility in the state, women can face various hurdles to getting the procedure.
Schneller and the other lawyers representing the Pink House are currently fighting barriers to abortion in Phase II of this same lawsuit that is still pending in Reeves' court and is separate from the appeal.
"Phase II really deals with even if Roe v. Wade is upheld, Mississippi has passed a number of laws and regulations over the number of years for women, particularly poor women to obtain an abortion," attorney Rob McDuff said. He is working with the Mississippi Center for Justice as co-counsel representing the Pink House.
Phase II challenges other grievances with abortion regulation in the state, including pricey annual licensure fees, the 24-hour waiting period between consultation and procedure, and the narrow scope of only allowing medically licensed physicians to perform abortions.
McDuff also takes issue with the law's ban on doctors using telemedicine for the state-mandated abortion consultation, despite its use in other fields.
"This is another way in which the Legislature is putting obstacles in front of physicians specifically for abortions and not for any comparable medical procedure," McDuff said. "And although they're saying they're doing that to protect the health of the woman, it's clear the reason they're doing that is to limit women's choices in matters of childbirth."
Email reporter Ko Bragg at [email protected]. Read more at jacksonfreepress.com/abortion.