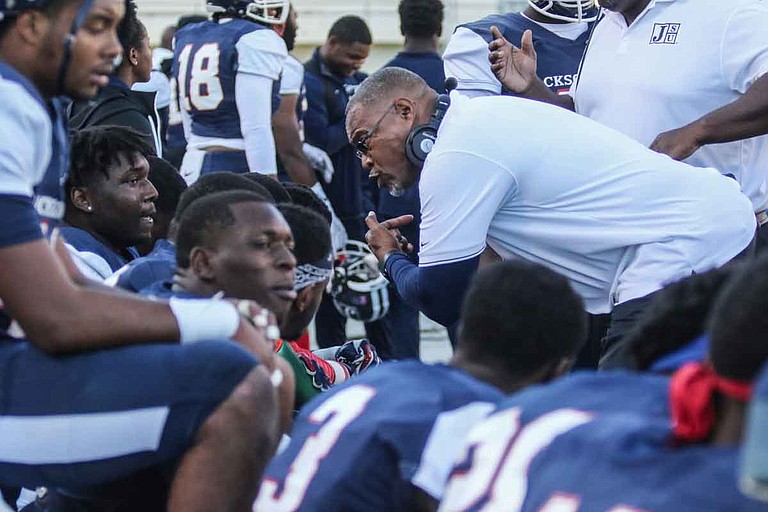 Thursday, December 13, 2018
Jackson State University did not have to look far to find its 20th head football coach. The team took the interim tag off John Hendrick in November and will keep him in the job he took over after JSU dismissed Tony Hughes.
Hughes did not last three full season as head coach, ousted just seven games into this past year with the Tigers at a 3-4 record. Hendrick moved from defensive coordinator to head coach and led JSU to a strong finish.
Jackson State went 2-1 in the final three games of the season, with sound victories over Prairie View A&M University and Alabama State University. JSU then entered its annual showdown with Alcorn State University with a chance to win the Southwestern Athletic Conference East.
After a 3-3 tie at halftime, Alcorn used a strong second half to put the Tigers away 24-3; however, Hendrick's showing at the helm ended up being enough for JSU to move him into the head coaching role permanently.
In his three years as defensive coordinator, Hendrick's unit was ranked in the top five of the SWAC in scoring defense. This season, it finished fourth in scoring defense and second in defense overall.
Hendrick, who once played college football at the University of Pittsburgh, began his coaching career at Delaware State University as an outside-linebacker coach in 1983. He returned to Pittsburgh to coach the offensive line for the 1984 and 1985 seasons. In 1986, he took on the same position at Southern University.
His next stop was Texas A&M University, where he was the offensive-line coach from 1987 and 1988. He then moved to work at Louisiana State University for the 1989 and 1990 seasons as offensive-tackle and tight-end coach.
Hendrick became the defensive-line coach at Kansas State University in 1991 and 1992, and then accepted a job at Temple University as defensive-line and associate head coach for the 1993 and 1994 seasons. In his first stop in Mississippi, he joined the staff at Mississippi State University from 1995 to 2002 as defensive-line and special-teams coach.
His first head coach job came in 2003 at Benedict College. When the school let him go in 2006, Hendrick finished his time with an 18-25 record. After that year, he went to work as the defensive coordinator for South Carolina State University in 2007.
He went to the University of South Florida from 2008 to 2010 to serve as defensive-line and special-teams coach before accepting was the same role at Tulane University in 2011.
Hendrick got his first taste of SWAC football in 2012 and 2013 when he became defensive-end and special-teams coach at Alabama State. He then went to the University of Arkansas at Pine Bluff for the 2014 season to coach special teams.
He returned to Alabama State in 2015 season, resuming his role as special-teams and defensive-end coach before finally landing his job as defensive coordinator at Jackson State.
Hendrick's first task as JSU's new head coach will be finding an offensive coordinator for next season. Hal Mumme started out in that position before resigning three games into the last year. Derrick McCall took over the role at the time, but he is no longer on the staff.
While Hendrick's defense has been a highlight, offensive woes have plagued JSU over the last few seasons.