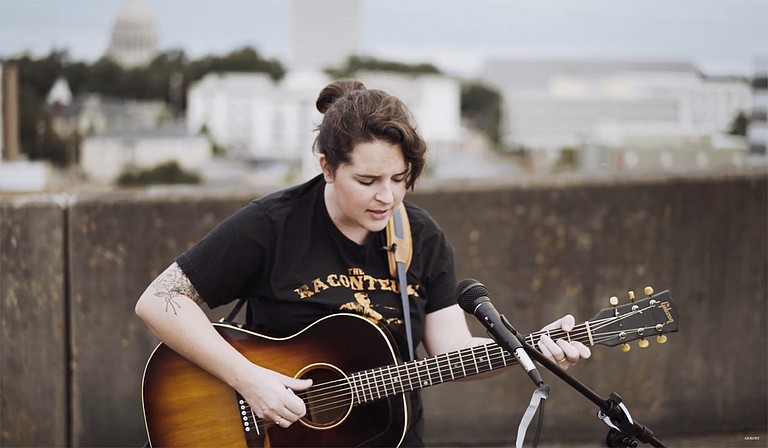 Wednesday, December 12, 2018
Layoffs ended up paving the way for Clinton resident Kody Gautier to combine his love of music with his skills as a videographer.
Gautier had been working in sales and customer service for an industrial supply company for a few years until the company let go several of its employees in July 2018. Rather than look at the layoff as a negative, he decided to use the moment to make a 
career change.
"For the past four years, I had been working a job that I wasn't super stoked about, so when I lost that job, I forced myself to only apply for jobs that I would want to do or be interested in," he says. "I actually ended up getting a really cool job doing videography and visual graphics full-time for Creative Distillery in Fondren. I've been there since July, and it's been amazing."
The new position allowed him to get better video equipment, which he also used for his side business as a wedding videographer. Then, in August, Gautier's friend and fellow musician Ben Ford asked him to shoot a video for his single, "Next to Me." Ford suggested an abandoned building in Jackson that once served as the Hinds County National Guard Armory.
"It looked really good, and there was a lot of really great natural reverb in there, and I said to myself, 'It'd be really cool to do this for other people,'" Gautier says. "It just kind of built on top of that. I said, 'Well, I guess I better brand it and make it a thing.'"
That was the start of his ongoing video project, Armory Sessions. Gautier had long been a fan of series such as NPR's Tiny Desk Concerts and Mahogany Sessions, which feature artists performing their music live and often in acoustic settings, and he wanted to try his hand at launching one in Mississippi.
After two or three sessions, Jackson videographer Tommy Kirkpatrick joined as Gautier's partner, helping to grow Armory Sessions into a larger entity.
"He jumped onboard with this, and I guess it's become a little more official," Gautier says. "We have a bigger production, and now, we have multiple camera angles and lighting and pro audio, all that kind of stuff, which I didn't really intend on having. It's kind of turned into a really cool thing. It looks good, it sounds good, and I'm really excited about it."
Thus far, he and Kirkpatrick have filmed about 13 videos in various locations around Jackson, and release a new video most Fridays.
Past guests have included Mississippi-based artists such as Anse Rigby, Spencer Thomas, Codetta South and Rudy Bazin, as well as touring acts Jordy Searcy, McKenzie Lockhart, Carver Commodore and Rock Eupora. Gautier says that they also hope to bring in bigger-name acts for future installments.
"We've reached out to a bunch of artists who have passed through Jackson on tour, and we haven't gotten any yes's yet. We've gotten a bunch of no's," 
Gautier says with a laugh.
"Usually, it's because we're speaking to management teams, and they give us quick no's. So we want to pursue larger artists who come through Jackson, and hopefully one day go to them or go on location to maybe park out at a festival or something."
For the moment, Gautier says that 
Armory Sessions is still a low-budget, do-it-yourself-style project that he and 
Kirkpatrick do because they love music. However, they hope to grow the series into a long-term outlet, which means leaning into things like monetization. That also means growing their fan base first.
"I think the biggest ways to get to that level is building our YouTube and Facebook followings in order to monetize. That's just the natural course of things," Gautier says. 
 "Even if I somehow won the lottery and poured a bunch of money into it, it doesn't necessarily mean it's going to be successful. You have to build that audience. I just think organic growth is going to be what it takes for me to get to doing that full time."
Until then, he says, "We're just a couple friends trying to make something cool."