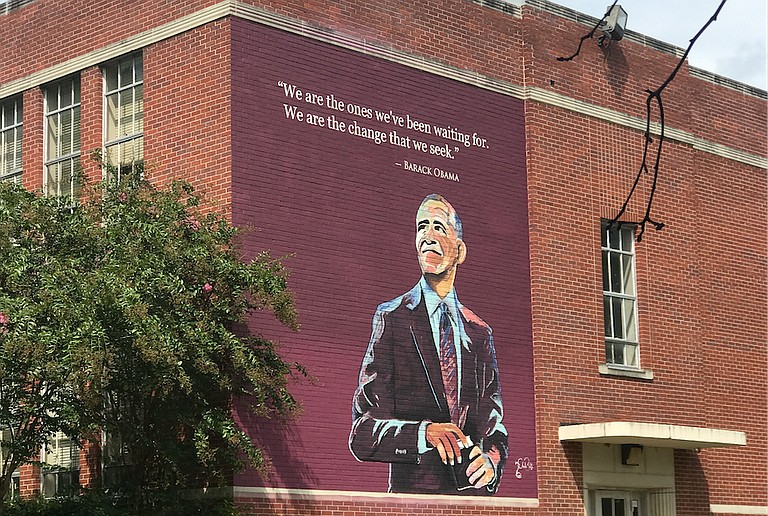 Jackson State University alumni Charles and Talamieka Brice unveiled a mural depicting former President Barack Obama, which the husband-and-wife design team painted along the south wall of Barack Obama Magnet IB Elementary School in Jackson, on Friday, Aug. 17.
The school was previously called Davis Magnet IB Elementary School, named after Confederate president Jefferson Davis. Students, parents, teachers and community members voted to change the name in October 2017.
The Greater Jackson Arts Council selected the Brices to create the mural in July 2018. The couple owns Brice Media, a local marketing and advertising company with a focus on photography, graphic design and web design.
Charles and Talamieka Brice met at JSU and have been married for 12 years. They have a 4-year-old son named Honor Kal-El and a 14-month-old daughter named Love Elohim.
MSU Implements Metal Detector Policy at Davis Wade Stadium
Mississippi State University recently installed new walk-through metal detectors at all gates to Davis Wade Stadium on campus. The additions are part of a new security screening procedure that will go into effect for all football game days starting with the season opener against Stephen F. Austin State University on Saturday, Sept. 1.
A release from MSU states that metal detectors are currently mandatory at all NFL and MLB stadiums, and will also be required at all SEC football stadiums by fall 2020. MSU has already had metal detectors in place at Humphrey Coliseum for the last two basketball seasons.
As part of the new security screening policy, visitors to Davis Wade Stadium must place large metal objects such as phones, keys, cameras and cowbells into containers or in a clear bag before passing through the metal detectors.
Fans will not have to remove coats, belts, watches, jewelry, shoes, caps, wallets or other small objects. MSU is also encouraging visitors to arrive at the stadium gates 30 minutes earlier than normal.
For more information on the metal detector policy, visit hailstate.com/metaldetector. For information on the SEC clear bag policy, visit hailstate.com/clearbag. Other MSU game day information and policies are available at hailstate.com/gameday.
USM Hosting Faculty Art and Design Show
The University of Southern Mississippi will host an opening reception for its faculty art and design show on Thursday, Sept. 6, at 6 p.m. in the George Hurst Building on its Hattiesburg campus. The month-long exhibition is free and open to the public, and will feature drawings, paintings, sculptures, ceramics and other artwork from faculty in USM's art and design department.
Participating USM professors include Allen Chen, Jacob Cotton, DeAnna Douglas, Janet Gorzegno, John Mark Lawler, James Meade, Marcus Michels, Carolyn Norton, Michael Richardson, Mark Rigsby, Traci Stover, Jennifer Torres, David Wilkinson and Kevin Vanek.
The faculty art and design show will remain on display through Sept. 21. For more information, call the USM art and design program at 601-266-5200 or visit https://www.usm.edu/visual-arts.