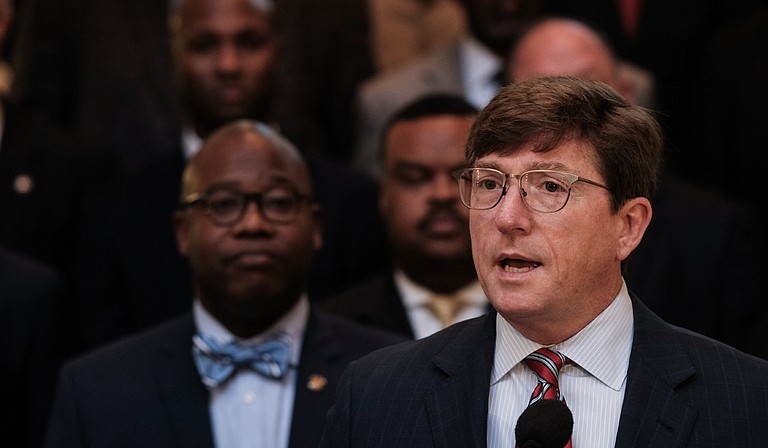 JACKSON — Update: The Mississippi State House passed a bill create a state lottery in a 58-54 vote. The House reconsidered the bill after rejecting it Monday night.
Mississippi Gov. Phil Bryant cast blame on Democrats in the Mississippi House of Representatives on Monday night, Aug. 27, as his bill to create a state lottery appeared on the brink of death after lawmakers, including Republican Speaker Philip Gunn, rejected the proposal in a 60-54 vote.
"House Democrats voted to continue losing more than $80 million to Ark., Louisiana and Tenn., $10 million-$20 million of which could have gone to education," Bryant tweeted. "With federal matching funds included, that could be a $160 million loss. Hope they can explain that to their communities."
The majority of "no" votes, however, came from Bryant's own Republican Party, which holds a three-fifths supermajority in the House. Of those votes, House Republicans cast 34, including Gunn, R-Clinton, who had stood behind Bryant as he announced the bill at the start of a special legislative session on Thursday, Aug. 23, and allowed the vote to proceed, despite being a longtime opponent of a lottery for what he called "economic reasons."
Leaders of the Senate and House negotiated the bill, which failed Monday night in conference, after both houses passed separate versions last week.
On Monday, 17 House members who voted for the bill on Friday flipped to "no," including 16 Democrats and Republican Doug McLeod of Lucedale.
"It should be noted that the reason why we changed is because all the education amendments were stripped from the House version of the bill," tweeted House Minority Leader Rep. David Baria, D-Bay St. Louis.
Earlier, Baria, who is challenging incumbent Republican U.S. Sen. Roger Wicker for his seat in the Nov. 6 national midterms, secured an amendment that would divert $12 million in revenue the lottery generates to a school supplies fund. His campaign capitalized on the success of the amendment. He released a statement saying it "further highlights the experience and leadership he will bring to Washington D.C."—but legislators stripped the amendment away in conference.
In a separate press release, Baria said he and other Democrats favored the creation of a state lottery—under one condition.
"Democratic House members, including myself, have long supported the establishment of a lottery that supports education in Mississippi," Baria said. "And polling shows a large majority of Mississippians also support a lottery—but only if it benefits education."

In the past, Republican lawmakers who support the current bill opposed a state lottery—including Bryant, who in 2016 called the idea of a lottery a "silly notion."
During debate, lawmakers from both parties expressed discomfort with the bill. Some pointed to its required listing of a toll-free number on lottery tickets for gambling addiction services, asking if that was a tacit admission that a lottery would create new problems in the state. Others criticized the speedy, secret process by which the bill—written by the governor's office—was crafted, while others cited religious convictions.
For many lawmakers, the lottery's corporate structure remained a point of confusion and suspicion. The bill creates a five-person board, which the governor appoints, to oversee a private corporation that would administer the lottery. An earlier version of the bill shielded the board and the corporation from public-records laws, but the House removed that language from the version it passed Friday to ensure transparency.
The lottery bill sends most of the revenue generated to a fund for repairing the state's crumbling roads and bridges. Bryant estimated it would generate $40 million in its first year and $80 million each year after. Though it failed in the House, the Senate passed the conference report 31-17.
However, the bill may yet live if the House revives it as the legislative session enters its fourth day on Tuesday, Aug. 28.
The Mississippi Modernization Act
Even as the lottery bill descended into peril, Bryant scored a major win Monday when the House sent the Mississippi Infrastructure Modernization Act to his desk in a 109-4 vote, ending a three-year stalemate on infrastructure funding.
With state legislative races a little more than a year away, Bryant called the special session to address an infrastructure crisis he highlighted earlier this year when he ordered more than 100 of the state's bridges closed.
The bill funds road and bridge repair by diverting 35 percent of revenue from the state's Internet sales tax to counties and cities. All revenue thatfrom casino sports betting, which Mississippi legalized in June, will generates go to infrastructure.
In a tweet, House Speaker Philip Gunn hailed that bill's passage as "historic." The state, he wrote, "will now have a continuous stream of revenue to help cities, counties, and local bridges."
The bill also adds a new tax on hybrid and electric cars, with owners of hybrid cars paying $75 a year and owners of electric cars paying $150 a year. State Sen. Dean Kirby, R-Pearl, first proposed the tax last year to make up, he said, for a loss in gas-tax revenue from residents making more eco-friendly driving choices.
If Bryant signs the infrastructure funding bill as expected, it will generate about $120 million a year for roads and bridges. If the lottery bill stages a comeback and passes, the total for annual infrastructure funding that the special session secures could grow to $200 million.
Democrats like Baria blame the state's struggle to pay for roads and bridges on a series of tax cuts the Republican legislature and governor signed and passed in recent years, including one in 2016 that shaved off $400 million in annual revenues.
Ashton Pittman covers politics and elections for the Jackson Free Press. Follow him on Twitter @ashtonpittman. Email him story tips to [email protected].
CORRECTION: The original version of this story had the part of the state David Baria represents as Pascagoula. It's actually Bay St. Louis. The Jackson Free Press apologizes for this error.