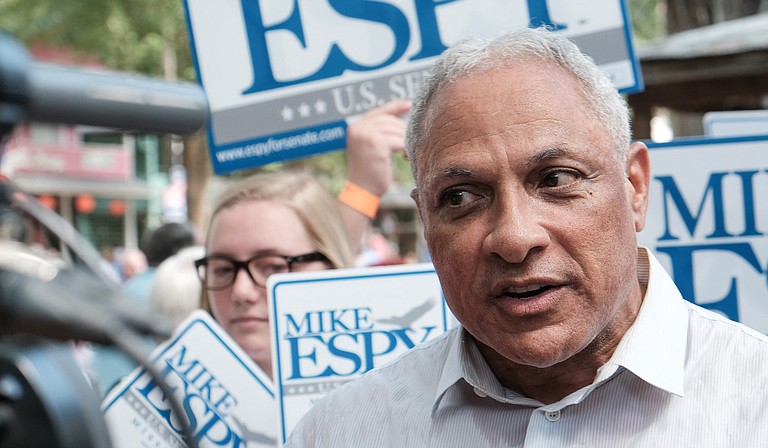 JACKSON — Democratic U.S. Senate candidate Mike Espy announced what he called "the most modern headquarters that I think any Democrat has had in Mississippi's history" at a ceremony for the opening of his new Jackson campaign office Saturday, Aug. 25.
Leaders from across the state joined Espy at the new headquarters, along with a crowd of about 200 supporters as the campaign estimated. Espy is running in the special election for the U.S. Senate seat Sen. Cindy Hyde-Smith now holds. Gov. Phil Bryant appointed her after former Sen. Thad Cochran retired in March.
The headquarters includes several rooms that serve as dedicated call centers with enough seats for dozens of volunteers to phonebank. Earlier this month, Espy told the Jackson Free Press that, unlike the shoestring budgets Democratic Senate candidates have run in recent cycles, he's running a "national campaign" and intends to win. As if to make the point, Espy hired as his media strategist Joe Trippi, who successfully worked to elect Democrat Doug Jones in a U.S. Senate special election in Mississippi's Deep South sister state, Alabama, last year.
'We're Gonna Beat Alabama'
One of Espy's guests, LaTosha Brown, served an instrumental role in that victory. In Alabama's special election for U.S. Senate last year, Brown led the Alabama Grassroots Mobilization Project, which put "boots on the ground" in 18 counties, helped pay for around 400 organizers, and provided voter transportation services. For the first time since 1986, Alabama sent a Democrat to the U.S. Senate.
"We're tired of Mississippi being last," Brown, who is also the co-founder of the Black Votes Matter Fund, said. "Are you tired of Mississippi being last? I think it's your time. I think it's your time to be first."
Brown praised "the beautiful people of the Delta region" and "the untapped potential in this state," adding, "The last can be first."
She urged Mississippi Democrats to outdo their Alabama counterparts. "We're gonna turn out in record numbers," Brown said. "We're gonna beat Alabama. You think they overperformed? We're gonna shut it down."
As she introduced Espy, Brown led the crowd in chants of, "We like Mike."
"You like Mike, and Mike likes you," Espy said as he took the podium, where he offered praise for Brown.
"Yes, Doug Jones is in the Senate," Espy said. "But I know, because I studied that race, if it were not for LaTosha Brown, Doug Jones would not be in the Senate today."
The Espy campaign's voter-turnout models estimate that, if black voter turnout for Mississippi's special election equals turnout in Alabama's last year, black voters would make up 39 percent of the electorate, and Espy would need the support of just 22 percent of the state's white voters. Analysts attribute Jones' 2017 victory in Alabama to a surge in turnout among black voters. However, the Espy campaign assumes black voters turnout will be closer to 2016 numbers, 33 percent, and believes an issues-oriented campaign is key.
'They Do Not Want Handouts'
Espy, who served as U.S. Secretary of Agriculture under Bill Clinton from 1993 to 1994, opposes President Trump's tariffs on China. He says the tariffs are hurting Mississippi's farmers because China retaliated by imposing tariffs on agricultural goods in the U.S. like soybeans.
"They do not want tariffs, and they do not want handouts," Espy said of the state's farmers, who he said oppose Trump's plan to subsidize their losses through an aid package that runs in the billions. "They want open markets. They want fair trade."
Espy said he has listened to more than just farmers' issues.
"Veterans I've talked to just want to make sure the nation they've fought for will give back to them the benefits they've earned," Espy said.
Students, he said, "have told me about the brain drain" and how they want "good, high paying jobs" so that "when they graduate, they don't necessarily have to leave Mississippi."
On healthcare, Mississippians "want to make sure their pre-existing conditions are covered," Espy said. He criticized the state's Republican leadership for refusing to expand Medicaid through the Affordable Care Act and blamed that decision for the closure of rural hospitals across the state.
No Rubber Stamps
Without mentioning his opponent by name, Espy criticized the incumbent, Hyde-Smith, for focusing her campaign not on issues, but on assuring voters that she "backs President Trump's agenda 100 percent."
"They want a senator who is independent—truly independent in thought, deed, and voting behavior," Espy said of voters. "They do not want someone who is a rubber stamp. They do not want someone who votes with someone 100 percent of the time. They do not want someone who votes with a party or a president 100 percent of the time."
At the podium, former Mississippi State Sen. Gloria Williamson offered a more blunt critique of Hyde-Smith.
"Now, I'm not going to say anything ugly about his opponent," Williamson said, noting she had served in the Legislature with Hyde-Smith. "But I will say this: Just because someone is a woman does not mean they take up for women. I have been a victim of that myself."
Mississippians, Williamson said, "need someone who is willing to ask for equal pay" and "to vote for equal pay."
"Now, I know she's been endorsed by the president," Williamson said. "Something tells me that he ain't gonna ask for equal pay for women. I believe that she will follow him wherever he will go."
Women, Williamson said, should look to Espy.
State Rep. Jeramey Anderson is a millennial who is running for Congress against incumbent Republican Steven Palazzo in the Fourth District. He also joined Espy for the opening of his headquarters. He called on his fellow millennials to do their part.
"We've got to get our peers out to the polls," Anderson said. "We talk a good game, we rally behind good issues, but we fail to act when most needed, and that's at the polls. So all millennials and college students, if you hear my voice, I need you to go to your college campus. I need you to make sure folks understand what's at stake. I need you to make sure you're getting your students and fellow peers absentee ballots."
Lumumba: 'Ready to Make History'
Jackson Mayor Chokwe Antar Lumumba praised Espy's ability to move Mississippi forward.
"As we've seen a country that has experienced great booms, or even when it has been in a recession, Mississippi has stayed the same because it has always been at the bottom," Lumumba said. "And so we need that leadership to go to Washington to change that dynamic. No matter whether you consider yourself Democrat or Republican, we need a Mississippi that is represented better."
Espy, Lumumba said, "has not only made history in the past, but is prepared to make history right now."
In 1986, Espy became the first black man Mississippi voters had elected to Congress. If elected to the U.S. Senate, Espy would become the first black U.S. senator to represent the state in Washington, D.C., since Blanche K. Bruce, whom the Mississippi Legislature elected during the Reconstruction era in 1874 and who served until 1881.
During his speech, Espy also referenced his history of making history.
"I talked about a rumbling," Espy said, referring to his first campaign. "A rumbling is a sound in the distance. A rumbling is something maybe to be feared. I said I heard a rumbling, and it got stronger and stronger. And on Election Day, it manifested in history. And guess what? That rumbling is back."
Espy faces off against Hyde-Smith and Republican State Sen. Chris McDaniel in the special election on Nov. 6, 2018, the same day as the national midterms. Polls in Mississippi are open from 7 a.m. until 7 p.m.
CORRECTION: This story has been updated correct a typo in Jackson Mayor Chokwe Antar Lumumba's name. We regret the error.
Ashton Pittman covers politics and elections for the Jackson Free Press. Follow him on Twitter @ashtonpittman. Email him story tips to [email protected]. Read more election coverage at jfp.ms/2018elections.