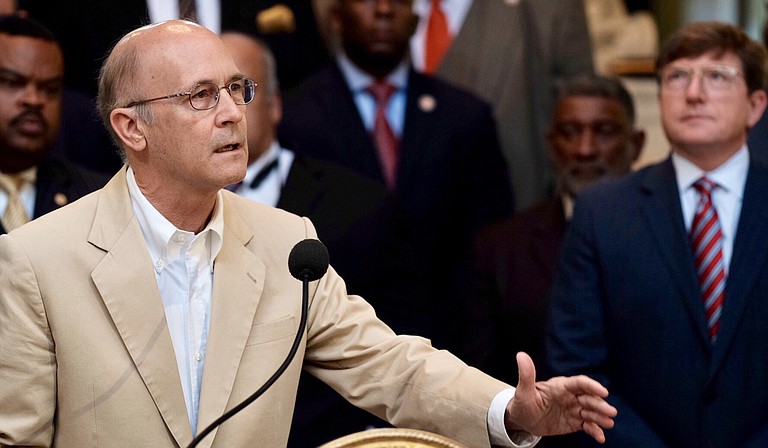 Thursday, August 23, 2018
JACKSON — Amid accusations from Democrats of a "secret" process, Mississippi Gov. Phil Bryant announced on Thursday, Aug. 23, what he called a "historic piece of legislation" that would generate around $200 million per year in revenue for infrastructure. He wants to create a lottery, and use revenue generated by sports betting and the Internet sales tax to pay for roads, bridges and other infrastructure needs.
Mississippi lawmakers have debated whether or not to establish a state lottery for decades, but Bryant called it a necessary move to fix Mississippi's crumbling roads and bridges.
"A state lottery's not my favorite source of revenue, but decisions have to be made," Bryant told a crowd gathered at the Mississippi Capitol rotunda. "You have to weigh what you would like and what needs to be done."
Bryant said that establishing a lottery would keep around $15 million in the state that residents otherwise spend on Louisiana's lottery every year. The state "will probably have to go back in and adjust their revenue numbers," Bryant said. "I hope they do."
In an earlier press conference, Democratic House Minority Leader David Baria said the funding package would not be enough to address the state's infrastructure woes.
"All of those things together would be about $200 million," said Baria, who is the Democratic nominee challenging U.S. Sen. Roger Wicker in November. "We have a $400-million problem."
If the proposal for a lottery doesn't pass, Baria said, that number would shrink to $120 million. He said the lottery was no guarantee; a prior attempt at establishing a lottery with revenues dedicated to education failed.
Democrats said Mississippi's struggles to fund infrastructure wouldn't exist if not for Republican tax cuts.
In 2016, the Republican-dominated Legislature passed the largest tax cut in the state's history, phasing out the $260-million-a-year corporate franchise tax and cutting $145 million in income taxes.
"As a result of this obsession—supported by the Municipal Economic Council for Outlandish Tax Cuts we can't afford—we are now in this situation again where we don't have enough money to operate the government, let alone deal with the desperate need for infrastructure," Democratic Sen. Hob Bryan of Amory said.
Democratic lawmakers accused Republicans of a secretive process, saying they did not see the legislation until sometime after 5 p.m. on Wednesday, Aug. 22.
"It's not right to do this in secret," Bryan said. "It's not right to do this in a hurry. They don't know what they're doing."
Bryant pushed back against those criticisms in his press conference, saying the legislation has been in the works since April and that Democrats had been given an "open door" to discuss the legislation with him as it was being drafted.
If passed, the lottery bill would establish a "Mississippi Lottery Corporation"; the governor would appoint a board of directors to administer it. Members of the corporation would not be considered employees of the State of Mississippi. The corporate structure, the bill says, would allow it "to be managed in an entrepreneurial and business-like manner."
Ashton Pittman covers politics and elections for the Jackson Free Press. Follow him on Twitter @ashtonpittman. Email him story tips to [email protected].