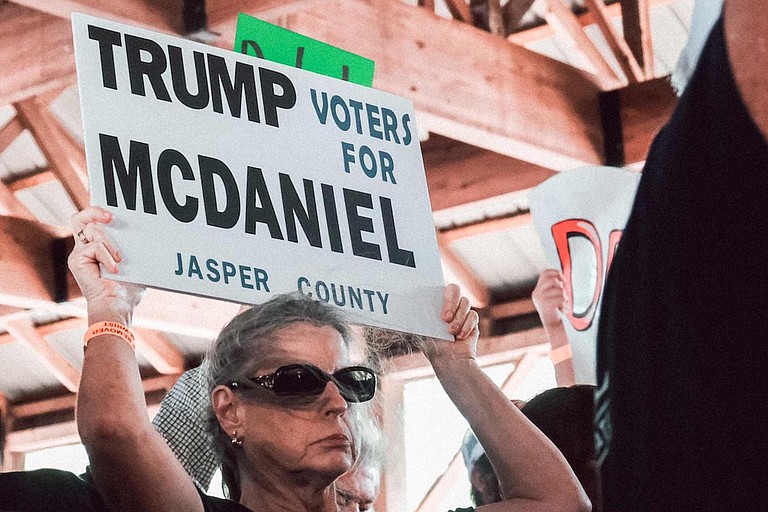 Thursday, August 23, 2018
JACKSON — Republican Mississippi State Sen. Chris McDaniel raged at his own party on Thursday after President Donald Trump endorsed his opponent, incumbent Republican U.S. Sen. Cindy Hyde-Smith, in the special election for her U.S. Senate seat.
"@cindyhydesmith has helped me put America First," Trump wrote in a tweet Thursday afternoon. "She's strong on the Wall, is helping me create Jobs, loves our Vets and fights for our conservative judges."
Hyde-Smith, whom Mississippi Gov. Phil Bryant appointed to the seat in April after longtime U.S. Sen. Thad Cochran retired, will face off in November against McDaniel and former U.S. Secretary of Agriculture Mike Espy, the only Democrat in the race. Because of the nature of this special election, there will be no party primaries; all candidates will compete in a single jungle-style primary.
Over the course of the campaign, Hyde-Smith and McDaniel have both sought Trump's endorsement, with each spending significant time on the campaign trail singing the president's praises and promising to fight for his agenda.
"Cindy has voted for our Agenda in the Senate 100% of the time and has my complete and total Endorsement," Trump wrote in his endorsement. "We need Cindy to win in Mississippi!"
In a press release, Hyde-Smith said she was "honored" to receive Trump's endorsement.
"I have voted consistently for his agenda because I believe he is taking the right steps to make this country great again—lowering taxes, securing the border and nominating true conservatives to the Supreme Court," Hyde-Smith said. "I thank him for his support, and I look forward to continuing to work with him on these and other issues."
McDaniel Blames 'Establishment'
Shortly after the endorsement, McDaniel began an hours-long social-media blitz, promising in a Facebook post to be the "toughest fighter for President Trump's America First agenda" and suggesting the Republican Party establishment coerced Trump into the endorsement.
"So the establishment GOP has pressured Trump into endorsing a lifelong Democrat. I understand. And I still support him," wrote McDaniel, who was at the Capitol in Jackson at the time for a special session of the Legislature to address infrastructure and the creation of a state lottery.
In a press release, Tommy Barnett, who is the the director of McDaniel's super PAC, Remember Mississippi, criticized the decision.
"Trump voters in Mississippi surely felt disappointment today as they watched the president endorse a lobbyist, Hillary Clinton supporter, and promoter of big government healthcare, over a lifelong conservative who will fight for the President's agenda," Barnett said, adding that McDaniel "will not be a puppet under Mitch McConnell's control."
McDaniel said he blames U.S. Senate Majority Leader Mitch McConnell—not Trump—for the president's decision to endorse Hyde-Smith.
"We all know how the establishment operates when it comes these endorsements," McDaniel wrote. "I'm sure Mitch McConnell lobbied the President extremely hard to support his hand picked Senator, a lifelong Democrat who supported Hillary Clinton."
For more than a month, the state senator from Ellisville has claimed that Hyde-Smith, who was a Democrat until she switched parties in 2010, secretly supported former Secretary of State Hillary Clinton in at least one of Clinton's presidential bids. Speaking to the Jackson Free Press in early August, Hyde-Smith pulled her daughter, Anna-Michael Smith, 19, in for a hug and said she "would swear on my daughter's life, I never voted for Hillary Clinton."
Hours after that post, McDaniel retweeted Trump's tweet from 2014, in which he endorsed McDaniel's failed attempt to overthrow Cochran in that year's Republican primary.
"I'm proud to say I'm the same conservative today," McDaniel wrote above the old tweet in which Trump called McDaniel "a Constitutional Conservative who'll make a difference in Washington."
Minutes later, McDaniel took to Facebook again.
"So President Trump has now endorsed John McCain, Paul Ryan, Mitt Romney, and Cindy Hyde-Smith," McDaniel wrote. "No worries. He still needs our support. We are here to help him drain the swamp."
In the comment sections of McDaniel's Facebook posts, some McDaniel supporters pushed back against the Mississippi senator's characterization of Trump.
"Do you really think President Trump is a pushover?" wrote Homer Williams, whose Facebook page lists Gulfport as his residence. "He ain't pressured by anyone."
"Of course not," McDaniel wrote back. "He's a strong guy. But the swamp is strong, too. How else do you explain him endorsing Mitt Romney?"
Other McDaniel supporters vented their frustration at Trump.
"I'm so disappointed in Trump," wrote Tommy Raines of New Albany. "He just lost my support. If they try to impeach him, it's gonna serve him right when Cindy votes yes. I've never been more broken hearted."
Three people liked Raines' comment. McDaniel was one of them.
In response to another supporter's comment, McDaniel said he had been "attempting" to get in contact with Trump. "Half of his staff is the swamp," McDaniel wrote. "He's getting bad information."
Espy Hits Trump on Trade
In contrast to Hyde-Smith and McDaniel, Espy has been willing to criticize Trump and his policies directly. In a press release Wednesday, Espy wrote that Trump's tariffs on Chinese goods and the ensuing trade war between the two nations "is leading to a negative impact on economic growth and job creation" and hurting "Mississippi families that end up paying higher prices on everything from groceries to trucks."
While McDaniel has avoided overt criticisms of Trump throughout his U.S. Senate campaign, he criticized him repeatedly in Facebook comments during the 2016 Republican Party primary, calling Trump a "liberal" for his positions on tariffs and accusing him of supporting "unconstitutional" bailouts.
An Aug. 13 internal poll by the Espy campaign found him leading both Hyde-Smith and McDaniel in potential two-candidate runoffs. In those scenarios, Espy led Hyde-Smith 41-38 and McDaniel 45-27.
Hyde-Smith is the first woman from Mississippi to become a U.S. senator. Previously, she served as co-chair for the Agriculture Policy Advisory Council under Trump.
All three candidates will face off in Mississippi's special election for U.S. Senate on Nov. 6, 2018—the same day as the national midterm elections. If no candidate wins more than 50 percent of the vote, a runoff will follow. Polls are open from 7 a.m. to 7 p.m. in Mississippi.
Ashton Pittman covers politics and elections for the Jackson Free Press. Follow him on Twitter @ashtonpittman. Email him story tips to [email protected]. Read more election coverage at jfp.ms/2018elections