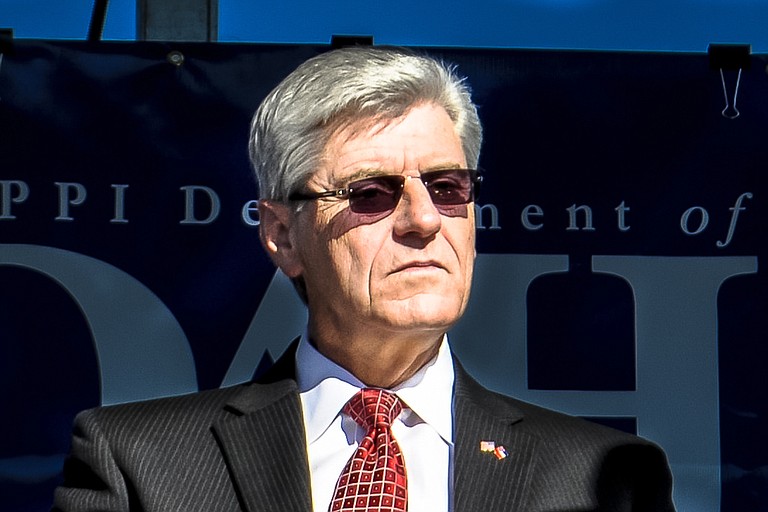 Wednesday, August 22, 2018
JACKSON, Miss. (AP) — Mississippi Gov. Phil Bryant on Tuesday issued the official document to call lawmakers into special session Thursday to discuss more money for roads and bridges.
The plan outlined by the Republican governor includes diverting some taxes on internet sales to cities and counties, creating a state lottery, using proceeds from a tax on sports betting and borrowing up to $300 million.
The call envisions lawmakers taking up two bills. One would deal with creating the lottery and another, called the Mississippi Infrastructure Modernization Act, would deal with all other proposed transportation fixes.
Bryant had said previously that he would ask lawmakers to agree how to divide $700 million in economic damages being paid by BP PLC for the 2010 Deepwater Horizon oil spill. Bryant spokesman Clay Clandler wrote in an electronic message to The Associated Press that Bryant anticipated asking lawmakers to take up that issue later in the special session "after transportation/lottery have been considered."
Bryant sent the document after Lt. Gov. Tate Reeves and House Speaker Philip Gunn, also Republicans, told reporters they were nearing agreement on a funding package. Lawmakers were expressing optimism Tuesday that a deal was within reach that would provide $200 million or more in continuing yearly funding.
"It's a lot closer than I thought it was," said House Appropriations Committee Chairman John Read, a Gautier Republican.
The lottery measure would create a lottery corporation run by directors appointed by the governor and confirmed by the Senate. Proceeds would be earmarked for spending by the Mississippi Department of Transportation.
The broader bill outlined by Bryant would divert a portion of the use tax on internet and mail-order sales to transportation. House leaders have proposed diverting 35 percent of the yearly amount, which would have been worth $90 million of the $257 million collected in the 12 months ended June 30. The outline of Bryant's proposal issued in the call says that cities and counties could spend new money only on repair, maintenance or reconstruction of roads and bridges. Lt. Gov. Tate Reeves has proposed channeling that money through a grant program or requiring a local match, but Gunn continues to oppose those provisions, saying it would slow the flow of money to localities.
Bryant is also calling for using some of the use tax money to create a permanent source of funding for a separate local bridge program that historically has been funded out of general revenue or through borrowing. The proposal would give the engineer who oversees aid to local roads the power to reallocate that money for "emergency" bridge repair, and also allow that engineer to ask the Department of Transportation to close deficient local bridges.
Bryant faced a lawsuit earlier this year after he himself issued an emergency proclamation closing bridges that inspectors found to be deficient. Bryant's move came after the federal government threatened to yank the state's highway funding when some counties refused to close bridges on their own. The Office of State Aid Road Construction reports 437 closed county bridges statewide as of Tuesday. Another 1,700-plus bridges have weight limits.
The measure would also impose a new tax on electric and hybrid vehicles. That is intended to make up for the smaller amounts fuel taxes owners of those vehicles pay, and would divert additional money collected on a tax to clean up underground fuel storage tanks to roadbuilding.