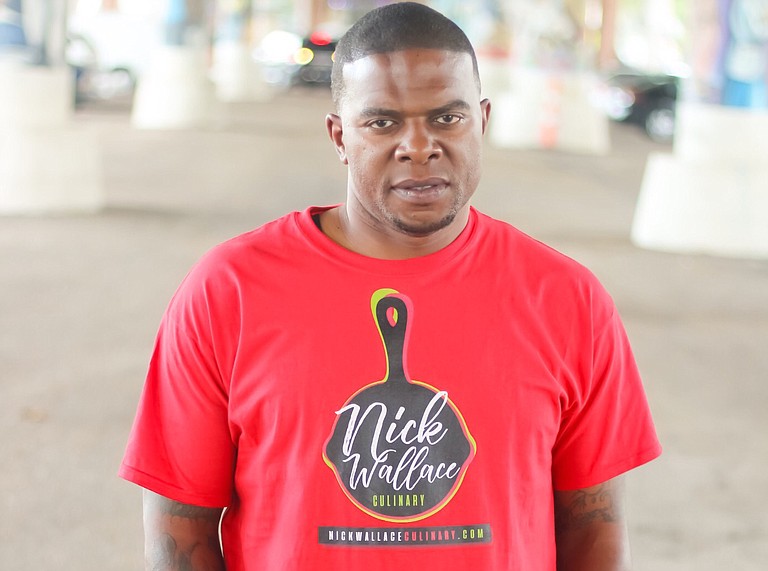 Jackson chef Nick Wallace announced on Wednesday, Aug. 8, a new service from his business, Nick Wallace Culinary, called "From My Hand to Your Kitchen." Through this service, he will use ingredients from local sources to prepare meals in clients' homes or a location of their choosing.
"'From My Hand to Your Kitchen' is a way for me to bring restaurant quality to people's homes or events, whether it be for a wedding or a dinner at home," Wallace said. "My goal is to go all over Mississippi and beyond bringing locally sourced food into homes and doing all the preparation there, even for something all the way up to a full six- or seven-course meal. I want people to bring in their family and friends to enjoy that kind of quality in their home or their own backyard."
Wallace is a native of Edwards, Miss., who became the executive chef at the Mississippi Museum of Art's Palette Cafe—which La Brioche Patisserie now occupies—in 2013. He stepped down in 2017 to launch Nick Wallace Culinary. Last year, he also appeared on and won Food Network's "Chopped: Alton's Challenge," and earned a spot on the "Best Chefs America" list for a second time.
His business provides ingredients from Mississippi farmers for local chefs, restaurants and families. It also operates "Creativity Kitchen," a nonprofit endeavor that partners with Jackson Public Schools to teach children to grow their own food and prepare healthy recipes.
"The idea of farm-to-table food isn't something new, but it is something we need to embrace," Wallace said. "'From My Hand to Your Kitchen' is my way of being mobile while doing what I love to do, which is promoting local farmers. I want to be able to show people all around what they're about to eat and let them watch me cook while I'm serving them, as well."
For more information, visit nickwallaceculinary.com.
Kimmiesweett Co-working Bakery
Kimberly Ruffin, a Clinton resident and owner of bakery Kimmiesweett (1149 Old Fannin Road, Brandon), recently decided to turn part of her business into a baking-centered co-working space that will also offer classes focused on decorating and the artistry of baked goods.
Ruffin started Kimmiesweett as a home business in 2008 and opened a store at Northpark Mall in May 2017. She closed the Northpark location in June after learning the mall was demolishing the space as part of its renovations, but she reopened her business in its current location at the beginning of August.
The menu changes daily and often includes items such as bread pudding, cakes, brownies, cookies, cupcakes and more.
"At Kimmiesweett, you never know what you're going to get until you get here," Ruffin said. "Each day, I get up in the morning and think about what I want to make, and there's something new each day I want to try. I want my bakery to blur the line between structure and chaos, to be something refreshing and full of ideas like what I want people to be able to find for themselves here."
The co-working space at Kimmiesweett has WiFi, a kitchen for visitors to practice decorating and a meeting room for group activities. Ruffin also plans to bring in local chefs, bakers and confectioners to teach classes on making cakes, candies and more. In November, she plans to hold a grand opening featuring a kids' festival, free cookies and baking classes for both children and adults.
"Coming to this new space has been a blessing both for me and the community," Ruffin said. "When I left Northpark Mall, I wanted my new bakery to be somewhere that people could come in to chat as well as find something sweet. I want it to be like a breath of fresh air every time you come in, like when you're a kid and you walk into a candy shop. We have a space now for people to come and work, share ideas, have meetings over coffee and enjoy the moment."
Kimmiesweett is open Tuesdays from noon to 8 p.m. and Wednesday through Friday from 8 a.m. to 5 p.m. For more information, call 601-720-9774 or find the business on Facebook.
Merit Health Madison Opens Physical Therapy Clinic
Merit Health Madison recently opened a new outpatient physical therapy clinic inside its medical office building (163 River Oaks Drive, Suite 106, Canton).
The 3,605-square-foot clinic provides services such as orthopedic and sports rehabilitation, pelvic healthcare, post-surgery recovery treatments, manual therapy for pain management, myofascial massage therapy and treatment for neurological conditions.
The clinic also treats work-related and sports-related injuries, and offers treatments for issues related to complex medical conditions such as cancer and mobility disorders.
The Merit Health outpatient clinic is open Monday through Thursday from 7:30 a.m. to 5 p.m. and Friday from 7:30 a.m. to noon. The clinic accepts most forms of insurance as well as Medicare, Medicaid and worker's compensation insurance. For more information, call 601-855-4855 or visit merithealthmadison.com.
CORRECTION: In the From My Hands to Your Kitchen blurb, we originally called the business From My Hands to Your Table. The Jackson Free Press apologizes for this error.