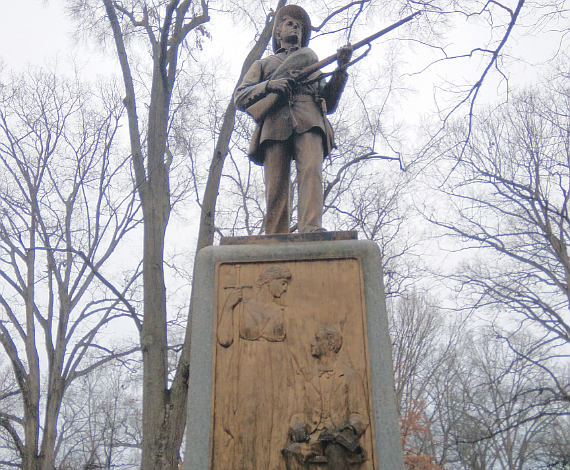 CHAPEL HILL, N.C. (AP) — Top leaders of the University of North Carolina system condemned the actions of protesters, who toppled a memorial known as "Silent Sam" that was dedicated more than 100 years ago with praise for the Confederate veterans who terrorized former slaves.
The UNC president and the chairman of the Board of Governors promised a full criminal investigation of the events of Monday night, when the figure of a Southern soldier atop a tall stone pedestal was pulled down by protesters using banners to mask their action and ropes to pull down the statue.
"The safety and security of our students, faculty, and staff is paramount," President Margaret Spellings and board chairman Harry Smith said in a statement Tuesday. "And the actions last evening were unacceptable, dangerous, and incomprehensible. We are a nation of laws_and mob rule and the intentional destruction of public property will not be tolerated."
The statue, erected by the United Daughters of the Confederacy in 1913, had been under constant police surveillance after being vandalized in recent months, costing the university hundreds of thousands of dollars.
Protesters appeared to outwit officers by splitting into two groups. Most marched away from the statue while a smaller group surrounded it with banners on bamboo poles, concealing efforts to tie a rope around it. Then the groups converged and yanked it down, according to videos.
House Speaker Tim Moore also criticized the protesters, saying they should be arrested and prosecuted "to make clear that mob rule and acts of violence will not be tolerated in our state."
Their statements were stronger than that of Chancellor Carol Folt, who didn't call for arrests and charges in her comment Monday night. Instead, she described the protesters' actions as unlawful and dangerous.
"The monument has been divisive for years, and its presence has been a source of frustration for many people not only on our campus but throughout the community," she said.
Once the bronze form was toppled, "Silent Sam's" face down in the dirt, demonstrators kicked it and cheered, chanting "Tar Heels!" and "Whose Campus? Our Campus!" as passing cars honked in approval. After it was covered with a tarp, video showed a backhoe picking up the statue and carting it away.
Many students, faculty and alumni argued that "Silent Sam" symbolized racism and asked officials to take it down. They responded to the assertion that the statue wasn't a symbol of white power by reading from its 1913 dedication speech , by tobacco magnate Julian Carr, which praises Confederate veterans for terrorizing former slaves and making sure "the purest strain of the Anglo Saxon is to be found in the 13 Southern States."
Two friends who have participated protests about "Silent Sam" for many years, C.J. Suitte and Will McInerney, said Tuesday that they wonder if UNC will return the statue to its still-standing pedestal.
"People have been protesting the statues since the 50s and 60s and it always finds a way to come back. People find a way to defend it," said Suitte, a Chapel Hill resident. "It feels a little surreal. I feel excited but I also feel like — alright, how long is it going to be before they bring the crane in and put him back?"
McInerney, a UNC alumnus, received a picture message from Suitte of the statue coming down Monday night, and that's why they two came to campus.
"When C.J. sent me a photo last night I felt like this is where I want to be this morning and C.J. is the person I want to be wit — partly because share the experience of being from the town and partly because this is something that we have cared about for a long time."
North Carolina ranks among the handful of Southern states with the most Confederate monuments , and has been a focal point in the national debate over them following a deadly white nationalist protest a year ago in Charlottesville, Virginia .
Protests over the UNC statue flared in the past year, and another Confederate monument in nearby Durham was torn down shortly after the Virginia rally.
Gov. Roy Cooper had called for removing "Silent Sam" and other rebel symbols on public land. A state historic panel is set to meet Wednesday to debate Cooper's request to remove other Confederate monuments at the state Capitol.
Still the Democratic governor issued a statement on Twitter on Monday night arguing the protesters took the wrong approach.
"The Governor understands that many people are frustrated by the pace of change and he shares their frustration, but violent destruction of public property has no place in our communities," said the tweet from his official account.
UNC-Chapel Hill police referred all questions to the university's media relations department, which declined to answer questions Tuesday.