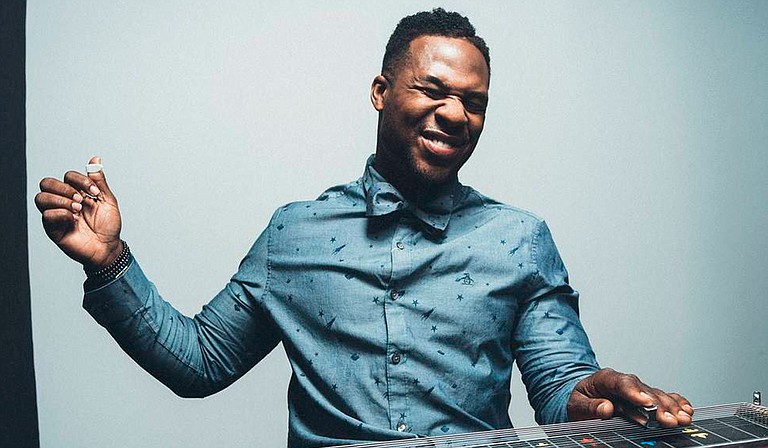 The City with Soul will once again welcome the man behind "Got Soul" this month.
New Jersey outfit Robert Randolph & the Family Band will return to Jackson on Aug. 11 to play for the 14th annual Bright Lights Belhaven Nights. The latest installment of the street festival will also feature performances from Christone "Kingfish" Ingram, The Weeks, Becca Mancari and many others.
A lot has changed for Randolph since his headlining spot at the 2016 Hal's St. Paddy's Parade & Festival, though. For one, the pedal-steel player released his aforementioned 2017 album, "Got Soul," which scored him a fifth Grammy Award nomination and peaked at No. 2 on the U.S. blues charts.
The Jackson Free Press recently spoke with Randolph over the phone to talk about his career, his art and the appeal of pedal steel.
What was it that first drew you to pedal steel guitar?
Well, for me, growing up in my church, it was the normal instrument to play, you know? My church is like an organization similar to the Buena Vista Social Club. It's been going on for almost about 100 years. It's been a tradition where lap steel and pedal steel was used in my church. So there were many before me that I grew up watching who were inspirations, like Albert King, Albert Collins and all those sorts of people.
Pedal steel isn't typically seen as a "front and center" instrument. Why do you think that is, and why has Robert Randolph & the Family Band been able to make it work?
Man, everybody is just a little different. Every band sort of has a significant sound, and you know, you go back in history and you think of guys like Bo Diddly, who was really just like a rhythm player with different rhythms that he brought to the industry. Certain guys—you know John Popper, who was a harmonica player—and all these guys who were so different, it's just, you focus on your craft, and you be the best you can be, you write good songs, and you bring good energy. That's what makes people different.
When you were younger, you didn't listen to music that wasn't Christian. What was some of the first secular music that really affected you?
I would say I used to listen to a lot of Stevie Ray Vaughn. That was really (influential)—it was like a "Stevie Ray Vaughn's Greatest Hits" record that was given to me in like 1997. That was really sort of the first bit of secular music. I mean, other than that, we grew up in the inner city so we'd always listen to hip-hop and R&B and all that, and I would kind of try to play those songs, mess around those, but listening to Stevie Ray Vaughn was the first thing that really got me wanting to try to take the music outside the church and do that.
Your most recent album, "Got Soul," came out a year and a few months ago now. Looking back on that, what kind of impact have you seen from that release?
It's really been great, man. It's really doing well. With the collaborations that we've had with Darius Rucker and Anthony Hamilton on there, it's sort of brought about some new fans and sort of re-energized some of what we've been doing. We wrote some great songs; we did a great cover of some songs, like "I Thank You," which is an old Sammy Davis song. It sort of helped to reconnect with that whole—you know, getting nominated for a Grammy and being recognized by the Grammy board and my peers and everybody else.
Sometimes, as musicians, any of us can kind of sit in our own little world, do what we want to do and not too much worry about our peers and all that. But this was one record that a lot of our musical friends and a lot of people in the industry really grabbed ahold of. The sound was great, the recording was great, and it was one of those things that helped us reconnect with a lot of old fans and introduced us to some new fans. It's really been cool.
What is one song or something about the album fans have latched onto that surprised you?
It's just really the inspirational part of it—the soulful part of it, the inspirational part to uplift people. Many times, I'll write songs or co-write with some people, and it's sort of amazing how people forget about the inspirational part of songs and being a musician while still allowing people to dance and have a good time. Having these sort of songs—I like to write songs that make you feel good and make you feel special, but then also make you want dance, but then also make you want to inspire each other to be better people. That's really the cool part about it.
What's something that you learned from making "Got Soul" that you want to apply to your next album?
Well, it's really the sense of kind of all just getting back in the studio. Many times with technology today, a lot of people like to sort of piece stuff together. Because of technology, one guy could sit at home, one guy could sit on the tour bus and do one thing, and one guy can do this. And you know, by the time you do all that, you could send it to an engineer, and he could kind of (put) everything together.
For this particular record, we all sat in a room and played the music and did everything there, which in this day and age, many people don't do that. So it's really refreshing, and the energy and the camaraderie—it all comes out in the music, and you can really tell.
Like you said, a lot of your musicians are busy and all over the place with other projects and life. How do you find time to get in the studio together and do things that way?
It's about carving out the time. It's really pretty simple. Sometimes, it can seem harder than what it is, but it's really simple. You just get the guys together, everybody hears the songs, and a lot of what happens, too, we've been on the road a lot this year, so we'll try out a lot of songs while being on tour.
We'll try them out, jam them and do all those kinds of things, so we get all that stuff going, which makes it easier. We can easily go, "Alright, let's go into the studio for two or three days; let's do this, let's do that," and next thing you know, we've got something.
The Grammy nomination is interesting because the record came out in February. Voters had to keep it in mind for most of a year for it to be nominated. Why do you think it had that kind of staying power?
I think it's just the sense of, you know, when you listen to all the other records out there, one thing I find today is that people are looking to be uplifted and inspired. There's so much negativity going on. Every time you turn on the news, social media, it's all this negativity. The feedback that I get, people are always telling me that they're searching for something. We get emails daily like, "Man, I stumbled on this record because I was looking to be inspired and uplifted. Thank you for your music," and so forth, so it's really been cool.
"Got Soul" is your fifth Grammy nomination, all in different categories, including blues, R&B and rock. What does it mean to you that your music speaks to these different genres?
I tell you, for me, it's something that, when I had the pleasure of working with T Bone Burnett some years ago, he reminded me of that. ... I remember, we were sitting in there and I said, "Hey man, I've got to do this, and this has to be this type of song," and he said, "Look, man. There are certain people, and you belong in a category with Bob Dylan and Jimi Hendrix and Stevie Wonder—there is no category. You guys just make music."
He said, "What category would Bob Dylan be in? There is no category. What category would Stevie Wonder be in? There is no category. All you know is, when you go to a Stevie Wonder show or Bob Dylan show, there are people who are fans of all types of music, singing all the lyrics, dancing and doing what they're going to do, because that's just who it is. You have the same thing."
... So I don't ever really think of things like that, genre or those types of things anymore, because it doesn't really fit in a genre anymore. You just do what you do. So many times, people will say, "Man, what a diverse crowd. I see 70-year-old people and teenagers and hippies and people who like rock and people who like gospel." And that's just what it is.
Robert Randolph & the Family Band perform for Bright Lights Belhaven Nights, which takes place Saturday, Aug. 11, 5 p.m. to 10:30 p.m. at Belhaven Park (1900 Poplar Blvd.). Admission is $10 per person. For more information, visit greaterbelhaven.com.