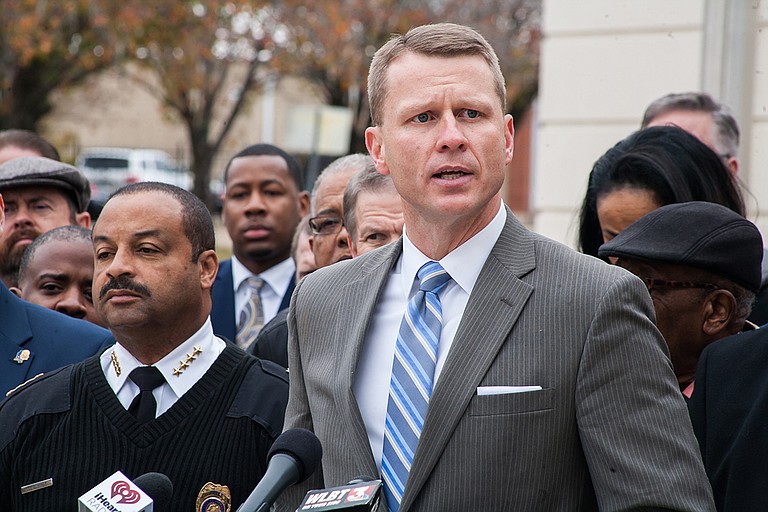 The following is a verbatim release from the U.S. Department of Justice:
Hattiesburg, Miss. - Thomas Edward Spell, Jr., 50, of Ridgeland, pled guilty today before U.S. District Judge Keith Starrett to a Criminal Information outlining his role in a more than $240 million dollar scheme to defraud TRICARE, the health care benefit program serving our nation's military, veterans, and their respective family members, announced U.S. Attorney Mike Hurst, FBI Special Agent in Charge Christopher Freeze, IRS-Criminal Investigation Acting Special Agent in Charge Thomas J. Holloman, III, and Special Agent in Charge John F. Khin of the Defense Criminal Investigative Service's Southeast Field Office.
Spell's case is part of the largest health care fraud scheme ever investigated and prosecuted in the State of Mississippi. The investigation is ongoing and prosecutions are continuing nationwide, including in states such as California, Tennessee, Arkansas, and Connecticut. Spell will be sentenced by Judge Starrett on January October 16, 2018 at 10:30 a.m.
"Ripping off our veterans and members of the military is despicable, and that is exactly what this defendant and others have done by defrauding TRICARE and the American taxpayer. Rest assured that we will hunt down all those who commit this type of fraud and we will not stop until such criminals are brought to justice. I want to thank the agents, AUSAs, DOJ trial attorneys, and our other law enforcement partners for their tireless work on this far-reaching scheme. This fraudulent activity has gone on for far too long, and the U.S. Attorney's Office will continue to enforce our federal laws and clean up crime and corruption throughout our state," said U.S. Attorney Hurst.
"Spell's guilty plea today proves that the scheme to defraud TRICARE, and the taxpayers who fund its services, operated throughout the highest professional levels in the medical and pharmaceutical industries. Without the participation of those individuals in executive and decision-making positions, these schemes would often not materialize and/or profit those involved," stated Thomas J. Holloman, III, Acting Special Agent in Charge, IRS - CI. "Thomas Spell was a leader and organizer in this far-reaching fraud and his guilty plea today is a win for all taxpayers. The special agents of IRS - Criminal Investigation will continue to seek justice on behalf of this nation's taxpayers, and will pursue the prosecution of wrong doers at the highest levels of these criminal organizations."
"This guilty plea, resulting from the aggressive and tireless efforts of DCIS special agents, was part of a complex and widespread investigation with other law enforcement partners that brought to justice numerous defendants who believed they could get away with scheming to fleece the Department of Defense of hundreds of millions in taxpayer dollars," said Special Agent in Charge John F. Khin of the Defense Criminal Investigative Service. "Fraud and corruption in TRICARE, the Pentagon's health care program, especially involving deceptive practices with prescription medications, is far from a 'victimless' crime. As a pharmacist who was entrusted with providing safe, effective medications, this defendant selfishly put greed and personal gain before the safety and well-being of our military members, combat veterans, and retirees, who deserve the best medications and care available."
From approximately August 2014 through January 2016, Spell owned and operated a pharmacy in Madison County, Mississippi, and several other pharmacies across the United States. During this time, Spell and other co-conspirators marketed compounded medications at his pharmacies. Rather than formulating compounded medications based on the individualized needs of patients, formulas were selected to maximize profit based upon reimbursementsfrom TRICARE and other health care benefit programs.
At the direction of Spell and his co-conspirators, Spell's pharmacies submitted fraudulent claims to TRICARE and other health care benefit programs. The result was that TRICARE reimbursed Spell's pharmacies on these fraudulent claims totaling over $243 million.
In order to further their scheme, Spell and his co-conspirators waived TRICARE's requirement that a beneficiary make a copayment to receive medicine. Instead, Spell and his coconspirators had their employees purchase prepaid debit cards and money orders to use towards a copayment for a beneficiary, with Spell and his co-conspirators reimbursing their employees. Additionally, Spell and his co-conspirators paid kickbacks and bribes to marketers in order to obtain prescriptions for compounded medications from prescribers for beneficiaries who were covered by the most lucrative health care benefit programs, including TRICARE, irrespective of whether the compounded medications were medically necessary for the treatment of beneficiaries.
As a result of this fraudulent activity, Spell personally obtained over $29 million in proceeds from the illegal scheme. Spell used these proceeds to fund bank accounts and investment accounts in his name, in the name of family members, and in the name of various business entities. Spell also used these proceeds to lend money and to purchase vehicles, boats, and property. The United States is seeking forfeiture of these assets listed in the Information.
This case has been designated as a related prosecution to cases charged earlier this year in the Southern District of Mississippi. Silas K. Richmond, II, a licensed pharmacist and marketer, pled guilty on July 18, 2018, to conspiracy to commit health care fraud regarding a scheme to defraud health care benefit programs, including TRICARE, of more than $545,000. To date, a total of 11 people have been charged and 8 convicted in the compounding pharmacy scheme in the Southern District of Mississippi.
The case is being prosecuted by Assistant U.S. Attorney Mary Helen Wall and U.S. Department of Justice trial attorneys Katherine Payerle and Sean Welsh.