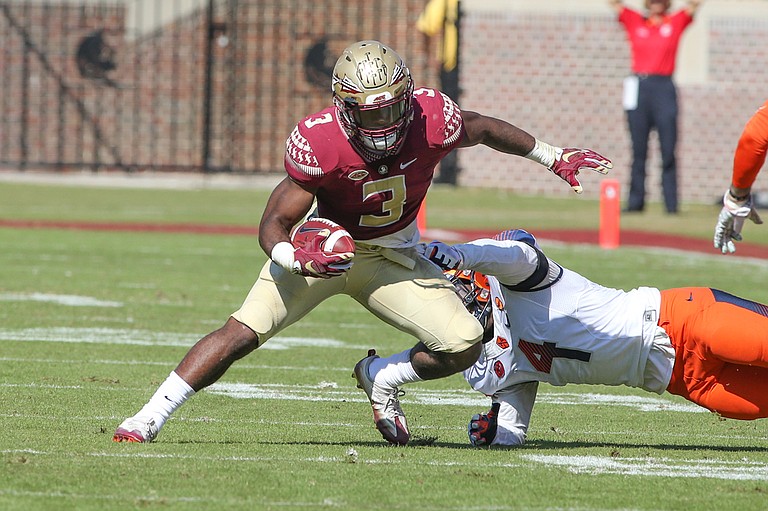 The 2017 football season ended up in rarely seen territory for Florida State University.
The Seminoles entered the season ranked No. 3 in both the Associated Press Top 25 and the Coaches Poll; however, things quickly went downhill in their season opener against No. 1-ranked University of Alabama on Sept. 2, 2017. FSU lost starting quarterback Deondre Francois to a knee injury, and the Crimson Tide won 24-7.
After that, FSU couldn't get back on the field due to Hurricane Irma. The weather and damage forced the postponement of the Seminoles' games against the University of Louisiana at Monroe and the University of Miami. At one point, FSU was 2-5 and in danger of not reaching a bowl game.
One of the biggest bright spots for the Seminoles season came from Clinton, Miss., in the form of Cam Akers. The highly recruited freshman running back came out of Clinton High School as the top-ranked player in Mississippi. 247Sports, Scout and Rivals ranked him as the No. 3 player in the nation while the ESPN 300 had him in ninth place overall and first place for running backs.
As a senior at Clinton, Akers led the school to its first-ever state title in football. The star quarterback scored seven touchdowns against Pearl High School, bringing home the championship with a 49-35 win. In that game, he threw for 228 yards with two touchdowns, and ran for 217 yards and five touchdowns.
In his final season alone, Akers threw 3,128 passes for a 61.8-percent completion rate with 31 touchdowns and just six interceptions. He also rushed for 2,105 yards and added 34 rushing touchdowns.
The do-everything athlete finished his high-school career with 8,140 passing yards, 78 passing touchdowns, 5,103 rushing yards and 71 touchdowns on the ground. Those numbers earned him Mississippi Mr. Football for Class 6A, Gatorade Player of the Year and 2016 All-USA Today First Team as a quarterback.
Akers participated in Nike's "The Opening" and played in the U.S. Army All-American Bowl, where he ran for 38 yards and one touchdown, and earned Player of the Game. He also received the U.S. Army Player of the Year Award, which goes to the most outstanding high-school senior football player.
In his first college game, the Seminoles' losing bout against Alabama, Akers ran for 30 yards on 10 carries with one catch for 11 yards—respectable numbers against one of the best defenses in the nation. His first massive rushing success came against Miami in the rescheduled game on Oct. 7, 2017, as he ran for 121 yards on 20 carries.Akers scored the first touchdown in his college career a week later against Duke University, when he rushed for 115 yards on 15 carries.
The freshman running back was nearly unstoppable when FSU faced Syracuse University on Nov. 4, 2017. He ran for a career-high 199 yards on 22 carries with two touchdowns in the Seminoles' 27-24 win.
His final 100-yard rushing game came against Louisiana-Monroe in the second make-up game of the season. Akers rushed for 117 yards and tied his career-high with two touchdowns, as FSU won 42-10 and reached a bowl game for the 36th straight season.
In the Independence Bowl against the University of Southern Mississippi, he rushed for 94 yards on 13 carries, helping the Seminoles to a 42-13 victory. He also scored his first college receiving touchdown in the bowl game on a 14-yard reception, which gave FSU the lead for good.
Last season, Akers' 1,024 yards on 194 carries broke the Florida State freshman rushing record, which current Minnesota Vikings running back Dalvin Cook previously held. He also earned Third-Team All-ACC honors.
He has lofty goals for his second college season, aiming for 2,000 yards in the 2018-2019 season. At the Atlantic Coast Conference's media days, the media named him to All-ACC Preseason Team. Meanwhile, FSU is ranked 19th in the Preseason Coaches Poll.
Sports Illustrated placed him at No. 36 in its Top 100 Players of 2018, and ESPN placed him at No. 21 in its Top 50 Players in College Football.
Akers and Florida State open the new season on Labor Day on Monday, Sept. 3, at home against conference foe Virginia Polytechnic Institute and State University. The game will air at 8 p.m. on ESPN.