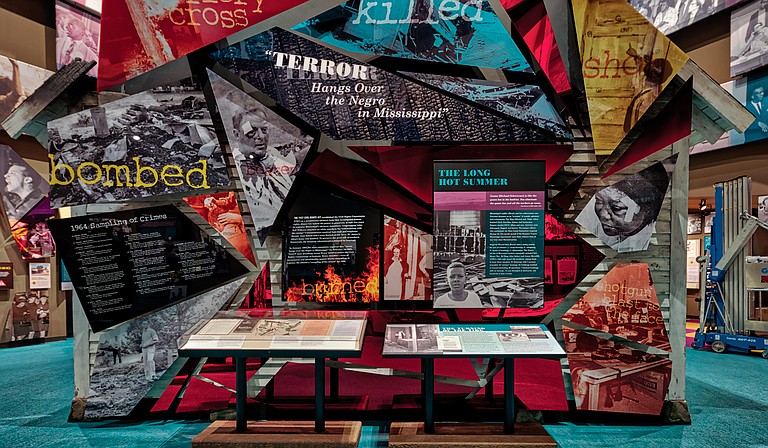 Wednesday, August 8, 2018
Museums are rich with knowledge, culture and history, and the city of Jackson is lucky to be home to so many of these great establishments. Here is a list of must-see quirky or interesting things for you to experience as a museum visitor.
Mississippi Museum of Art (380 S. Lamar St., 601-960-1515, msmuseumart.org)
The Mississippi Museum of Art is full of interesting paintings, but one of its quirkier features isn't a painting—it's the Art Garden. In the spring and summer, the garden turns into a picturesque scene with colorful flowers and tall plants, and outdoor art such as Pearl River Glass Studio's glass wall against the back fence.
International Museum of Muslim Cultures (201 E. Pascagoula St., muslimmuseum.org)
The museum's exhibition, "Legacy of Timbuktu: Wonders of the Written Word" has ancient African manuscripts on display that represent the Islamic and intellectual heritage of West Africa before enslaved Africans were brought to America. The documents reveal that Timbuktu was an important learning center during a legacy of great development for West Africa.
Smith Robertson Museum and Cultural Center (628 Bloom St., 601-960-1457)
Wood artist Laverne Hamberlin from Fayette, Miss., carved a piece called the "Wailing Woman," now on display at the 
museum. It is a statue of a woman who is 
partially naked and crying.
Old Capitol Museum (100 S. State St., 601-576-6920, oldcapitolmuseum.com)
During the Civil War era, a Union soldier removed draperies from the building, and had the fabrics sewn into a shirt and cap. Descendants of the soldier gave the artifacts to the state, and a replica made of the shirt now appears on display.
Mississippi Museum of Natural Science (2148 Riverside Drive, 601-576-6000, mdwfp.com/museum)
In 2005, a father and daughter gave a two-headed snake to the museum. It has a rare condition known as diprosopus, which causes two heads to grow.
Mississippi Children's Museum (2145 Museum Blvd., 601-981-5469, mschildrensmuseum.org)
The Literacy Garden, inspired by the poem, "The Enchanted Land of Story" by Sherry Norfolk, is an interactive environment for children to explore books and nature. The museum's website says that since 2014, this oasis has encouraged learning outside of the classroom with "literacy-inspired sculptures, innovative technology, and native plants." It even has pink mushrooms.
Mississippi Agriculture and Forestry Museum (1150 Lakeland Drive, 601-432-4500, msagmuseum.com)
If you're afraid of getting your mustache wet while drinking tea, this museum has the solution. It has an antique teacup with a built-in mustache guard in the center. It also has another oddity: a six-fingered glove with two thumbs.
Mississippi Civil Rights Museum (222 North St., Suite 2205, 601-576-6800, mscivilrightsmuseum)
An imprisoned Freedom Rider, Carol Ruth Silver, made a chess set using breadcrumbs and saliva while at Parchman Prison. Some of the darker chess pieces are marked with blood. The artifact is on loan from the Tougaloo College Civil Rights Collection.
Mississippi Museum of History (222 North St., Suite 1206, 601-576-6800, mmh.mdah.ms.gov)
Sicilian immigrants brought a vintage wine press Natchez, Miss. It's now on exhibit in a museum gallery, where it represents Sicilian life and culture in Mississippi.