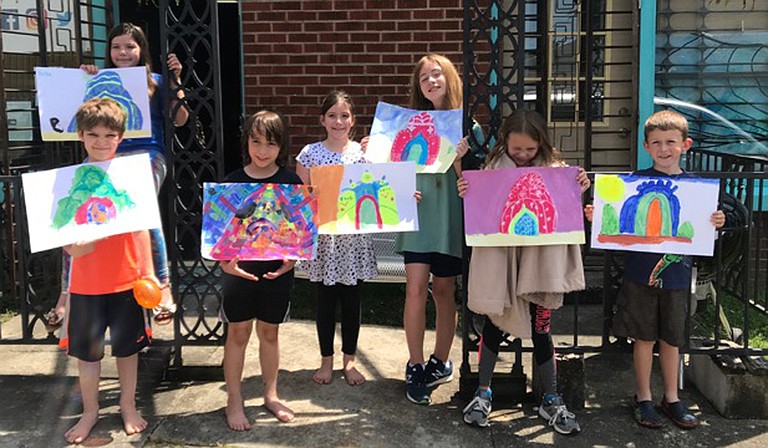 Wednesday, August 8, 2018
This summer, some children in the Jackson metro area got to go around the world without even leaving Mississippi. Through Kidi-Zen Multicultural Art Camp at Jax-Zen, they learned about the culture, art, food and more of different places around the world, including Japan and Africa.
Jax-Zen co-owner Jina Daniels says the camp aims to teach participants about world cultures and lifestyles.
"The idea with (the name) Kidi-Zen," Daniels said, "would be kind of like that world citizen, global kid—that's kind of how I came up with that name. ... Teaching kids or helping kids become ... citizens of the world."
Daniels, who is originally from Arizona, met her husband Jason Daniels when she was working as a business consultant for Nationwide Insurance in California. The couple moved to Nashville in 2006 and then married in 2007. In December 2012, they moved to Jackson. Last year, they opened Jax-Zen with the goal of giving Jacksonians both a place to relax, and a place to explore creation and mindfulness.
About six months ago, the Daniels officially launched the creative arm of the business: The Community Canvas at Jax-Zen.
"I bring in different artists to facilitate, and I teach as well," Jina Daniels says. " ... It's been in progress for the last year and a half. We pretty much just launched the Community Canvas and formally rebranded (it) ... about six months ago. But it's always been a work in progress."
This summer, they decided to add the camp, and plan to continue it with a six-week afterschool camp in August. She says it is essential to personal development that children grow up aware of the similarities as well as the differences between their own cultures and the cultures of the rest of the world.
"...We're learning about other cultures through art, currently. Eventually I'll add music and mindfulness and body movement—maybe kiddie yoga to it," she says. "I want it to be well-rounded, kind of like we talked about with the adults. ... Currently, It's mostly art, but there's this element of learning."
She says that as she adds different incentives to the program like dance, music and more mindfulness practices, the name may change to include more of what the camp offers, not just the art aspect. Daniels kept the summer classes small, at about seven or eight students, so she could teach the camps herself, but she hopes to bring the number of children involved up to 12, and maybe hire an assistant after that. Though she says that Kidi-Zen is "just in its infancy," she's planning to collaborate with other organizations in future because she wants this to be a community-driven project.
The Kidi-Zen After School Multicultural Art Camp is Aug. 16-Sept. 20. The cost for the six-week program is $150, and drop-in rates are $35 per session. For more information about Jax-Zen Float (155 Wesley Ave.) and the Kidi-Zen Multicultural Art Camp, visit kidi-zen.com and jax-zenfloat.com, or find the businesses on Facebook.