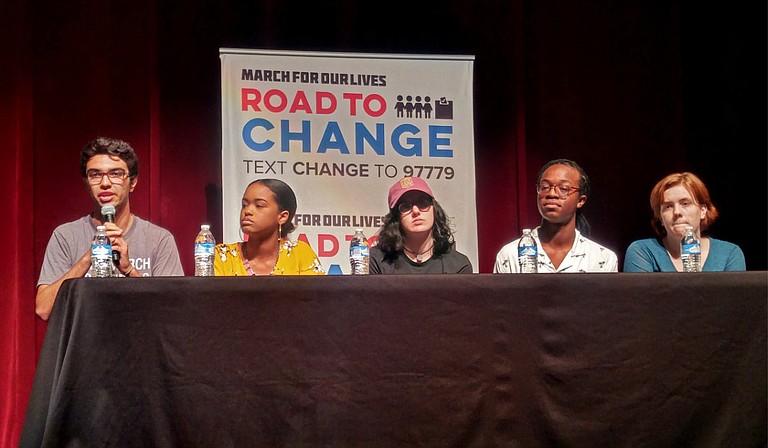 JACKSON — Brandon High School senior Hannah Davis and Madison Center High School junior Victoria Long were fidgeting and jumping with excitement when the bus carrying the students touring with the "March For Our Lives: Road to Change" arrived at Presidential Hills Park in Jackson on Aug. 2.
"It's really exciting to me," Davis said. "I'm inspired."
Some of the students were from Marjory Stoneman Douglass High School in Parkland, Fla., where a shooter killed 17 students and staff and wounded 17 more on Feb. 14. Others were students from different high schools and states who the "Road to Change" tour absorbed when it stopped near them.
Love Lundy is a junior at a high school in Huntsville, Ala. She joined the tour on Tuesday, after their stop in Birmingham. She has spoken out against gun violence since she was in eighth grade and traveling with the Road to Change group was great, she told the Jackson Free Press.
The days Lundy has spent with the other students reminded her that they are just that—students. Even when people seem to forgot they are teenagers, this helped her realize they are just like her, she said.
"I love my press, but the press has not treated them the best," Lundy, an aspiring journalist, she said in the interview.
'I'm Grieving More Now'
Recent Douglass graduate Tyra Hemans said she lost her best friend, Joaquin Oliver, in the shooting. She has spent her summer with the "Road to Change" group, advocating for gun control. Saturday would have been Oliver's 18th birthday, so Hemans said she will attend the "National March on the NRA" on Aug. 4 in Fairfax, Va., and protest in his honor.
"It's been five months since my school shooting, and I'm grieving more now because birthdays and other events are happening," Hemans told the Jackson Free Press.
Part of the reason the Road for Change stopped in Mississippi is because people tend to forget about it. Instead, they write the state off because it is conservative and believed to be unable to change, Hemans said.
But, that is exactly why they stopped in Jackson, because they can help create change, she said. "We're the generation of today, tomorrow and the future," she said. "We can't turn away from these states."
The "Road to Change" students held a town hall in Thalia Mara Hall on Aug. 2 as well. It featured students from Marjory Stoneman Douglass High School and students from the metro Jackson area.
"I think that something important for us to realize is that every community is different. Every community experiences different things, has different struggles," Marjory Stoneman Douglass High School student Delany Tarr said. "So for us to go with a one size fits all type of message or type of outreach—it just won't work. So what we've been doing ... is tailor our message and outreach to every community that we go to."
Jackson Teens Front and Center
One good way to increase outreach and participation among young people is through social media, Murrah High School junior Maisie Brown said on the stage at Thalia Mara Hall Thursday night for the "March for Our Lives" town-hall meeting.
"I utilize that with my ability to connect with so many people across the area," said Brown, who gave a TEDx Jackson Women talk on teens and social media in 2016. "We might never meet in real life, but we're still able to have conversations online. I'm able to still publicize issues."
During the town hall, the Parkland teens as well as six students from the Jackson metro, emphasized that they are anti-gun violence and pro-gun safety. The Florida students said specifically they do not want to take guns away from people; they only want to introduce regulations already allowed, but not used, through the Second Amendment.
They also spoke out against people who write them off as "just kids." That label is an attempt to undermine their credibility, Murrah High School senior Maggie Jefferis said. "When you hear an adult call this a movement of 'just kids,' they do it in an effort to minimize and diminish what the movement is doing," Jefferis said.
"They do it because they're afraid of what we can do."