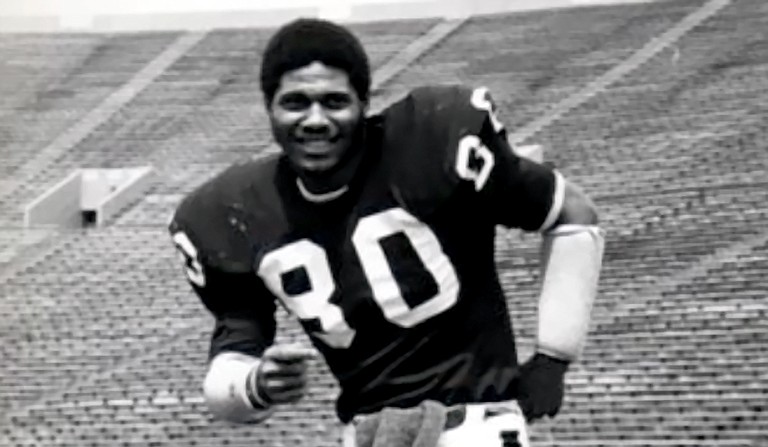 Linebacker Robert "Dr. Doom" Brazile's football career has earned him honors in quite a few halls of fame.
His first came in 1994 with the Mobile Sports Hall of Fame in his birthplace, Mobile, Ala., and a year later, he was enshrined in the Southwestern Athletic Conference Hall of Fame. In 2003, his alma mater, Jackson State University, inducted him into its hall of fame.
Two years later, he became a member of the Alabama Sports Hall of Fame, and in 2007, the Mississippi of Sports Hall of Fame added him to its list of honorees. He also earned a membership in the Black College Football Hall of Fame in 2014.
However, one membership eluded the former football great for many years: the Pro Football Hall of Fame. His moment finally came this year when, on Feb. 3, 2018, the 47-member selection committee announced Brazile as a senior nominee, or players whose careers have been completed for at least 25 years, for the Pro Football Hall of Fame.
Brazile might have missed out on his Hall of Fame career if not for a position change in college. JSU recruited him as a tight end out of Vigor High School, where he was the Defensive MVP of the Alabama High School All-Star Game in 1971.
In his sophomore season at JSU in 1972, Brazile switched from tight end on offense to linebacker on defense. The change worked out well for the Tigers and for him.
During his time at JSU from 1971 to 1974, the team had a 30-10-1 overall record and won back-to-back SWAC Championships in 1972 and 1973. In 1974, Brazile set the school record for solo tackles with 129 and led the SWAC with nine interceptions. As a senior, he received distinctions such as First-Team All-SWAC, Sheridan Black College All-American and a spot in the Senior Bowl.
In the 1975 NFL Draft, the Houston Oilers, now the Tennessee Titans, selected Brazile with the sixth overall pick. The Chicago Bears selected his teammate and college roommate Walter Payton fourth overall. It is the highest selection of teammates in Mississippi history.
Brazile quickly became a star as an outside linebacker for the Oilers, fitting well under head coach Bum Phillips' new 3-4 defensive scheme. The linebacker earned several All-Rookie honors, and the Associated Press named him NFL Defensive Rookie of the Year.
The 6-foot, 4-inch, 241-pound linebacker was noted for his speed with a 4.6-second 40-yard dash time. Brazile was known as an every-down linebacker, as he was able to stay on the field for running and passing downs.
While the 3-4 defense became famous in large part because of the New York Giants and outside linebacker Lawrence Taylor, Phillips and others have credited Brazile as being "Lawrence Taylor before there was a Lawrence Taylor."
In his 10-year career with Houston, Brazile went to seven straight Pro Bowls from 1977 to 1983 and was either first or second team All-Pro six times from 1976 to 1981. He played in a team-record 147 consecutive games.
He is credited with 1,281 tackles, putting him second in team history. While sacks weren't tracked statistics in the NFL until 1982, Brazile had 48 overall sacks and 11 on NFL record. He retired with 13 career interceptions and 14 fumble recoveries.
The Oilers had three consecutive years of playoff success. They reached the AFC Championship Game in 1978 and 1979, but lost both years to the Pittsburgh Steelers. They also lost the 1980 Wild Card Game to the Oakland Raiders.
Brazile also earned a spot on to the 1970s All-Decade Team.
Brazile never missed a game during his 10-year NFL career but made the decision to retire after the death of his wife, Cookie, in December 1984. His relatively short 10 seasons and sudden retirement contributed to the wait for his spot in the Pro Football Hall of Fame.
After this year's enshrinement ceremony, Jackson State will have four former players in the Pro Football Hall of Fame, with Brazile joining Payton, Lem Barney and Jackie Slater. The Tigers will soon have as many former players in the hall as the University of Mississippi and the University of Southern Mississippi combined.
The rest of the 2018 Pro Football Hall of Fame includes former NFL General Manager Bobby Beathard in the contributor category (someone who has made major contributions to professional football outside of playing or coaching), safety Brian Dawkins, offensive guard Jerry Kramer, linebackers Ray Lewis and Brian Urlacher, and wide receivers Terrell Owens and Randy Moss.
Brazile will be the first speaker when the current class is enshrined on Aug. 4. ESPN and the NFL Network will broadcast the event starting at 6 p.m.