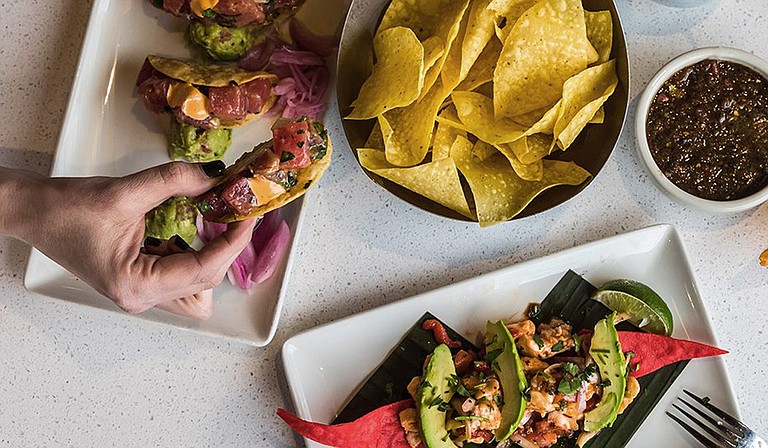 Seafood R'evolution (1000 Highland Colony Pkwy., Ridgeland) will host a Spanish wine tasting with tapas on Tuesday, May 8, from 6 p.m. to 9 p.m.
Laura Collins, the restaurant's beverage director, will lead the tasting, which features five wines from Ardoa Wine Company paired with small plates of Spanish-style cuisine for $65 per person.
The dinner will include Mendraka Txakolina 2016 with Nantucket Bay scallops and tomatillo gazpacho, red onion and jalapeno relish; Cobertizo Godello 2016 with Spanish-style potato salad; Canopy Castillo de Belarfonso 2016 with shrimp fritters; Caprasia Bobal organic red 2015 with Estofado de Carne and saffron risotto; and Canopy Malpaso Syrah 2015 with grilled palacios chorizo, sweet patatas bravas and confit tomato sauce.
For more information or to make a reservation, call Seafood R'evolution at 601-853-3474 or visit seafoodrevolution.com.
Cinco de Mayo at Cantina Laredo
Cantina Laredo (200 District Blvd.), a Mexican restaurant located in The District at Eastover, will celebrate Cinco de Mayo with live music, a menu of limited-time-only cocktails and drink specials.
On May 5, Cantina Laredo will offer $3 draft beers and $5 Casa 'Ritas along with specialty cocktails, such as the "3 G's Please," made with Sauza Tres Generaciones Plata tequila, lemon juice, simple syrup, orange bitters and muddled strawberries; the "Cabo Flip," made with Cabo Wabo Reposado tequila, Grand Marnier and lime; and the "Sunshine Margarita," made with 1800 Silver tequila, Grand Marnier, agave nectar, and orange, lemon and lime juices.
The event will also feature music from Jonny Mora Mariachi from noon to 4 p.m. and Chris Boykin from 5 p.m. to 9 p.m. The restaurant will also broadcast the Kentucky Derby in the bar area.
Cantina Laredo is open Monday through Thursday from 11 a.m. to 10 p.m., Friday through Saturday from 11 a.m. to 10 p.m., and Sundays from 11 a.m. to 9 p.m. For more information, call 601-982-7061 or visit cantinalaredo.com.
The Taste JXN
The Taste JXN, an event showcasing local art, music and food, will take place at the Arts Center of Mississippi (201 E. Pascagoula St.) on Saturday, May 12, from 6:30 p.m. to 10:30 p.m.
The event will feature a food tasting from Holy Smokes BBQ, a photography show featuring work from Love's Images, and music from artists such as Stephanie Luckett, Lari Johns'n, DJ Undeeniable and Trifecta, a group featuring singers Allonda Meriwether, Toya Leftwich and Attiya Ondreis. Local comedian Merc B. Williams will be the host.
For more information or to purchase tickets, find The Taste JXN on Eventbrite.