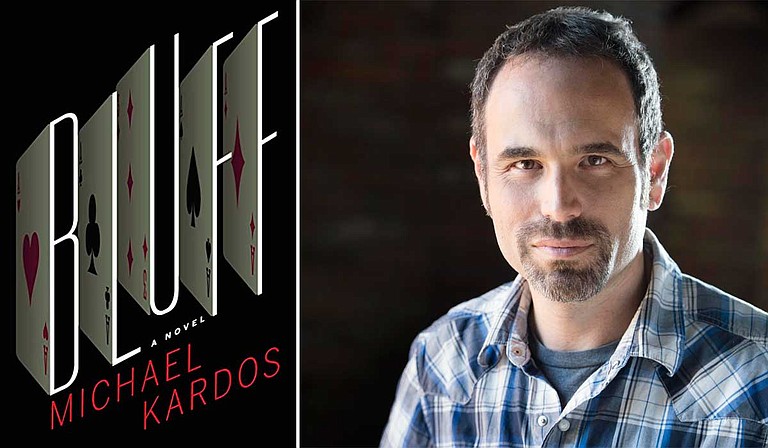 Author Michael Kardos has always been drawn to the art of illusion. As a teenager, the New Jersey native got into doing magic, and as an adult, he wanted to tackle the topic in his writing.
His third novel, "Bluff" (Mysterious Press, 2018, $26), which came out April 3, does just that, but it was not a quick road from his initial idea to hitting bookstore shelves.
"For a long time, I wanted to write some fiction involving magic because I was always kind of struck by the similarities of the two," Kardos says. "You're setting something up, and you're trying to create this sense of wonder in you audience."
That interest solidified 18 years ago when he was teaching his first fiction class as a graduate student at Ohio State University. In that class, he met an undergraduate student named Joshua Jay who also had a career as a professional magician. Since then, Jay has performed for former presidents Barack Obama and Bill Clinton, crafted illusions for films and TV shows, and set the world record for the most selected cards found from a shuffled deck in a minute.
"He was only about 20 years old, but he was already traveling the world and had won all these contests and everything," Kardos says. "We stayed in touch over the years, and I'd been wanting to write this magic novel for a long time, so when I finally got around to it, I dropped him an email and asked, 'Will you be my expert? I'm going to have a lot of questions.'"
Jay agreed to help so long as the magic did not suddenly turn out to be real in the novel, something that happens in quite a few books and movies, Kardos says.
The author and Mississippi State University professor already intended for "Bluff" to be set in real world, but that meant the illusions needed to feel real, as well. Although magicians are a tight-lipped community, he says that many professionals in the industry write books to share techniques with those who are interested in mastering them.
"The thing about sleight of hand, which Natalie, my main character, does, is that knowing the secret is not really the big deal," Kardos says. "The big deal is being able to actually perform the trick. So in a way, when talking about doing the moves, there's a lot of magic described in the book, and it's pretty much all real stuff.
"All the names of the moves, they're all real things, and if a reader comes across that and wants to seek out how to learn it, I think that's OK! It's not really revealing anything."
Kardos steers "Bluff" more into the realm of thriller as protagonist Natalie Webb gets wrapped up in the art of card cheating. Having a novel about magic or poker center on a female lead character diverges from the typical image for both fields—"It's called the magic fraternity for a reason," he says—but that is precisely why he chose to focus on Natalie.
"When I first started working on the book, I wasn't thinking that my main character would be female," he says. "Then, when I started writing some pages and a couple chapters, I started thinking about it and realized that, by making her female, it just ups the tension for everything. All of her day-to-day interactions, both as a performer and dealing with other magicians, (they were) more fraught. She had a lot more challenges to deal with, and it just seemed much more interesting to me."
Michael Kardos signs copies of "Bluff" at 5 p.m., Tuesday, April 24, at Lemuria Books (Banner Hall, 4465 Interstate 55 N., Suite 202). For more information, visit lemuriabooks.com.