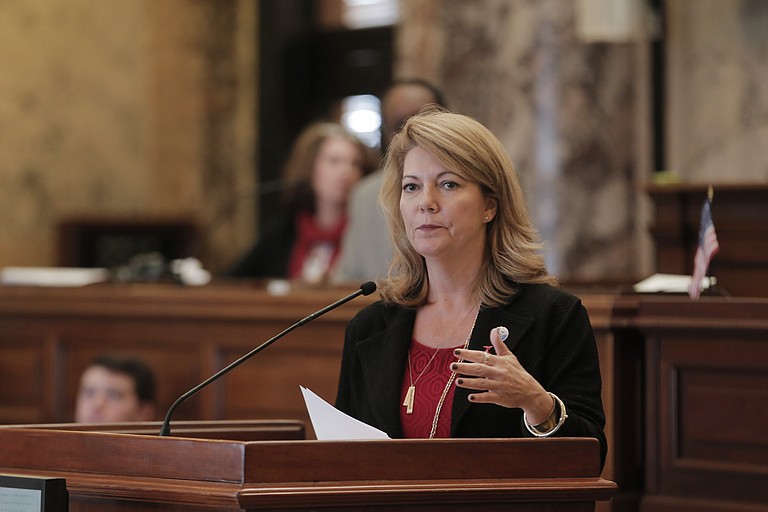 JACKSON, Miss. (AP) — Republicans running for an open congressional seat in Mississippi are advocating cuts in federal spending and regulations.
The six GOP candidates in the 3rd District spoke Wednesday night in Jackson at a forum sponsored by Americans For Prosperity, a group promoting free markets and limited government.
The Republican field has two health care professionals, Whit Hughes of Madison and Morgan Dunn of Magee; a state senator, Sally Doty of Brookhaven; a businessman, Perry Parker of Seminary; a district attorney, Michael Guest of Brandon; and an artist and educational consultant, Katherine Tate of Jackson.
The Republican incumbent, Gregg Harper, is not seeking re-election after 10 years in office in the 3rd District, which includes all of 20 counties and parts of four. The district makes a diagonal from southwestern Mississippi, through the metro Jackson area and north into Starkville.
All six candidates denounced the federal health care overhaul that then-President Barack Obama signed in 2010. The candidates said government should not play a big role in health coverage and decisions.
"I'll fight for more jobs and a stronger economy, lower taxes, fewer regulations," said Hughes, a former deputy director of Mississippi Development Authority, the state agency that seeks to promote job creation.
Doty said her legislative experience sets her apart from other candidates. She said Medicaid, the government health insurance program for the needy, is straining the federal and state budgets.
"I believe Medicaid is out of control and we must do something to get our people where they can not be so dependent on the federal government," Doty said.
Mississippi is one of the poorest states in the nation and has relied on sending people to the U.S. House and Senate for long stretches to build seniority and bring home federal money. Parker, a longtime investment banker, advocated term limits and said private investment, not government spending, can improve Mississippi.
"I have the contacts to reach out to people to help bring investment dollars," Parker said.
Guest said Mississippi should send another prosecutor to Washington. Republican Rep. Trent Kelly, from the 1st District, is a former district attorney. He advocated cutting government.
"I believe that the best form of government is local government," Guest said.
Dunn repeatedly praised President Donald Trump and said he doesn't need another lawyer in Congress. She said Mississippi should not send a career politician or lawyer to Washington: "Who better to drain the swamp than someone who has never been part of it?"
Tate said programs such as Medicaid and government food assistance hurt people. She advocated cuts in such programs and said: "Once the poor are freed up and released from that bondage, we'll see a renaissance."
State Democratic Party chairman Bobby Moak criticized the sponsor of Wednesday's forum, saying that "the only prosperity they are interested in is their own." Two Democrats and a Reform Party candidate were not invited to take part.
Americans For Prosperity state director Russ Latino said the Republican event was to help voters see differences among a half dozen candidates in the June 5 primary. A runoff, if needed, would be June 26. He said another forum later might include other parties.
The general election is Nov. 6.