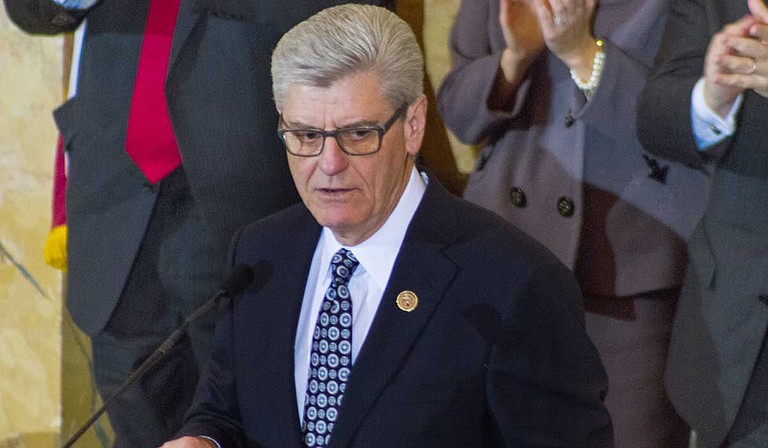 JACKSON — Gov. Phil Bryant has blocked an effort to help wean those addicted to opioids off the drugs with medication, as well as assist indigent prisoners. SB 2841, which he vetoed on April 13 citing financial concerns at the Mississippi Department of Corrections, would have enabled drug courts to make medication available to addicts.
Senate Bill 2841 also would have required MDOC to determine the indigence of Mississippians on parole, probation or supervision before assessing monthly community corrections fees. The governor took issue with this part of the bill.
"This bill replaces the discretion of the court or department to grant a hardship waiver to an offender with a statutorily mandated 'determination of indigence' based on Federal Poverty Guidelines. The department estimates that this change in the law could cost millions of dollars annually," he wrote in his veto message.
If the governor's message is correct, it follows that MDOC is bringing in millions of dollars to the Community Service Revolving Fund from Mississippians on probation or parole, who are at or below the federal poverty line currently.
Current state law allows the department to grant a hardship waiver if a person on parole, probation or supervision cannot pay their $55-per-month fee. The sentencing court or MDOC can give out a hardship waiver, but the waiver cannot last past 90 days. Bryant said the current hardship waiver process "has worked."
The Mississippi Department of Corrections had a statement pending at press time, and this story will be updated once it releases it.
Two days before the veto, Bryant signed another criminal-justice reform bill. House Bill 387 extends parole eligibility and judicial discretion for Mississippians considered "habitual offenders" under state law as well as orders judges to determine whether or not a person can afford their court fees or fines before sending them back to jail or prison for not paying.
The law, which Bryant vetoed last year, had support from progressive and conservative groups, including Americans for Prosperity and Fwd.us. The governor signed the bill surrounded by a bipartisan coalition of lawmakers and advocates, Democrats and Republicans. House Bill 387 also creates the Mississippi Sentencing Disparity Taskforce to study how Mississippians are sentenced differently for the same crime from county to county.
"A critical piece of this legislation going forward—one that will be monitored closely—is the effective administration of expanded data collection efforts within the criminal justice system," Jody Owens, managing attorney at the Southern Poverty Law Center, said in a press release. "Gathering more relevant data on the children who are housed in juvenile detention centers, as well as in county and municipal jails in Mississippi, will provide the state with the starting point it needs to bring additional reforms to the juvenile justice system that will allow it to rehabilitate, not punish, Mississippi's children."
Russ Latino, the state director of Americans for Prosperity, commended the governor for signing House Bill 387 in a statement on April 11.
"HB 387 will reduce the burden on taxpayers, focus precious resources on criminal activity that represents a real threat to the public, and provide people with a second chance to contribute to their families and communities after prison," Latino said in a press release. "This bill and its counterpart, SB 2841, are proof that people from all backgrounds and persuasions can come together to make a difference."
Bryant addressed his embrace of HB 387 while vetoing the second bill in his veto message. "During my administration, we have made good criminal justice reforms, including House Bill 387 that I signed this year," Bryant wrote, saying he supports removing mandatory suspensions of driver's licenses for controlled-substance violations. "... However, I cannot force the Department of Corrections to potentially suffer the loss of millions of dollars, particularly in light of the department's operational budget being cut for fiscal year 2019 by legislative appropriation."
Rep. Joel Bomgar, R-Madison, supported SB 2841 because it would have improved employability, he says.
"This bill would have helped increase employment prospects for those reentering society after an interaction with the criminal justice system. The bill restored driver's licenses to individuals, as long as their offense wasn't related to driving. This is a common-sense reform that is essential to gainful employment in a rural state like ours," Bomgar said in an emailed statement. "The bill also included provisions to encourage work training in prisons and ensure that fees and fines don't stand as a barrier to employment for those reentering society. I was disappointed that the bill did not become law this year, but I am optimistic that the legislature will continue to work on these issues going forward to improve our state's economy."
Correction: A previous version of this story defined the federal poverty guidelines as at or above the federal poverty line, when it should have said "at or below." We apologize for the error. Email state reporter Arielle Dreher at [email protected].