Wednesday, April 18, 2018
Interim Police Chief Anthony Moore, known since Mayor Chokwe Antar Lumumba appointed him in January as a man of few words, opened the door to his office in the Jackson Police Department on April 11. He was cheerful and ready to engage.
The chief only declined to answer one question—about his views of the newly formed officer-involved-shooting identification task force the mayor authorized last month. The first meeting would be just a couple hours after the interview, and he wanted to defer to it.
Otherwise, Moore went into the weeds of federal partnerships, his hopes to secure funding for tasers and body cameras ,and the realities of being a police officer in the capital city of Mississippi.
There are new things in place under Moore, including a downtown foot-patrol unit, the Project EJECT partnership with the U.S. Attorney's office and other federal entities, and an in-house Hinds County 
assistant district attorney.
Moore and the mayor have also halted "perp walks," where media request that a suspect in custody be paraded before them for photos and camera footage. JPD is no longer sending out mugshots of juveniles charged as adults or anyone shot by an officer in order to avoid implying criminality at the point of arrest.
With 34 years of experience with JPD, Moore knows the ins and outs of the department he inherited, one with low officer numbers and under scrutiny for its use-of-force policy that dates back to 2004 and does not include identification of any officer who shoots a civilian.
Since Moore took over as chief from former Chief Lee Vance in January, JPD officers have killed two people.
Moore also brings an academic background in criminal justice, and he hopes to use all of his tools to rewrite the use-of-force policy, keep morale high in the police department, and keep people safe in Jackson, which has seen an average of 6.5 homicides a month in 2018 as of April 11. The interim chief spoke to the Jackson Free Press in his office in police headquarters.
How have your first months as chief been?
It's been challenging. Of course being a new chief, obviously, you're going to experience various issues and things you have to deal with. But I can say that we're moving forward with a lot of things I'm trying to implement. Obviously, our manpower is a major issue right now. And so we're addressing that, trying to get our recruit class started. We anticipate on getting this class started, hopefully, at the end of May or either mid-June. That's our wish right now.
So, we're still in the process of trying to get 50 recruits for this particular class. We don't know if we're going to get that many, but we're hopeful. ... I'm also trying to implement a career-development plan to retain officers and recruit officers, and we think that is extremely important, along with benefits for officers—it's (also) about retaining officers.
Right now, we're at 351 officers—extremely short. I can remember when we were at 525 officers here at the police department. Currently we're budgeted for 418. But, we hope to increase those numbers, and we also hope to have continuous classes after this first class. We want to get our numbers back up over 500. That's the goal right now. But, this is as low as I have ever seen it since I've been employed at the police department.
What can you do with a fuller police force that you cannot do now?
I think it's going to help us in our efforts of being proactive. ... Obviously, when you're proactive, you deter crime.
So having a lot more manpower is going to help us be more efficient in our delivery of services to the citizens of Jackson, and I think that's a key component when it comes to community policing in our 
efforts.
Do you hope to replicate the new downtown foot-patrol unit elsewhere in the city?
I haven't looked at it as far as implementing it in other parts of the City as of yet. I think it's extremely important to have a presence in the downtown area. A lot of cities have downtown walking beats, and I know at one time we've had it here. Not only that, we don't just want to have a walking beat, but we want to implement a bike patrol along with a Segway patrol.
We've gotten positive feedback about our officers walking downtown, being visible, communicating with a lot of the businesses downtown. I know it's only been a week or so, but so far I think it's been very successful, and it's been met with a lot of praise. So we want to continue to do that also. I think that's extremely important in developing that bond and that collaboration with the business owners and the citizens downtown.
Is it hard to hire for police departments in general, or is this a Jackson-specific issue?
Ko, you know, I think it's a combination of both. I think you're dealing with a different breed of millennials, so to speak. I think there are a number of factors. The law-enforcement profession is a tough profession, and I don't know if a lot of people are more dedicated, more or less, as to coming into the profession.
You also have to look at the benefits associated with it, too. So, I think it's a combination of both. We've got to also look at the fact that we're in competition with other agencies. When you look at places like Memphis, Atlanta, Dallas, when we have to compete with those agencies, those are extremely hard things to do. But we're doing everything we can to try to attract as many officers as we can to beef up our force.
With the Jackson residency requirement lifted, do you still hope the core of the force will be from the community?
Well, yes. I think so, but again, a lot of times you have to be able to attract quality candidates, and my concern is if you can come to work, be here on time, serve the citizens of Jackson.
How do you deal with violent crime in Jackson?
Homicide is an issue in the city of Jackson. We stand at 26 homicides as of right now (for this year). They occur for various reasons, everything from domestic disputes, arguments between individuals, (and) there have been a few cases of robberies-—some that we're still trying to determine why.
But I can say that I think homicide is a behavioral problem. I believe people need to learn how to settle their differences other than using violence, other than using guns. I don't' think that's just a problem here in Jackson, Mississippi; I think it's a problem across the nation.
You can have a million police officers out here—now keep in mind, we're going to do our part, we're going to be out there. We're going to hit the hot spots, we're going to hit the troubled areas, we're going to do everything that we can to reduce crime and reduce violent crime in the City of Jackson. But, I think, by and large, it's a big behavioral problem. People need to learn how to settle their difference other than using violence. I think if we educate people, I think that's going to be a big help to us.
I can say that we're doing various things when it comes to addressing crime. We're deploying several crime-fighting strategies. We typically have quarterly searches that we do in the City of Jackson. Now that's composed of our partners from the federal agencies, everybody from ATF (Bureau of Alcohol, Tobacco, Firearms and Explosives), DEA (Drug Enforcement Administration, (U.S.) Marshals (Service).
We all come together, and we do these surges in Jackson at various times, which may be for three to four days, and those have been very successful in deterring crime in the City of Jackson.
Not only that, we also have other units, and I don't give away all of my crime-fighting tactics, but I'll just touch on them on the surface. We have a street-level unit that I used to run prior to becoming chief, and we address those various issues hitting hotspots in certain areas, problem areas where we have high crime. That unit works all over the city; it's composed of approximately 15 officers. It's been in existence for going on two years now.
That's been a big help in the City of Jackson along with DART (Direct Action Response Team), who's also out there doing a lot of good things.
A lot of times it's not just about being reactive, you have to have a proactive approach in order to fight and deter crime, I think that's extremely important.
How much support do federal agencies provide JPD, especially in programs like Operation Cross Country and Project EJECT?
It really depends on the type of crime. We get assistance from all the federal agencies, everybody from the FBI (Federal Bureau of Investigations), ATF, and as I mentioned the DEA and the Marshals' service. Now, there is a task force that's currently in operation, it's known as the violent crime task force that's composed of members from those various agencies I mentioned. The idea is to go out and address violent crime.
What I mean by that is, let's say there's an armed robbery of a business, well, you'll have members from the task force who will go out on scene. Say JPD is dispatched out there. These members will go out on scene, assist in the investigation and come back and try to work that case and develop leads which could potentially lead to a federal investigation, or if it doesn't rise to that level, a local investigation or state investigation. So that's been very successful with our federal partners in addressing crime, and I can say we've had a high rate of success with that.
How much do you work with Hinds County District Attorney Robert Shuler Smith?
A lot. Of course, I don't know if you're aware, we actually have an assistant district attorney assigned to the police department who's actually housed here. That is something that I, along with the agreement of DA Smith, that we instituted recently. It's been a big help.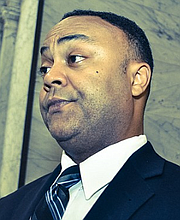 An archive of reporting on controversies surrounding Hinds County district attorneys, present and past.
A lot of times having someone housed here in the police department is really beneficial to our detectives because they can discuss cases and go over cases. And you have a district attorney here that can help answer a lot of questions, you know, from the legal aspect.
I can remember years ago when I was a detective, we had that very thing here. We would have an ADA assigned to the police department. We were able to re-implement that, and that's been very successful. We started in January, and we want to continue that partnership along with the district attorney.
Could you touch on the topic of juveniles and perp walks in the City?
Well, perp walks is a practice that's been going on for some time. I along with the mayor's office have been discussing this, and we've decided to discontinue this practice for a couple reasons. We don't want to seem like a person is being criminalized by having them photographed as they're leaving out of the jail, handcuffs and waist shackles on them. We think that this is not in the best interest, and so we decided to discontinue that practice at this time.
Talk about the decision to withhold mugshots of citizens shot by police.
Well, again, I think it's a situation where you don't want to make it seem like a person is guilty of something by showing a mugshot of them. That's something that we've gotten away from. We just want to let the criminal-justice system and the process play out like it should and not seem like, again, we're trying to criminalize somebody based on a mugshot. So that's something that we are getting away from.
Are you looking to revise the use-of-force policy?
Absolutely, absolutely. That is a huge topic that I am currently looking into right now. And I can say it is going to be revised. It's no question about that. We anticipate probably having a new use-of-force policy I am hoping very, very soon. I can't give you an exact date on it. But, absolutely, we're definitely going to revise that.
Why?
It's important—change of times. I mean, there's some things in our use-of-force policy we need to update. It's just plain and simple. We think that's important to do. Not only that, with the scrutiny that the Jackson Police Department has been under, we've taken a long look at it, and we do believe it needs a revision. So we are in a process of revising it now.
How do tasers work in this department?
Every officer in the department does not have a taser. We're in the process of trying to purchase tasers for every officer in the department to have one.
I want to say we have about maybe 60 to 65 officers (who) actually have tasers. We think that it's definitely a less lethal weapon that could be used, and it could be beneficial to us in not using deadly force in various instances. It's being worked on.
How about body cameras? Although imperfect, is there any interest for them at JPD?
There is. Of course funding is the biggest issue right now, and we're looking at trying to come up with some grant funding to try to see if we can purchase body cameras. That is something that is on our list, and we hope to have that accomplished real soon. Sometimes it takes time with grants, but that is something that we're looking at.
What's morale like at JPD?
I've been out to speak with the officers. I haven't spoken with every single officer in the department. I think they are optimistic. I like to go out and personally introduce myself and look at somebody face-to-face and talk to them and let them know what the vision is for the department. Getting feedback, I think they are optimistic about the future of the police department.
It's going to take time. Nothing happens overnight, and I think trying to implement new things and bring things to the police department, our officers understand that it takes time. So I want to make sure that I emphasize that to them where they can understand what we're trying to do.
Can you talk about your academic background with criminal justice?
I've been in it a long time. I started out back in 2000, so I've been teaching for 18 years. I teach criminal justice and political science courses. My background is in both political science and criminal justice. I have graduate degrees in those areas. I've been teaching at Hinds Community College and also Jackson State. I enjoy it. I still do it on a limited basis, but it's been adventurous. Once I retire (from JPD), it's something that I want to keep doing in the future, and I've enjoyed every bit of it, the entire 18 years I've been doing it. It's helped me a lot in my skills and experience being a better person in being able to apply some of those things at the police department.
How long have you been in Jackson, and what do you hope for the city?
I've been here all my life. Obviously I want Jackson to be a safe city, that's first and foremost.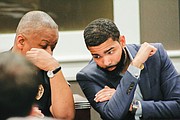 I would love to see it flourish back to the way it used to be. I would love to see our infrastructure be a lot better. I want to see businesses come back to Jackson. I want to see Metrocenter Mall come back to life.
A lot of times people grow up and they leave Jackson. I've had a vested interest in Jackson all my life, decided not to leave. Had a few opportunities to leave, but I love Jackson been here all my life, and I don't plan on going anywhere when I retire.
This has been my home, I have a passion for Jackson. I want to see it get back to being one of the most thriving cities, and I think we're doing that.
A lot of the things that the mayor's implemented in the City of Jackson are a lot of good things, and I think we're getting back on track to where we need to be.
What made you want to be a police officer?
Ever since I was a kid, it was something that I always dreamed about. I can remember coming up that I used to be a police explorer. We have that program today. It was just something that I dreamed as a kid that I always wanted to be a police officer. I've been fortunate and blessed enough to be able to put on the uniform ever since I was 20, 21 years old and enjoy what I do every single day. Wouldn't trade anything for it. I'm just one of those diehard people when it comes to what I do.
Why do you think you were chosen to be interim chief?
Well, that's a decision the mayor made obviously. I think a lot of officers around the police department respect me as an individual and know what I stand for and that was a deciding factor in why I became interim chief. So, that's what I can say. I think the mayor has confidence in me to be able to run this department and make sure that it's being run and managed the best it can be. But, I think a lot of it did happen based on my character and who I am.
Do you want to stay on as chief permanently?
Yes, I would love to. There are a lot of things I would like to see change here; it's going to take a little time to get them done. But I would love to serve as permanent chief. Of course, that's not my decision. We'll see how things work out.
What would you want people to know about you?
I can say that I'm a passionate person, I believe in treating people fairly, and I believe in our officers treating people fairly and with professionalism and respect. So I want the citizens to know that we're going to do everything in our power to make sure that we're the most professional police department here in the state of Mississippi.
With that being said, obviously I want crime to go down, and I think it's important for us to be proactive, and I think it's important for us to have a connection with the community—community policing is paramount. You must have community policing; you have to have the citizens support you. If not, you're going to fail.
Having that support, having the community behind us, us partnering with the community is extremely important. I can say there's a lot of things that we're doing right now when it comes to that.
We have COPS (Community Oriented Policing Services) meetings every month where we sit down with members out of the community in each precinct and discuss crime issues. We have individual meetings with citizens that may want to talk with a commander.
Bigger things are citizens' police academies, from which we recently had approximately 35 citizens graduate. I encourage all citizens to try to go through the citizens police academy. It really gives you a sideline view of what the police department is about and what officers do on a daily basis. And we have nothing but positive feedback from it. We went from having citizens police academies two times year to four times a year now. Our next one is going to be scheduled in June.
Would you say police have a scary job day-to-day?
It is. Being a police officer is a tough job. Police officers are often faced with dangerous, violent situations on a daily basis that a lot of times the media never hears about. Officers put their lives on the line each and every day. They don't know if they're going to come home at night to their families.
But we know what we signed up for, we know what we have to do as officers, and we take that risk every single day we put on the uniform. It's part of the job, and I can say.
A lot of times officers engage in situations where they de-escalate them. No violence is used, nobody gets hurt. And I know that there have been some issues with officers when it comes to officer-involved shootings.
It's a dangerous job, and with encountering the criminal element that these officers do, it's tough. I'm thankful that no officers have been seriously injured, and I pray that that doesn't happen.
When they took an oath to serve, they understand what they face.
Does JPD communicate with families of people that police shot and killed?
We've reached out. I personally reached out to the (Crystalline) Barnes family and expressed my condolences.
I've said in the past, these are very unfortunate situations. Nobody wins.
It's just bad when it comes to officer-involved shootings, and I expressed my sentiments all the time, and I just think it's very unfortunate. ... But again, it's part of the job that we do.
This interview was edited for length and clarity. see jfp.ms/policeshootings and jfp.ms/preventingviolence.
Stats
Chief Moore shared these stats from July 1, 2017, through April 11, 2018:
49 incidences of officers facing resisting-arrest situations
Man with gun calls: 1,585 responses
Shots fired: 3,590 responses
Assaults on police officers: 51