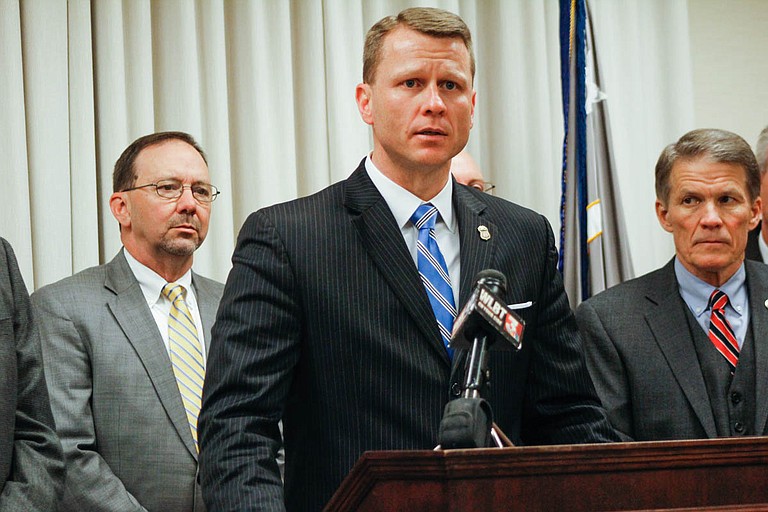 JACKSON — U.S. Attorney Mike Hurst called a press conference at the United States Courthouse downtown Monday to release some details about the results of a recent cooperative sting to go after a mix of alleged criminals with outstanding warrants, gang members and their associates, and sex offenders. He said other agencies will likely refer some of them to his office for prosecution under his controversial crime-fighting initiative Project EJECT—Empower Jackson Expel Crime Together—under which Hurst pledges to go after the "worst of the worst."
"[T]his is what Project EJECT is all about: increased cooperation among our law enforcement to take the worst of the worst off our streets and the empowerment of our citizens and our communities through education, awareness, and assistance," he said Monday.
Last week, a "surge" of law enforcement took place in Jackson to sweep up a variety of suspects, whom Hurst declined to name. The U.S. Marshals Service's Gulf Coast Regional Fugitive Task Force led the arrests sweep, with members from the Jackson Police Department, Mississippi Bureau of Narcotics, Mississippi Bureau of Investigations, Mississippi Department of Corrections, Pearl Police Department, Homeland Security Investigations, Bureau of Alcohol, Tobacco Firearms and Explosives, Ridgeland Police Department, Biloxi Police Department, the Metro 1 Air Support, and sheriff's departments from Hinds, Madison and Rankin counties.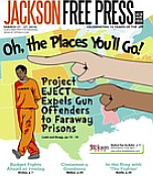 U.S. Attorney General Jeff Sessions' Project EJECT is a controversial blast from the past.
Task-force members arrested 45 individuals of various races, almost 75 percent of whom were identified as gang members, including Gangster Disciples, Vice Lords, Simon City Royals, Latin Kings and Aryan Brotherhood, Hurst said. The task force "substantially increased" its numbers of officers up to 60 for last week's bust, and that kind of cooperation among law enforcement, Hurst said, allows them to dismantle gangs, prosecute violent criminals and remove sex offenders from the capital city.
"[B]ecause of the actions taken last week, the City of Jackson and the surrounding areas today are safer and more secure," Hurst said.
U.S. Attorney General Jeff Sessions praised the action in a statement emailed to local media. "When law enforcement officers work together, we get results," Sessions said. "The arrest of more than 30 gang members in Jackson is the result of effective collaboration between all levels of law enforcement—federal, state and local—to target the most violent criminals in our communities."
Sessions' approach to crime-fighting draws much criticism, however, including from David Kennedy, a criminologist at John Jay College of Criminal Justice in New York, who called the AG's "evidence-free strategy ... a criminologist's nightmare." That despite Hurst telling the Jackson Free Press that Project Eject is modeled on the Kennedy-led Boston Gun Project and Operation Ceasefire violence strategies.
"Sessions has called for a return to the 'war on drugs' menu—more law enforcement, mandatory minimums and long sentences, even the anti-drug D.A.R.E. program—plus a new focus on heavy immigration enforcement and a withdrawal from DOJ attention to police misconduct. But we now know for a fact that these things don't work, and can actually make matters worse," Kennedy wrote in an essay for The Hill.
Hurst said it is important to identify gang members if his office is going to make any headway on "breaking gangs" so they can go up the ladder and get the leaders. "It's only by getting the gang members and getting the gang leaders that we're able to break the gang' themselves," Hurst said.
Many violence experts, however, say that it is unwise for law enforcement to fixate on gang membership over investigating and prosecuting specific crimes. "If I say you're a gangster and that you're talking to gangsters, then you're a gangster. ... It is the standard way that law enforcement will try to deal with a problem that cannot be dealt with with force," Ron Noblet, who trains law enforcement around the country in effective gang intervention and consults with the Urban Peace Institute in Los Angeles, Calif., told the Jackson Free Press. Noblet was also the lead investigator on a State-funded 2016 study of gangs and youth crime in Jackson and is a featured character in the book, "Blue: The LAPD and the Battle to Redeem American Policing," for his role in reducing gang violence there.
In addition, violence experts warn that suddenly disrupting, or "splintering," a gang by arresting a leader can create a leadership vacuum and increase the chance for violence as members jostle for power.
The details of the arrestees in last week's operation have not yet been made public, so it is not clear whether or not the gang members arrested were leaders, low-ranking members or active gang members.
Hurst said the task force seized a number of firearms and found illegal drugs including ecstasy, marijuana and crystal methamphetamine.
How Mississippi pursues people believed to be in gangs.
Officers identified targeted gang members through word-of-mouth and tattooed insignia, Hurst said at the press conference, but he would not divulge further details about how they decided who was in a gang or on the round-up list. The U.S. attorney diverted a question from a reporter about whether or not there has been a surge in gang activity in Jackson, pointing instead to a surge in law enforcement. He added an oft-quoted and unsupported statement by law enforcement—that some people deny that there is a gang issue in the state.
"But I think, not only the arrest, but the engagement with various gang members this week show that we have a gang problem not only in Jackson, but I think you'll start to see this around the state, unfortunately," Hurst said.
The Mississippi Legislature recently declined, for the second year in a row, to pass an expanded gang law in the state to make it easier for prosecute and attach additional sentences due to gang membership.
The U.S. attorney told the Jackson Free Press earlier this year that he does not have a plan to do a Project Eject-type operation outside Jackson, including on the Gulf Coast, which has seen a surge of gang-related activity and violence over the last decade. The JFP reported recently that the state's existing gang law was only used against African Americans from 2010 until 2017, even as the Mississippi Association of Gang Investigators told The Clarion-Ledger last fall that 53 percent of the state's verified gang members are white.
Project EJECT is part of Project Safe Neighborhoods, a national strategy revived by Sessions that is known for targeting mostly African Americans in U.S. cities for possessing illegal weapons. The idea is to subject people picked up for federal gun crimes to expanded sentences and "eject" them into federal prisons far from their home state—a strategy that experts such as Kennedy, the criminologist behind Operation Ceasefire, say targets street-level people of color over the suppliers of the weapons and does not, in fact, make communities safer over time.
Sessions, though, is a fan of the massive-arrest approach behind both Project EJECT and Project Safe Neighborhoods. "It's also an example of how customizing our strategy at the local level through the Project Safe Neighborhoods program helps us use our resources more effectively," he said in the statement.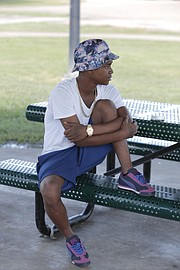 A full archive of the JFP's "Preventing Violence" series, supported by grants from the Solutions Journalism Network. Photo of Zeakyy Harrington by Imani Khayyam.
Hurst said the task force is also rounding up sex offenders, weapons or not, because they're the "worst of the worst" and would not necessarily have to be charged with a gun crime. As of February, all people indicted under Project EJECT had been accused of a crime involving a gun from felons in possession of a weapon to armed robbery.
"I know there's been some misconceptions about the only crimes that fall under Project EJECT are guns, and that's actually not accurate—we're going after violent criminals. And those criminals can be violent without guns so we're prosecuting whatever tools we have in the federal system we're going after the violent offenders in our community," Hurst said, veering from the original Project Safe Neighborhoods mission and design into crimes that are typically in the jurisdiction of local, not federal, authorities.
Jackson Police Department's involvement in Project EJECT, in Hurst's eyes, is a "match made in heaven." The Project EJECT Task Force works "hand in glove" with his office, he said, and either JPD will call his office when they think something qualifies for federal charges or vice versa.
"Again, I can't say enough good things about (Interim Chief Anthony Moore) and his department and what they've meant to this project and how successful it's been so far," Hurst said.
Mayor Chokwe A. Lumumba has distanced himself from Project EJECT, however. "Project EJECT is (not) and has never been an initiative of the City," Lumumba said at a recent Jackson City Council meeting that drew heated pushback on the City's role in Project EJECT. "... This administration has never said it is in favor of Project EJECT, we have never made any comments on Project EJECT. In my opinion, it may be out of our sphere of influence. What our police department is tasked with doing is investigating cases."
Hurst said more details will be available soon about the promised prevention, the reentry and the awareness aspects of Project EJECT.
Email city reporter Ko Bragg at [email protected]. Read more jfp.ms/projecteject and jfp.ms/gangs. Additional reporting by Donna Ladd.