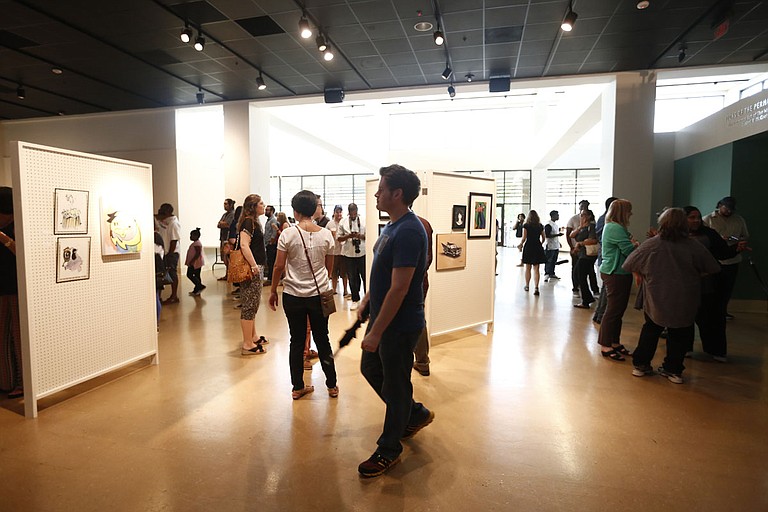 The James and Madeleine McMullan Family Foundation, an Illinois-based educational scholarship and grant provider, donated $750,000 to the Mississippi Museum of Art on Sunday, March 25. The foundation presented the grant, which is the largest the museum has received from a single donor, as part of the 2018 Scholastic Art Awards Mississippi Regional Competition award ceremony. The museum will use the grant to create a new position called director of learning and school programs.
The person in that position will develop educational curricula around the museum's exhibitions, offer professional development opportunities to local teachers, and coordinate with educators for school tours of the museum. The director will also oversee a new second- and third-grade initiative, a teaching fellows program and the Scholastic Art Awards Mississippi Regional Competition, an art contest featuring work from students in grades seven through 12. Participating artists can receive Gold Key, Silver Key and Honorable Mention awards after a blind judging jury selection in the regional competition. Gold Key winners can then compete at the national level for scholarships and cash prizes.
The second- and third-grade initiative will use art to promote critical thinking and analytic skills, and will have teachers use art in their teaching through workshops and visits to schools.
The teaching fellowship program will select eight students from Jackson State University, Belhaven University, Tougaloo College and Millsaps College as fellows who will conduct guided tours of the museum for visiting kindergarten through 12th-grade students and their teachers.
The McMullan Family Foundation has previously granted individual scholarships to students at Newton High School, funded the Center for the Study of Southern Culture at the University of Mississippi, and founded the McMullan Young Writers Workshop at Millsaps College. For more information, visit fconline.foundationcenter.org or msmuseumart.org.
TeamJXN Hosting Food Sustainability Luncheon at Up in Farms
TeamJXN, a nonprofit comprised of professionals and local business owners that encourages and promotes economic development and quality of life improvements in Jackson, will host a luncheon on entrepreneurship and food sustainability called "All About Food" on Tuesday, May 1, from 11:30 a.m. to 1 p.m. at Up in Farms Food Hub (352 E. Woodrow Wilson Blvd.).
Jackson developer David Watkins Jr., a founding principal and managing partner with Up in Farms' parent company, Soul City Hospitality, will be one of the speakers at the event. Soul City is a group of Jackson entrepreneurs and restaurateurs who came together in 2014 to support local businesses and develop a sustainable food system in the city.
Watkins is also the project manager for Up in Farms and oversaw the program's launch in April 2016. The food hub gathers locally grown fruits and vegetables from farmers, packs the produce, and distributes it to local restaurants, grocery stores and families in need.
Jordan Butler of Refill Cafe, a nonprofit workforce development cafe set to open in the former site of Koinonia Coffee House (136 S. Adams St., Suite C) in west Jackson, will also speak at the luncheon. Refill Cafe will provide training for young adults who dropped out of the school system and want to pursue a career in food and hospitality. Butler's presentation will focus on how Refill and Up in Farms are impacting the Jackson community through training programs and food sustainability, and how the community can support both businesses.
For more information or to register for the luncheon, visit teamjxn.com. Learn more about Refill Cafe and Up in Farms at refillcafejackson.com and upinfarms.com.
Riverwalk Renovating Hotel and Suites
Riverwalk Casino and Hotel (1046 Warrenton Road, Vicksburg) will begin renovating 80 of its hotel rooms later this month. The renovations will include new paint, wallpaper, linen and carpet.
Riverwalk will also make updates to the furniture, lighting and other cosmetic aspects of its fifth-floor suites. The business expects to have the renovations completed by Memorial Day weekend in May.
For more information, call 601-634-0100 or visit riverwalkvicksburg.com.