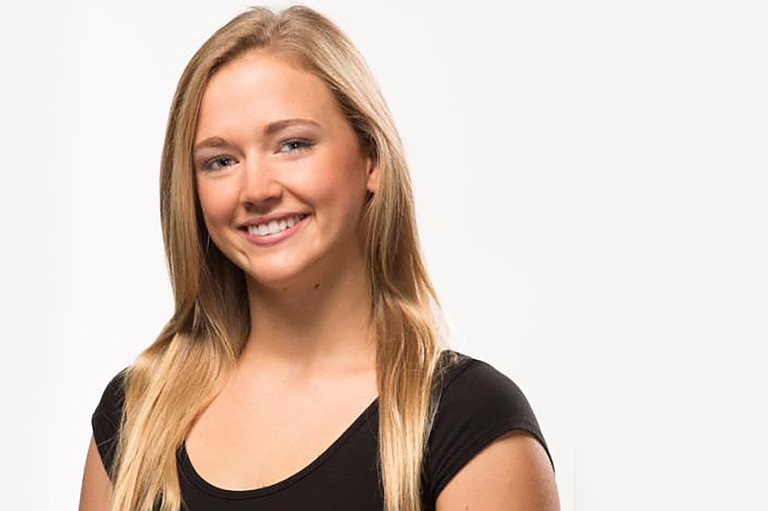 For Julie Seely, figure skating is a meeting point between athleticism and the arts.
"With figure skating, you have a chance to be really emotional and artistic, and convey this love and connection with the crowd while, at the same time, being able to move your body and be healthy," she says. "It's just this perfect marriage of sports and artistry."
Seely, a Spring Valley, Calif., native, has been with the "Disney on Ice" traveling production since 2014 and has done four tours in different roles, including playing young Elsa in "Frozen." In the current show, "Disney on Ice presents Dream Big," Seely will play characters in various production numbers, including one of the underwater creatures during "The Little Mermaid."
"The arena is transformed into an underwater wonderland," she says. "We have bubbles coming down from the ceiling."
In "Disney on Ice presents Dream Big," Tinker Bell uses pixie dust to guide the audience through nine different stories, featuring characters such as Tiana from "The Princess and the Frog," Ariel from "The Little Mermaid" and Cinderella. The performance also has an acrobatic number, Seely says.
"We have fire on the ice," she says. "It's just a really special show with a lot of characters and a lot of action."
Seely was first exposed to ice skating around the age of 11 during a friend's birthday party.
"I had so much fun on the ice, and I just kept with it," she says.
She started out just doing group classes, but eventually, she began training individually five days a week.
"It was just always something that I loved," she says. "Some people have this really competitive background, but mine was always more of a self-interest and just a passion for the skating as opposed to just a high competitive level."
Still, Seely did compete. She placed first in the 2013 L.A. Showcase and second in the 2013 Southwest Pacific Regionals, and also passed U.S. Figure Skating's intermediate free-skate test, which determines a skater's competition level.
Her coaches, Terry and Tony Kudrna, first introduced Seely to "Disney on Ice," taking her to shows during training.
"It's just something that's special to watch," she says. "... When I first saw the show, I thought it was so neat that people could skate and do what they love, and in doing what they love, they could connect with so many children and inspire joy and passion and persistence in their hearts, too. It's just a special connection that you can have the audience doing this kind of work.
"... It just became a goal of mine (to be in 'Disney on Ice'). As soon as I was introduced to the idea, I just loved it and grabbed onto it and worked towards coming here."
When she is not skating, Seely says that she enjoys playing the ukulele and singing, so figure skating is a great way to blend her artistic outlets.
"Skating on the ice is just this perfect melding where I feel that all the skills from, like, singing and music translate onto the ice, as well, with the musicality and the emotion in the performance," she says.
While skating can be mentally and physically challenging, she says the skaters in the show are supportive of each other.
"I know some days I have a lot of problems with my technical tricks, and I can turn to my coworkers, and they can say, 'Hey, you can change your technique this way,' or 'Engage your core, and that'll fix this problem,' so we all just help each other out."
"Disney on Ice presents Dream Big" is April 12-15 at the Mississippi Coliseum (1207 Mississippi St.). The performances are on Thursday, April 12, at 7 p.m.; Friday, April 13, at 10:30 a.m. and 7 p.m.; Saturday, April 14, at 2 p.m. and 6 p.m.; and Sunday, April 15, at 2 p.m. Ticket prices start at $15. For more information, visit disneyonice.com or find the event on Facebook.