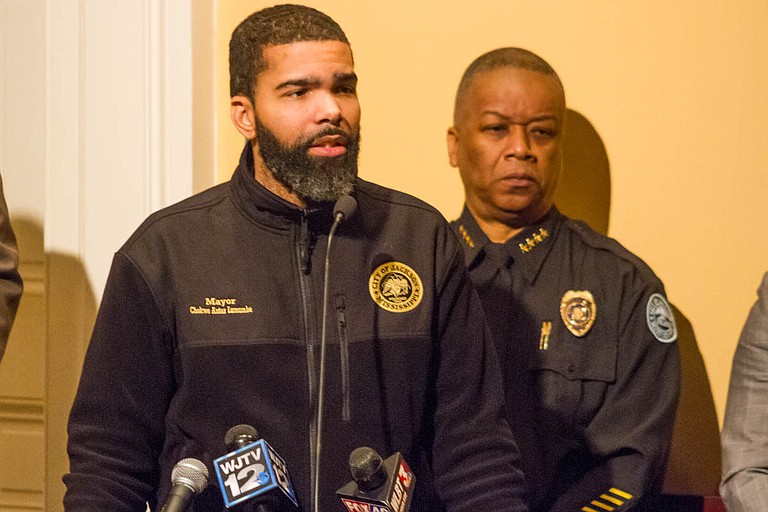 Wednesday, April 11, 2018
JACKSON — If you walked into Jackson City Hall two weeks ago at just after 7 p.m., you would have seen the mayor's chief of staff, Safiya Omari, in a tense, loud exchange with public defender Adofo Minka, who had just criticized Mayor Chokwe A. Lumumba publicly on how he is handling officer-involved shootings.
The capital city has had two fatal officer-involved shootings this year alone, with seven total shootings by police since the mayor took office in July. The Jackson Police Department has a longstanding practice of withholding those officers' names.
During public comments at the March 27 city council meeting, Minka, who is also an occasional columnist for the Jackson Free Press, pressured the mayor to clarify his position on releasing names of officers who shoot civilians. Earlier that day, the mayor had signed an executive order to create a task force to evaluate how the City will handle transparency in officer-involved shootings moving forward, but Minka wanted to know more.
"I'm not asking where a task force stands," Minka said then. "I'm asking you as the mayor of the City of Jackson right now where you stand."
The two men have a history dating back to the early days of both men's legal careers, and Minka has been active in the Malcolm X Grassroots Movement, which the mayor's father helped start. In response to Minka, Lumumba said he had heard from both sides of the argument, but that the process needed to move beyond him.
"[I]f it was just Chokwe that had to make the decision based on his personal views, then I would release them," the mayor said. "But I also give people opportunity for a democratic process...."
"To be clear, you're bringing government bureaucracy to the table through a task force," Minka shouted back, as he turned to walk out of the chambers. City Council President Charles Tillman of Ward 5 struck his gavel. "That's not the people," Minka added.
The rift between the mayor and Minka is not the only fracture over policing the mayor faces. As Lumumba looks for consensus over how the City handles officer-involved shootings, Interim Police Chief Anthony Moore's department wants to leave things where they are, with officers asking the community to support JPD.
'Luxury of Anonymity'
Chief Moore walked into the meeting room at JPD headquarters in a light-blue oxford, gray slacks, an olive-green tie and his gun on his waist on March 27. Nearly a dozen officers filed in behind him, standing shoulder to shoulder behind the podium where Moore stood to address the room.
The day before that meeting, a message went up on the NextDoor neighborhood website warning that the City might force JPD to release officer names within 72 hours of cop-involved shootings—a nationally recommended standard used in many 
cities. The post encouraged concerned community members to show up to the precinct meeting to support JPD.
Moore addressed a mixed-race crowd that nodded and sounded off in agreement whenever anyone brought up officer safety. He said wanted to learn about how people feel about the practice, and yielded to Paul Hobson, the president of the Jackson Police Officer Association, the labor union that represents JPD officers. Hobson said Jackson's small size means the officers do not have the "luxury of anonymity" like some of the larger cities do—a reason the police union does not believe in releasing names.
"I can tell you and assure you that 100 percent of our department is against the release of officer names as it pertains to shootings," Hobson said. "We believe that there should be transparency in the process ... but we do not believe that it is in the best practice to release names." Hobson is a member of the new officer-identification task force.
Deputy Chief Tyrone Buckley seconded what Hobson said about anonymity because his kids go to Jackson Public Schools, he said, adding that JPD has made progress by working with the Mississippi Bureau of Investigation.
"Just recently, we elected MBI to come in and do all our officer-involved shootings. That adds another level of transparency," Buckley said.
The bureau has stepped in to investigate the last officer-involved shooting that claimed the life of Lee 
Edward Bonner in February. It is also investigating an officer-involved shooting by Flowood police at a Kroger there.
Buckley tried to make the case that crime suspects in Jackson are not plastered throughout the press, which is actually a standard practice in this City throughout different types of media. He said that if officers' names went out following an officer-involved shooting, the "officer could be convicted way before going before a jury of his peers."
National experts acknowledge that officers can be in danger after shooting someone on the job, but call for balancing that concern with the public's right to know. "If (departments) are coming out, and they're saying, 'we've got to protect our officers,' and they're not talking about what the cost is to community trust, that's probably not someone who's balancing the right set of things," Philip Atiba Goff, president of the Center for Policing Equity at John Jay College in New York, said in March.
The room agreed with Buckley, and throughout the meeting, people asked officers how they could support them further. Keyshia Sanders of constituent services, who represented the mayor's office, encouraged them to speak before the council that night. Only one woman did, however.
Thin Blue Line
Susan Lunardini, wearing a baby yellow sweater, stood up at the precinct meeting to talk about the importance of law enforcement. As a Jackson resident, business owner and former president of the Jackson Police Foundation, she expressed concern that releasing officer names would gravely affect recruiting, and also might incite violence from families of loved ones shot by JPD.
"I greatly feel for the victims' families," she said. "I know they want information, it's the first thing you want. ... But vengeance is in the heart of some people when they're in grief, and it just is a dangerous emotion until you have time to work through it." Lunardini was one of the only people to mention families of people who JPD has shot. Later that night, Lunardini spoke at city hall just before Minka. "I want to see that thin blue line we have get thicker and longer. It's just what gives us civilization," she said.
Minka feels the opposite. "When we have a situation where people's human rights can be abused and officers can skirt being identified, you have a police-state situation," Minka said before the council.
With clear polarity between the mayor's personal views and JPD, but also citizens like Minka and Lunardini, the 21-person task-force will have to pack a lot into their bi-monthly meetings beginning April 11.
Six of them are law-enforcement officers.
Read more at jfp.ms/policeshootings. Email city reporter Ko Bragg at [email protected]. Twitter: @keaux_.