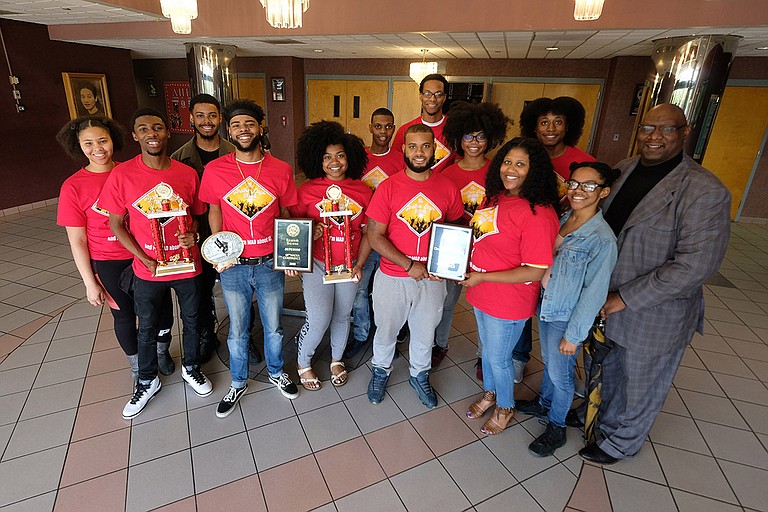 MADDRAMA, a student performance troupe at Jackson State University, recently won nine awards at the 82nd National Association of Dramatic and Speech Arts Conference at Dillard University in New Orleans. JSU competed against 10 schools from across the country, including Alabama State University, Delaware State University, Grambling State University, Prairie View A&M University and Texas Southern University.
More than 400 students, educators and administrators, most of whom are from historically black colleges and universities, attend the four-day arts conference each year. The event features competitions, workshops, performances, panels and presentations.
MADDRAMA won first place in the Play Performance Festival, Oral Interpretation of Prose, Reader's Theatre, Extemporaneous Speaking and Original Playwriting categories. The troupe also took second place in Original Playwriting, Duo-Acting and Dramatic Monologue, and third place in Stage Design.
The 2019 National Association of Dramatic and Speech Arts Conference will take place in Baltimore. For more information, visit the NADSAC Facebook page. Learn more about MADDRAMA at maddrama.com.
Hinds Partnering with Metrocenter to Build "Comprehensive One-Stop Center"
Hinds Community College partnered with the Metrocenter Mall to begin work on the "Comprehensive One-Stop Center" on March 29. The center will offer career-technical and workforce training programs for both high-tech training and middle-skill education.
Hinds will take charge in the operation of the project and allocate $1.6 million to help fund it. The college stated in a release that the renovations to make way for the center will take about six months.
The 189,000-square-foot facility will occupy the former Belk and McRae's department store space in the southeast of the mall. The bottom floor of the space will feature an event area, as well as a metal fabrication machining and welding area. The top floor will feature offices and classrooms dedicated to mechatronics, robotics, 3D design, and MIBEST, which is a job-ready program for adults without high-school diplomas.
The center will offer services such as a job search program, unemployment-insurance benefits assistance, on-the-job training opportunities and more. Hinds said in the release that it might eventually move administrative functions for its MIBEST, Adult Basic Education, the Early Childhood Academy and career-tech programs for manufacturing to the Comprehensive One-Stop Center to support the initiative.
AGC MS Funds New USM Scholarship
The Associated General Contractors of Mississippi presented a check to the University of Southern Mississippi's School of Construction + Design on March 19 to finance the creation of the AGC Mississippi Future Leaders in Construction Scholarship. Funding from AGC Mississippi member and supporter donations, as well as events such as the annual AGC 401k MEP Skeet & Trap Shoot, also went toward the scholarship.
USM's School of Construction + Design teaches students about current practices and technologies for design, construction, engineering and management to prepare them for careers in fields such as architecture, interior design and industrial construction.
The Associated General Contractors of America has more than 15,500 members nationwide, including 325 in its Mississippi branch. For more information, visit msagc.com.