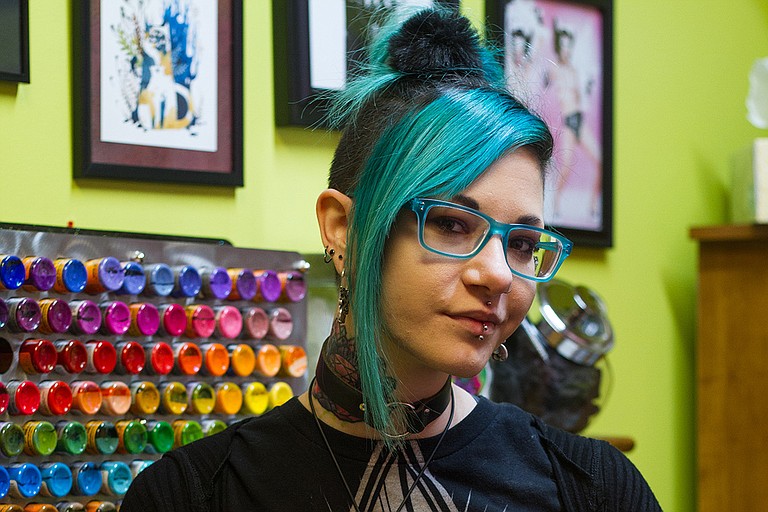 Colorful anime art adorns the bright lime walls at HardRocs Tattoo & Piercing in Brandon, some framed and some taped. Drawings from tattoo artist Emily Riffle, who goes by Emily Allison, are spread out on a large corkboard, barely visible amongst the many sketches.
A rainbow gem cluster tattoo is etched into her neck.
"It felt like razorblades scraping me," Allison says of the tattoo, "but I love it. ... I've always loved body art."
She first got into tattooing five and a half years ago and then began apprenticing at Twiztid Images, a Richland tattoo shop that closed in March 2017. Allison has been with HardRocs for about a year and half.
Before getting interested in tattoos, Allison says she fell in love with drawing when she discovered DeviantArt and anime in high school. "I met some friends through that, and they really inspired me to push myself and start drawing more," she says. "I was always drawing."
Allison, 26, who creates art under the moniker Sprinkle.Spit, first began creating art with Copic markers, but lately, she does most of her work on her iPad. Her inclination toward body art began fairly early. She even recalls drawing on friends' arms while attending Hillcrest Christian School—"not real tattoos or anything; I used gel pens," she says
When she planned her own first tattoo about seven years ago, she says that she had several ideas with a lot of meaning. Ultimately, she decided to get something random and happy instead, and chose Hello Kitty, a popular Japanese cartoon character.
"Hello Kitty will always have a special place in my heart," she says with a smile.
Allison says that she enjoys drawing characters that she is passionate about, including strong female characters from anime shows, such as "Sailor Moon" and "Kill La Kill," as well as video-game characters like Mei and D.Va from "Overwatch."
Allison recently participated in this year's Mississippi Anime Festival, which took place at the Mississippi Trade Mart on March 10, as one of the vendors for the event. She will also have a booth at the upcoming Mississippi Comic Con at the Trade Mart on June 23 and June 24.
"I sell prints and stickers, some original artwork, mostly anime," she says. "I started early last year with my own booth (at the Mississippi Anime Festival). I really enjoy the people. You see all walks of life from elementary-school kids to grown adults, all kind of people getting together and nerding out. (It's) always positive, whether I make much or not. It's good to keep the fandom alive."
To view some of Emily Allison's art, find Sprinkle.Spit Tattoos on Facebook and Instagram.