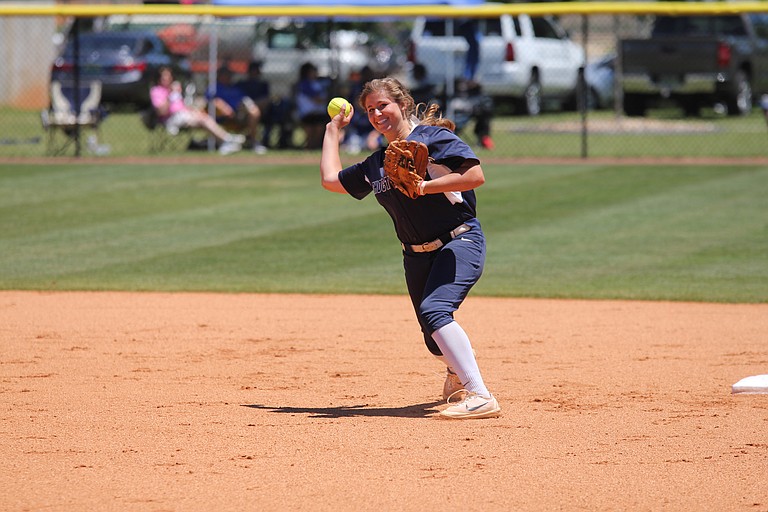 Mississippi College infielder Alexia Harmon put on a superb performance at the plate against Union University over the course of their recent series March 30 and March 31.
The Choctaws' softball team swept Union, as Harmon went six for eight at bat with seven RBIs, five runs scored and two homeruns. She had at least two hits and two RBIs during each matchup of the three-game series.
The former Madison Central High School star went two-for-two at the plate in game one of the series with three RBIs, two runs, a homerun and a stolen base in a 9-1 run-rule win. In game two, the junior went two for four at the plate with two RBIs, two runs and a stolen base, and she hit a walk-off homerun to give the Choctaws an 8-7 victory.
She finished off the series by going two for two at bat, with two RBIs, a run, a stolen base, and a walk, as the Choctaws won 8-0. The sweep moved MC to 19-11 overall and 12-8 in the Gulf South Conference, placing the team in the middle of the conference standings.
Harmon's performance at the plate earned her GSC Softball Player of the Week honors. MC followed that series with back-to-back wins against Miles College on Wednesday, April 4. After those games, Harmon sits at a .318 batting average with 32 starts in 32 games. She has 27 hits, a team-high 26 runs, 21 RBIs, five homeruns and four doubles.
She currently has a .541 slugging percentage. After hitting just one homerun total in her previous two seasons at MC, she has exploded to five this year. She has already surpassed her RBI total of 15 from last season, as well.
During her first year at MC, Harmon started in all 58 games and finished the season with a .331 average. She had 60 hits, 38 runs scored, 27 RBIs, 13 doubles and three triples. While helping MC to a National Christian College Athletic Association championship, Harmon finished with a .436 slugging percentage with 79 total bases and 10 walks.
As as sophomore, Harmon started all 55 games at shortstop. She had a .265 batting average with 41 hits, 28 runs, 15 RBIs, eight walks, three doubles and one homerun. With help from Harmon, MC won the Gulf South Conference Tournament.
Before coming to Mississippi College, Harmon had a .398 batting average of and a .600 slugging percentage at Madison Central. She helped lead the Jaguars to three consecutive 6A State Championships from 2010 to 2012. She was also named to MHSAA All-State Tournament Team for the 2011 and 2012 seasons, and MHSAA Scholar-Athlete Team in 2012 and 2013.
Mississippi College returns to action at home on Saturday, April 7, kicking off a three-game series against Christian Brothers University.