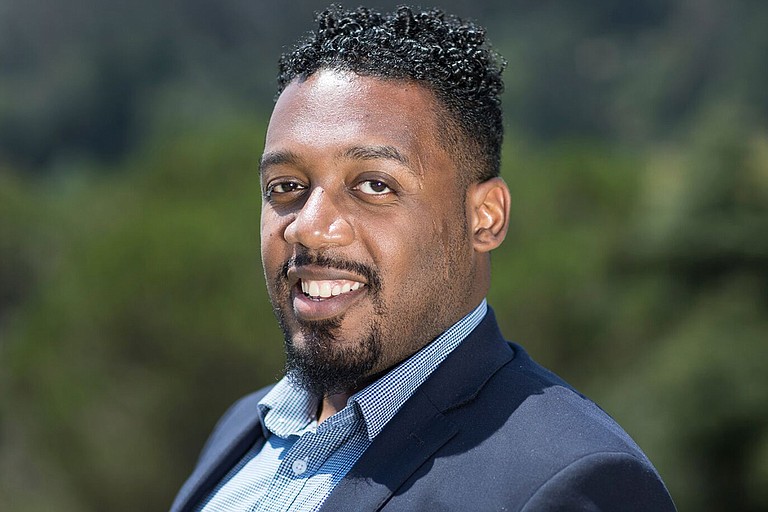 The experiences Deeneaus Polk gained while doing research in Germany help him create and implement policies that focus on poverty and economic disparity in Mississippi. Polk, now 31 and the director and project manager of the Mississippi Apprenticeship Program, says his time abroad taught him that the socioeconomic problems he saw while growing up in Pascagoula were not inevitable or insurmountable.
"I did an exchange program in Germany when I'd just turned 16, and I just remember never seeing anyone going through the challenges that I was going through back in Mississippi—poverty and things of that sort," Polk says.
That made him wonder why.
Polk attended the University of Mississippi and received a bachelor's degree in international studies in 2011. He also received a Fulbright English Teaching Assistantship that year to return to Germany to teach. Polk served as a policy analyst for the Mississippi Economic Policy Center, now Hope Policy Institute, from October 2013 to July 2015. After leaving MEPC, Polk received a German Chancellor Fellowship to research the country's vocational education system from July 2015 to February 2017.
He learned that Germany provided pathways for its citizens, including helping them acquire jobs and learn relevant skillsets, that led to lower unemployment and poverty rates. Polk says he wanted to bring home and apply some of the best practices in Mississippi.
"I know that obviously Mississippi is a very unique place. You will never be able to match exactly what Germany is doing here. But if you look at it and critically analyze how you go about creating policies, or how you go about implementing workforce development, or vocational and educational systems here, we (would) get much further as a state," Polk says.
In his current position, Polk seeks to address Mississippi's mid-level skill gap by offering paid apprenticeships that meet the needs of community businesses as well as address the state's unemployment rate. He also works to diversify the types of jobs that apprenticeship programs offer, which have historically been predominantly focused in the construction industry, he says. Through his work, he has expanded the types of registered apprenticeship opportunities to include jobs in the technology industry.
Although he says he misses Germany, Polk has focused on applying what he has learned from other contexts to his home state. "It's home, and it's a place I want to fight for every day," he says.