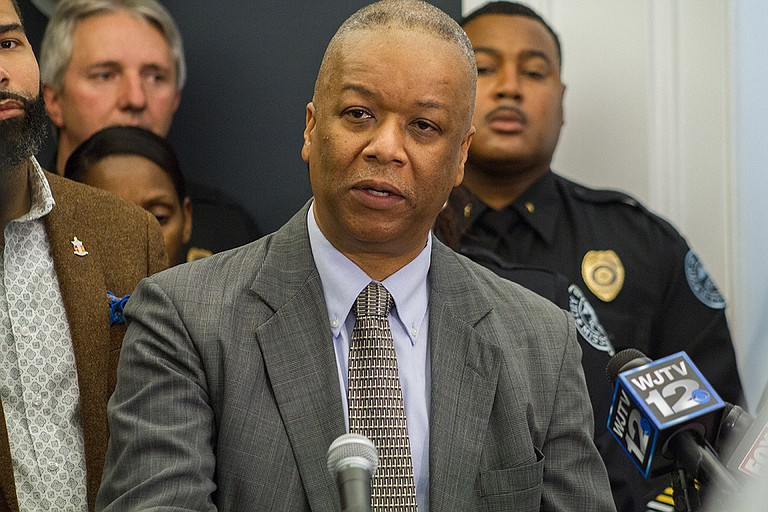 JACKSON — The Jackson Police Department will implement a foot-patrol unit in downtown Jackson beginning Monday, April 2, under Interim Chief Anthony Moore's direction.
Sgt. Roderick Holmes, public information officer for JPD, told the Jackson Free Press that the department has had these units in the past, and it is something Moore wants to re-implement beginning in the downtown area. Holmes said the idea is to foster a police presence for crime deterrence, but to also create a positive policing relationship in a place many people frequent during the day.
"We have a lot of people obviously that live downtown, work downtown, and a lot of people that come from other parts of state, if not the country, and actually visit downtown," Holmes said. "So it's a pretty active and pretty pedestrian-oriented location within the city."
This downtown unit will work Monday through Friday during normal business hours when downtown Jackson is busiest, Holmes said, and in the future JPD hopes to include patrol bicycles. Holmes said JPD wants to implement foot patrols in other areas of the city, but at the present time, the department does not have the manpower to do so.
"The more officers you have, the more you can actually do, and the more emphasis you can put in certain areas," Holmes said. "Manpower does play a role or does have an impact on everything that we do here."
Holmes estimates that JPD currently has 350 sworn officers, give or take a few, and in the past, it has had as many as 500 officers. JPD is currently recruiting for a new class, and Holmes said that process is going well so far.
This new downtown unit comes less than a week after a Greenbrook Flowers experienced a series of break-ins. The owner, Gwen Dearman, says one man caused thousands of dollars worth of damage with at least five break-ins over the course of a week. On March 27, she told the Jackson City Council that the man was "stealing us blind" and had broken into the shop three times one Sunday alone.
Dearman pleaded with the council to do something to secure downtown, especially because her family's business has been on State Street since the 1960s and in Jackson for far longer than that.
"This is the reason people are leaving Jackson," Dearman said. "We have been here over 100 years ... and we want to stay. We love Jackson, but we can't afford to stay here if we keep being robbed this way."
Holmes said this new unit, announced two days after Dearman spoke in front of the council with members of JPD in attendance, is not a direct response to the Greenbrook break-ins. However, he hopes it will create relationships and also opportunity for people to contact an officer quickly if need be.
"If (people) see an officer out and about, by all means don't hesitate to interact with that officer," Holmes said. "[I]f they have any questions or anything whether it's law-related or otherwise, feel free to ask an officer."
Email city reporter Ko Bragg at [email protected] and follow her on Twitter at @keaux_.