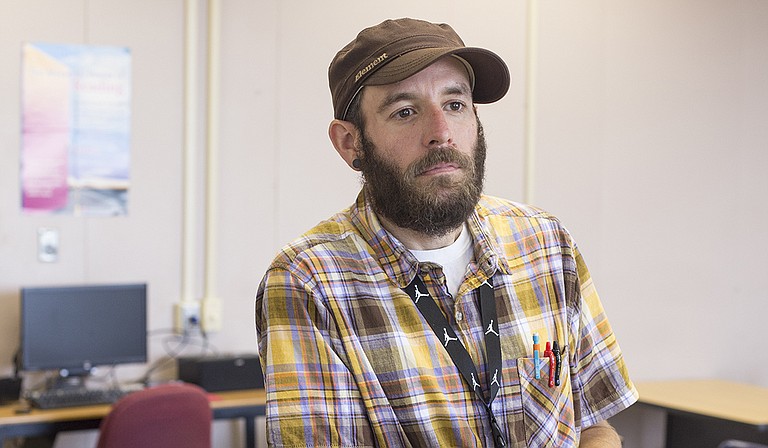 Wednesday, September 27, 2017
Hinds Community College history professor Garrad Lee has crafted a niche for himself as an advocate for arts and music in the capital city.
"I definitely found my place and ideal career as a professor; it's a profession that complements my passion for promoting cultural events in Jackson," he says.
After graduating from Forest Hill High School in 1997, Lee earned a bachelor's degree in psychology at Mississippi State University in 2001. In 2005, he married his wife, Catherine. The next year, they moved to Colorado.
While there, he completed a second bachelor's degree in ethnic studies at University of Colorado at Boulder.
In 2009, Lee and Catherine decided to return to Jackson, where Lee enrolled at Jackson State University and earned a master's degree in history in 2011.
That year, he got a job as a professor at Hinds Community College's academic and technical center in Jackson.
"Many of my students are non-traditional students, with ages ranging from 17 to 70 years old. Some come from military backgrounds, and many are first-generation college students," he says. "Mentoring students with these different life experiences is exceptionally meaningful to me."
Lee is also involved in cultural events year-round in Jackson. One of his favorite local events is the annual Priced to Move art show, a showcase for local artists where every piece is priced under $100. Priced to Move Vol. 8 will happen the second or third weekend in December at Lucky Town Brewing Company.
Lee is also one of the coordinators for the third annual Jackson Indie Music Week, where venues all over town will host performances and music-focused panels Jan. 7-14, 2018.
Lee says he wants to see the arts scene in Jackson grow stronger.
"If I could ask for one thing to push the arts scene further, it would be to increase Jackson's population by 50,000," he says. "More people means a stronger tax base and more crowds to attend local festivals and events, and more people to buy art from our local artists."
Lee co-hosts music-centered podcast "Comprehensive Beatdown" with Michael Milnick, and is opening art-and-music venue The Flamingo in Fondren with Milnick, Bradley Adair, Ian Hanson, Ahmad Thompson and Saddi Thompson.
For more information about Jackson Indie Music Week, visit jxnindiemusic.com.