Tuesday, September 26, 2017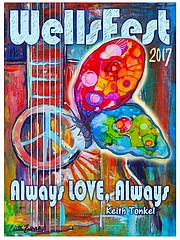 Wells United Methodist Church will host its 34th WellsFest art and music festival on Saturday, Sept. 30, at Jamie Fowler Boyll Park. The church is dedicating the 2017 event to Keith Tonkel, the former pastor of 48 years who died this year. Mississippi artist Cristen Craven Barnard has created a design for event posters and T-shirts in Tonkel's honor that includes one of his favorite sayings, "Always love, always."
Barnard says that she has been involved with the Methodist church her whole life and can remember Tonkel as far back as when she attended youth rallies in high school.
"He was going around getting involved for the church all over the state for as long as I can remember," she said.
Barnard also created the poster design for the 2016 WellsFest, but with this year's image, she wanted to capture the history of the festival.
"I went with the butterfly, guitar and peace-sign design for this year because I wanted it to feel like the WellsFest events of the past," she said. "I looked at logos and designs from over the years so I could come up with an artsy image that would capture the '60s-like feel of peace, love and music that WellsFest has always had. What I love most about WellsFest is that it gets people to come together with their neighbors to enjoy music and help deserving groups that are working to serve their communities."
Barnard was born in New Orleans, grew up in Clarksdale, Miss., and graduated from Clarksdale High School. Around 1981, she took a job as a display manager at a department store, and then about three years later, she decided to go into business for herself as a professional artist and began selling clothing and jewelry featuring her art, eventually moving into creating murals and poster designs.
In 1997, she began creating posters for blues festivals. Over the years, she has created more than 100 posters for music events all over the U.S., including the King Biscuit Blues Festival in Helena, Ark., the Sunflower River Blues and Gospel Festival in Clarksdale, and the Highway 61 Blues Festival in Leland, Miss. For seven years, she also created the poster artwork for Norway's Notodden Blues Festival, which is one of the biggest blues celebrations in Europe. In 2014, the Blues Foundation presented Barnard with the Keeping the Blues Alive Award for her work.
In 2015, Barnard started her own line of greeting cards called U R Loved Cards, which feature mostly paintings in sets of six.
"I started out just making cards for family and friends, and soon, everyone wanted them," she said.
The card sets have themes such as faith, Mississippi and flowers, and she says that she enjoys creating them in sets because she is able to address each theme in a variety of ways.
Barnard currently lives in Senatobia, Miss., with her husband of 32 years, Robert. They have five adult children: Lindsey, Rachael, Chad, Tres and Chris.
Barnard's artwork will be in the live auction at the annual WellsFest Art Night, which takes place from 5:30 p.m. to 9:30 p.m., Tuesday, Sept. 26, at Duling Hall (622 Duling Ave.).
WellsFest 2017 is Saturday, Sept. 30, from 9:30 a.m. to 4:30 p.m. at Jamie Fowler Boyll Park (1398 Lakeland Drive). For more information, call 601-353-0658 or visit wellsfest.org. Find Barnard's art on her personal Facebook page or the U R Loved Cards Facebook page.
More like this story