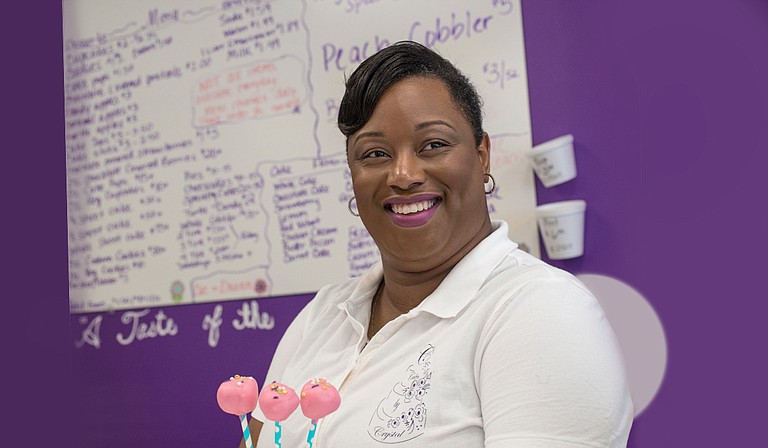 Friday, September 22, 2017
JACKSON — As a child, Mobile, Ala.-native Crystal Kelly says that her dream was to own her own business. She moved to Jackson in 2000 to study business management at Jackson State University and graduated in fall 2006 with a bachelor's degree in business management. After college, she worked for the YMCA in Jackson on Farish Street in child care, delivered packages for FEDEX, worked for title loan companies, and did retail management with stores such as Lane Bryant, Rainbow shops and New York & Co.
She says she fell in love with cake-baking in 2009 and began her business, Cakes by Crystal, that year. She opened her storefront in south Jackson in July 2016. Cakes by Crystal can create cakes and other desserts for everything from weddings to birthdays to baby showers. She recently sat down to talk to the Jackson Free Press about the business of baking cakes.
What drew you to cakes?
After I got married, I started to look at the cake-decorating classes at Michaels—you know, you're wedding shopping, and you're shopping for decorations, and you see those little posters. … Looking at the cake pictures kind of interested me, like "Wow, how do they do that?" So I took a couple of classes … (and)_after taking those classes, I would take the cakes to work to get rid of them so I wouldn't have a bunch of cake laying around the house because me and my husband would just eat them, and that wouldn't be good. When I took them to work, everybody ate them, they loved them, and they started asking me, "Well, how much would you charge me to do this or do that for my baby or grandbaby?" … That's how I got started. I just made me a little price list, and I baked from home.
There's a lot of purple in your business. Why purple?
Purple has always been one of my favorite colors. … In marketing, (we learned) how to put your brand in people's minds, how do they remember your product, how do they remember you, so with a lot of the different marketing and the decorations in here, I decided to go with one steady theme: purple and white. That way when people see my cake jars, and they see purple towels or purple spoons, they already know that's Cakes by Crystal.
What would you say is the toughest cake you've ever had to do?
[Points to a photo of a three-tier gift-box cake with a Tiffany's box as the topper]
It's a Tiffany's gift box cake, but it's actually three tiers, and the gift box has a top on it, and the top sits up off of the cake so it looks like jewels are flowing down the cake. That was in my earlier cake days, but it just so happened that it turned out really well, and a lot of people order that cake to this day.
Was that cake for a wedding?
It was actually a birthday party, it was a 50th party, but it was kind of on that wedding scale where it was really grand.
Do you do a lot of wedding orders?
I do a lot of weddings, and most of everything I do is like custom birthdays and baby showers and the whole dessert table, so now people are not just doing one cake, but they want the cake and a bunch of different desserts to match the cake. That's when I started doing the different dessert-table specials. Every few months I'll have a really good special so that if you want that look of a grand event, you don't have to spend very much to get it.
What would you say is the hardest part of baking cakes, especially ones for weddings?
The hardest part for me is the time that goes into it. You have to kind of manage when is the right time to start. It could be a huge cake or a huge order, but then you can't start it at the beginning of the week because everything needs to be fresh, so it's that timing, trying to make sure that everything is perfect and is done in perfect timing, but at the same time, you don't want to do anything at the last minute, and then accidents happen and then you have to redo something. I always try to get the date and time that the customer needs it so that I'll know exactly when to start on it versus all the orders I have all together.
What are your busiest seasons?
The busiest seasons are going to be Valentine's Day; the wedding season, which are going to be the spring months; the holidays, I have specials where I do all of those holiday favorite cakes—red velvet, German chocolate, and I do pies as well—so Thanksgiving time is a huge time where I usually do a sale if you order early, and then last minute, I get … rush of people who are tied up cooking that don't want to cook dinner and dessert. And then Christmas is another big time where everybody needs desserts.
What are your tips for taking care of cakes once customers get them?
When people pick up cakes here from the shop, I tend to carry them to the car for them, and I have a little disclosure at the register that people read because they don't know. When you're traveling with cake, it's very tricky. Cake is very finicky because it's so soft on the inside. … A lot of people ask me "Is it going to be OK if I run into (the store)?" And I always tell them you can't leave them in the hot car.
You have to make sure that your seats are level. If it's a cake that's small enough, it definitely needs to go on the floorboard of the car versus on the seats because car seats aren't level. They're all slanted. I sometimes go out to their car and pack the seats just to even it out so they'll know … you know, you're just not riding with a car seat or something that you can just throw in there and drive, and especially with our streets in the city of Jackson, we've got to be super careful about travelling with tiered cakes. It makes me nervous, and I've been doing it for eight years.
When it's a wedding, I absolutely do not travel with over three tiers stacked. I've had an accident before. It's not fun. … I travel with them separate, and I just make sure that I get there early enough (to) assemble on site.
What kind of preparation goes into baking for a wedding?
On the wedding front, it's kind of difficult because brides tend to start so early out, and they're looking at trends, and so I have weddings booked for 2018 in the summer and in the spring, and those trends that you see now are going to be completely different next year. A lot of (brides) plan so early, and they knock it all the way out. I have brides who are completely paid for 2018 weddings.
The thing that you have to do is look at the different designs. Some brides come in (and) they need a wedding cake, they don't want to pay a whole lot, and they don't have a clue as far as what they want. They just want something pretty, so a lot of the time, you have to look at the bride's theme of her wedding and then suggest (something). I always tell brides, "Before you settle on one design, just look around and see what the trends are, see what the different traditional cakes look like." Some people might not want a white cake at all. Some people might want a cake that's covered in fondant. Some people hate fondant, so it just depends on what you see, what you like, and I always tell them, "If you like one thing on one cake, and 10 things on several different cakes, just let me know, and we can come up with a design." … That's the tricky part is coming up with designs brides will love.
For more information on Cakes by Crystal (139 E. McDowell Road, 601-278-5954), visit cakesbycrystalonline.com or find the business on Facebook.