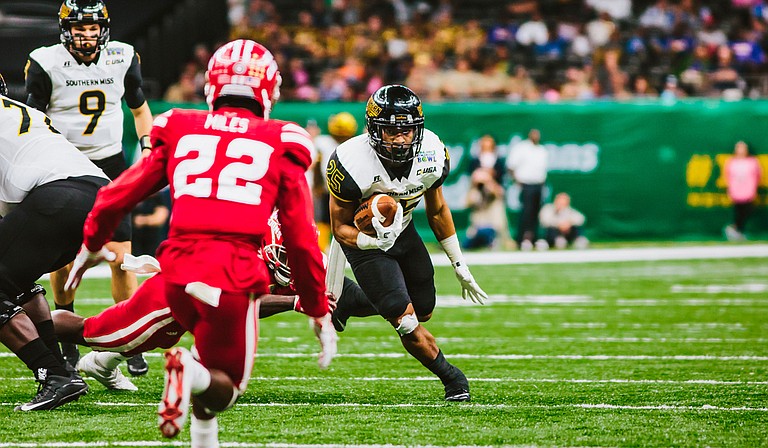 Thursday, September 21, 2017
Rushing yards have not been easy to find for University of Southern Mississippi senior running back Ito Smith. The Mobile, Ala., native entered the third game of the season still looking to break the 100-yard mark in 2017.
The University of Kentucky defense stifled Smith in the season opener on Sept. 2, limiting him to 37 yards on 16 carries. Smith ended up being a receiving threat against the Wildcats instead, as he caught nine passes for 78 yards.
Southern University couldn't hold the 5-foot, 9-inch, 195-pound star out of the end zone on Sept. 9, as he scored his first rushing touchdown of the season and helped the Golden Eagles to a 45-0 win. The Jaguars' defense did limit Smith to just 77 yards on 17 carries, however. He also caught two passes for 18 yards.
Smith finally broke loose against the University of Louisiana at Monroe on Saturday, Sept. 16. The senior exploded for a career-high 219 yards on 27 carries with one touchdown. He made three catches for 13 yards to cap off his big night. It was the first time that he broke the 200-yard barrier in college. For his efforts, Smith earned the title of Conference USA Offensive Player of the Week—his first time to receive that honor.
Over the course of three games this season, Smith has rushed for 333 yards on 60 carries with two touchdowns. The running back also has 109 receiving yards on 14 receptions but hasn't found the end zone in the passing game.
Smith earned his 31st career touchdown against Louisiana-Monroe, moving into fourth place on the school's career touchdown list. It was also his 17th time to earn 100 or more rushing yards in a single game, putting him in a second-place tie for the most in USM history.
Thanks to 254 all-purpose yards against Louisiana-Monroe, Smith also reached 5,093 all-purpose yards for second place in school history. Former USM great Damion Fletcher holds first place with 6,253 all-purpose yards.
Before Smith came to USM, 247Sports.com considered him a three-star recruit, and Scout.com and Rivals.com listed him as a two-star recruit. He was named First Team All-State, All-Region and All-Area, as well as the Mobile Press-Register Coastal Alabama Offensive Player of the Year as a senior in 2013. That year, he ran for 1,803 yards on 255 carries with 24 touchdowns, while also making 27 catches for 383 yards and five touchdowns.
Smith appeared in all 12 games as a freshman at USM, rushing for 536 yards on 136 carries with two touchdowns and making eight catches for 76 yards. As a sophomore in 2015, he played in all 14 games, amassing 1,128 rushing yards on 171 carries with 10 touchdowns. He also had 515 receiving yards on 49 catches with three touchdowns that season.
In his junior year, he appeared in all 13 games and ran for 1,459 yards on 265 carries. Smith made 43 catches for 459 yards and two touchdowns that year, as well. The running back was a finalist for the 2016 Conerly Trophy.
USM is 2-1 this season, and the team is off this week on a bye. The Golden Eagles will return to action on Saturday, Sept. 30, at home against the University of North Texas.