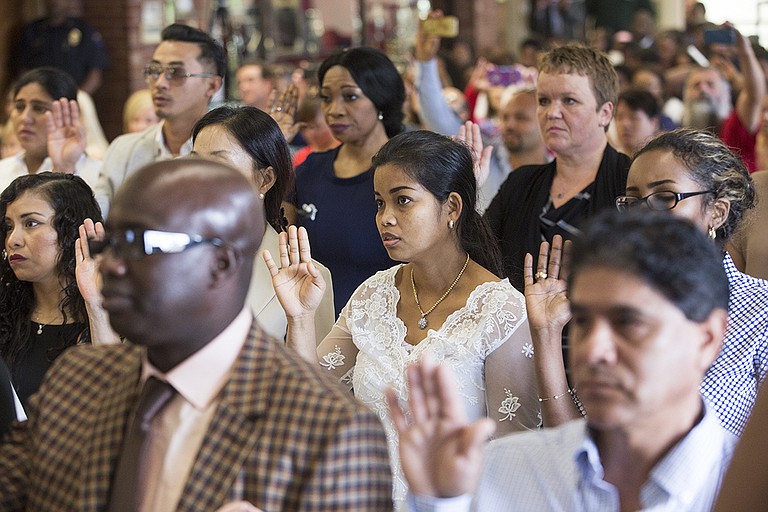 Monday, September 18, 2017
JACKSON — A local elementary-school counselor. A University of Mississippi Medical Center dentistry student. A former professional baseball player. A woman who found her brother alive after 20 years of not hearing from him.
These men and women were among the 35 people who took the oath of citizenship at their naturalization ceremony at Northwest Jackson IB Middle School Monday morning.
In honor of Constitution Day, Sept. 17, as well as the anniversary of federal courts this month, U.S. District Courts around the country hosted naturalization ceremonies in schools. U.S. Magistrate Judge Linda R. Anderson presided over the ceremony at Northwest IB Middle School, which she noted was the first time the court hosted a naturalization ceremony inside a school.
Northwest students sat at the back of the foyer, which was transformed into a courtroom for the morning. Anderson, a former JPS teacher before attending law school, told students they had a unique opportunity to witness and help with the ceremony.
"It is remarkable that so many people from so many places with so many backgrounds, goals and interests can all find common ground here in the United States," Anderson told the new U.S. citizens. "All of you had to take the civics test, and I did go online and look at that test. ... It is a difficult test, and you've all passed the civics test. All of you waited your turn, and today is your day."
All 35 men and women, who came from 23 different countries, took the oath of citizenship, relinquishing their former allegiances to other countries. Anderson let two members of the group speak during the ceremony.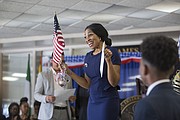 Oby Todd, who hails from Nigeria and also lived in the United Arab Emirates for a while, said she only slept one hour the night before because she was so excited.
"When you come to America, it's like you are in a different world," she said. "It's like I'm in a new planet."
Todd lives with her husband in Laurel, Miss.
Moises Tadeo Rodriguez Gonzalez, a former professional baseball player with the Cleveland Indians and Florida Marlins, moved to the U.S. from Venezuela. He coaches basketball and baseball in Natchez. Gonzalez acknowledged that his home-country is having difficulty politically, and said he was thankful for the opportunity the U.S. gave him.
"We cannot choose where we're going to be born. ... But we can choose where we will live," Gonzalez said. "And I chose to come here to the United States, and the United States gave me the greatest opportunity, it gave me a beautiful wife and two beautiful kids, and it is more than a privilege to be a part of this nation."
Judge Anderson congratulated the new American citizens.
"All of our ancestors came to this country from somewhere across the waters, across some ocean, and every time I do one of these (ceremonies), I remind our new citizens that while we may have all come over on different ships—and our forefathers—we're all in the same boat now, so we will sink or swim together as Americans," Anderson said. "It is the duty of each of us to make sure we contribute to the strength and well-being of our country."
The judge presented all 35 men and women their certificates of citizenship, and a representative from the Daughters of the American Revolution gave each new citizen a small American flag. Middle-school students helped escort the new citizens and judicial staff throughout the ceremony, and the school's choir ended the ceremony by leading the room in "The Star Spangled Banner."
Read more about immigration in Mississippi at jfp.ms/immigration. Email state reporter Arielle Dreher at [email protected]. Get breaking news on Twitter at @jxnfreepress and subscribe free to the JFP Daily at jfpdaily.com.