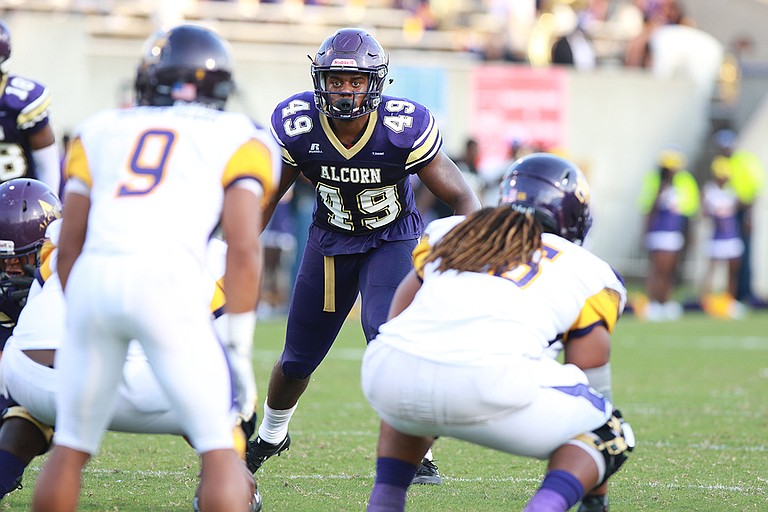 Thursday, September 14, 2017
Solomon Muhammad, a linebacker at Alcorn State University, is already having a breakout year as a redshirt sophomore. He has nearly been a one-man wrecking crew on the Braves' defense during their two games thus far.
Muhammad made a career-high 10 tackles against Miles College in the season opener on Sept. 2. His 10 tackles included five solo tackles, one of which forced a fumble, and he also chipped in a tackle for a loss for the Braves' 50-21 victory.
His play against Florida International University on Sept. 8 helped keep Alcorn State in the game against an FBS foe. He had nine tackles, four tackles for a loss and a pass breakup, and also made two sacks against FIU for a total loss of 31 yards. FIU still pulled out a 17-10 win with a late game-winning score.
Muhammad was named SWAC Defensive Player of the Week for his outstanding effort against FIU. He is the third Braves player to earn Player of the Week honors this season, joining running back De'Lance Turner and wide receiver Marquis Warford, who both received recognition after the win against Miles.
In the Braves' two games this season, Muhammad has been a key member of a defense that has only allowed 19 points per game. However, it isn't his first time to do a lot of damage with a little playing time.
He signed with Alcorn State in 2015 out of Parker High School in Birmingham, Ala., and the Braves redshirted him during that season. In 2016, the linebacker was finally able to get on the field and contribute to the team in limited action. He finished 2016 with 21 total tackles, 11 solo tackles, three quarterback hurries, three tackles for a loss and one forced fumble.
Muhammad is one of four players from four-year universities around Mississippi to earn Player of the Week honors this week.
Delta State University linebacker Ovenson Cledanord recorded 5.5 tackles, five sacks, four tackles for a loss and two forced fumbles against Chowan University on Sept. 9, which earned him the title of Gulf South Conference Defensive Player of the Week.
University of Mississippi quarterback Shea Patterson threw for a school-record 489 yards and a career-high five touchdowns against the University of Tennessee at Martin on Sept, 9, and he completed 32 of 43 passes, earning Southeastern Conference Offensive Player of the Week.
In Mississippi State University's game against Louisiana Tech University on Sept. 9, defensive end Jeffery Simmons blocked a punt and returned it for a touchdown, recovered a fumble and returned it 90 yards for a touchdown, blocked an extra-point attempt and recorded five tackles. His effort earned him the title of SEC Defensive Lineman of the Week.
More like this story