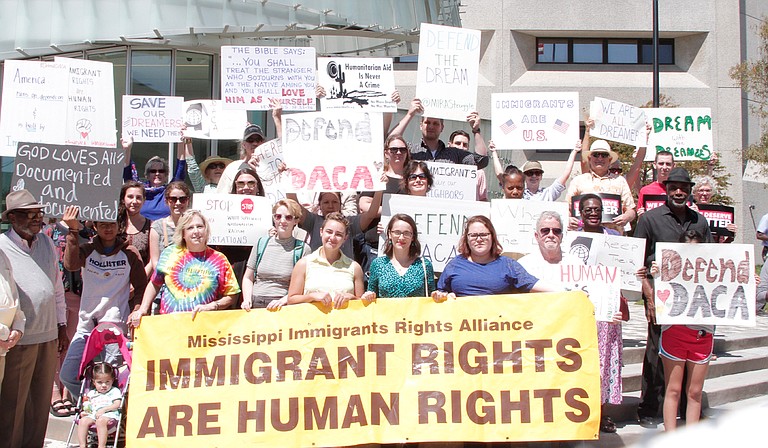 Wednesday, September 13, 2017
JACKSON — Brenda Ramirez came to the United States from Mexico City when she was 9 years old with her family. She went to public schools and graduated from Ridgeland High School this past spring. She is working to help her mother out, and she plans to enter the Army—or was, until President Donald Trump announced he is phasing out the Deferred Action for Childhood Arrivals program.
Ramirez's DACA status allowed her to continue to go to school, work and go into the Army without fear of deportation. Now her future in this country is in the hands of lawmakers in Congress, who will have to act on an immigration reform measure if they want to keep all or parts of the DACA program active.
"I just wish the government wouldn't take that away from us Dreamers," Ramirez, now 18, said at a protest in downtown Jackson on Sept. 8. "I have a lot of goals in my life that I want to accomplish, and I just honestly feel like this is not right—this is something that is really hurtful for us."
The teenager, who has been in the U.S. for almost a decade, choked up as she spoke. One protester shouted, "You're so brave!" as she continued.
"My dream has always been to be someone in life, and DACA was helping me out and giving me the opportunity to be someone," she said. "And now that he's (Trump) trying to take it away from us, I just wish that wouldn't happen." Ramirez wants to eventually become a nurse, she told reporters later.
The Ridgeland teen joined about 50 Mississippians protesting Trump's decision to end DACA last week, marching outside Sen. Thad Cochran's, R-Miss., Jackson office. The Mississippi Immigration Rights Alliance helped organize the protest. Central Mississippi Community Organizer Onelia Hawa said MIRA was prepared to continue to fight to protect Dreamers and DACA recipients throughout the state.
"If Gov. Phil Bryant, Sen. Thad Cochran and Sen. Roger Wicker outwardly continue to support deportation without supporting a pathway to citizenship, we will continue to fight to keep everyone safe and together," Hawa said at the protest.
The most recent data from the U.S. Department of Homeland Security show that more than 3,000 Mississippians have applied for DACA approval, with 2,700 applications approved as of March 31.
Mississippians who work and live among DACA recipients in the community joined the protesters.
Dax Fairchild, a high-school history teacher at Morton High School, said some of his students are DACA recipients. At the protest last week, he said DACA can be preserved. "We can't stand for families to be split up, and we can't stand for kids who are trying to better themselves and become a successful, contributing factor of our country (to be affected)," he said.
"We've got to be an advocate for them—regardless of politics."
'Permanent State'
Several states sued after Trump's DACA announcement. Mississippi sat on the sidelines for the lawsuit, brought by primarily Democratic attorneys general.
Attorney General Jim Hood did not join the suit. "Immigration is really a federal issue, and normally I don't get involved unless it affects a Mississippi law, but we have looked at this," Hood told reporters last week. "I think it's such a fact issue as to whether the intent of the president was to discriminate against a particular group and proving that intent, we'll probably just rely on all the other AGs that filed."
Hood did not rule out filing an amicus brief, however, saying he did not know if his office would support the lawsuit without officially joining it.
U.S. Congressman Bennie Thompson, D-Miss., was the first public official from the state to denounce Trump's DACA rollback plans and called on Congress to work toward a plan to protect DACA recipients and dreamers.
"Congress must quickly come together, in bipartisan force, to stop this president and permanently protect those that came to this country under no fault of their own and are now a part of our society and economy," Thompson said in a statement.
Other congressional Republicans stayed quiet, while Gov. Phil Bryant reiterated his disdain for President Barack Obama's decision to implement DACA without congressional support in 2012.
"I have always maintained the Obama administration's unilateral creation of the DACA program was illegal," Bryant said on his Facebook page last week.
"Should Congress choose to address the issue, I am hopeful a solution can be reached that both upholds American immigration laws and strengthens our system of legal immigration."
U.S. Sen. Roger Wicker, R-Miss., did not release an official statement on the matter, but when asked, his office provided this statement to the Jackson Free Press that included a push for Trump's border wall.
"The administration's decision reaffirms the president's commitment to our system of checks and balances. Congress should have an opportunity to work with the administration toward a solution. I agree with President Trump that our nation's broken immigration system should be addressed through an open legislative process and in adherence to the rule of law," Wicker said in the statement.
"That work should begin with securing our border with a wall, and changing the policies that have incentivized these families to bring their children to the United States illegally in the first place."
All Up to Congress
The fate of Dreamers is now in Congress' hands, although the Dream Act, a bipartisan piece of legislation, has not fared so well in the past. The Dream Act was first introduced in Congress in 2001, and it has never been approved, MIRA Legal Director Patricia Ice told reporters last week. Passing the legislation would help make a way for DACA recipients to receive permanent residency and ultimately, citizenship, she said.
"The president is suggesting that Congress should do something to act, so we're requesting that Congress act on the Dream Act that they vote on it and make it law because the Dream Act allows for a path to permanent residence and then a path to citizenship," Ice said.
Trump's call to roll back DACA means DHS is not accepting new or initial applications for DACA anymore. But those who have DACA looking to renew have until Oct. 5 to do so.
Read more at jfp.ms/immigration.