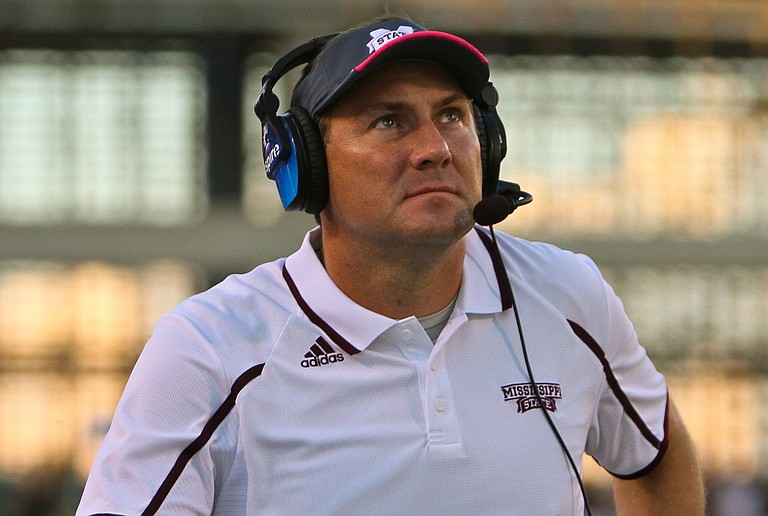 Friday, September 8, 2017
Mississippi State coach Dan Mullen knows better than to underestimate a team that's not in a Power Five conference.
Travelling to play at their place makes the task even tougher.
Mississippi State (1-0) goes on the road to face Louisiana Tech (1-0) on Saturday in a game that should provide a much bigger challenge than its opener, an easy 49-0 victory over FCS opponent Charleston Southern .
Louisiana Tech won its opener 52-24 over Northwestern State last weekend. This will be the 13th meeting between the two programs, but just the second time Louisiana Tech has hosted Mississippi State in Ruston. The other game was in 2008, which Louisiana Tech won 22-14.
That was the year before Mullen came to Mississippi State, but he's still got plenty of respect for Louisiana Tech, which has won six straight home games dating back to last season.
"They have explosive playmakers," Mullen said. "They have some great athletes that they put out there on the field. You can see it not just within the offense but within the return scheme and in the kicking game.
"We are going to have to run the ball and tackle well in open spaces."
Mississippi State's running game was very good in the opener against Charleston Southern. The Bulldogs ran for 281 yards in the victory, averaging 5.6 yards per carry. Starter Aeris Williams led the team with 83 yards, but young backs like freshman Kylin Hill also performed well.
Mullen said he wasn't sure of Hill's role going forward, but it was nice to have depth.
"It's a long season. Everyone is in different positions," Mullen said. "He's ready to go play physically. The best way to develop him mentally is for him to get actual reps in a game and let him get out there and play some."
---
Some other things to watch when Louisiana Tech hosts Mississippi State on Saturday:
WHAT A DEFENSE: Mississippi State's defense had an impressive debut last weekend under new defensive coordinator Todd Grantham. The Bulldogs earned their first shutout since 2014 against Vanderbilt and allowed just 0.7 yards per play, which set a school record. Charleston Southern never crossed the 50-yard line. Louisiana Tech coach Skip Holtz was impressed: "It was as dominating of a defensive performance as I have ever seen in college football."
FITZ NEEDING HIS FEET: Mississippi State quarterback Nick Fitzgerald had a solid first game of the season, completing 16 of 29 passes for 239 yards and two touchdowns. But he ran for just 41 yards and a touchdown, which was a minor surprise considering he ran for more than 1,000 yards a year ago. Expect Fitzgerald to use his speed a little more against Louisiana Tech.
KICKING WOES: Mississippi State's kicking game has been a bit of a sore spot the past few seasons and last week's opener was a little shaky, too. Tucker Day made just one of his three field goal attempts. He hit from 40 yards while missing from 32 and 47.
TOUGH STRETCH: Louisiana Tech is playing two teams from the Southeastern Conference in a three-week span. The Bulldogs host Mississippi State on Saturday and then travel to face South Carolina on Sept. 23.
BIG MOMENT FOR TECH: Holtz said Louisiana Tech wants to take advantage of the school's rare opportunity to host an SEC opponent: "An SEC team coming into Ruston I know is not an event that happens every year, so it is one we are really excited about and having the opportunity to host such a talented football team with such a great reputation." The last time Tech hosted an SEC team in Ruston was Mississippi State in 2008.