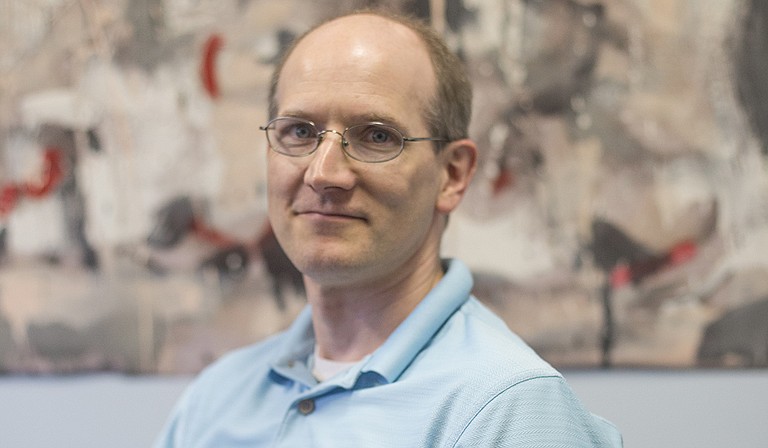 Wednesday, September 6, 2017
For Pete Halverson, the phrase "don't judge a book by its cover" holds special meaning because, in a sense, that is part of his job description as a senior book designer at the University Press of Mississippi.
"(We get) to create a cover for a book that's going to make somebody want to pick it up and read it," he says.
Halverson says that creating has always been a part of his life.
"I loved to draw and make music and come up with stories. I was always making up stories and things," he says.
The Auburn, Ala., native moved to Jackson in 1989 to study art at Millsaps College and graduated with a bachelor's degree in fine arts in 1993. After college, he began working at art galleries doing framing. After eight years of that, he began looking for a career change.
"Graphic design seemed to be a good match," he says.
He started as a production assistant at University Press in 2001.
Halverson, 46, has designed covers for University Press books such as the Jim Dickinson memoir "I'm Just Dead, I'm Not Gone," "Things Like the Truth: Out of My Later Years" by Ellen Gilchrist, and books from other publishing companies such as "The Legend of the Albino Farm" by Steve Yates, which Unbridled Books published.
He says his favorite part is when the books are done.
"(I like) having that finished product ... and being able to look at it and say, 'I made that,' and knowing how much work went into it," he says.
When he is not designing books for University Press, he says he likes to go out to eat with his wife, Lucy Molinaro, and daughter, Camille. He also likes to play guitar and go to the movies. Once a week, Halverson, who has a movement disorder called ataxia, participates in the specialized dance class Dance for Parkinson's Disease at Millsaps. "It's a good way for me to get up and move and do things I'm not usually doing," he says.
Halverson also serves on the board of the Mississippi Institute for Arts and Letters.
"MIAL is important because they support artists and writers and musicians, and give them recognition that they may not receive otherwise," he says. 
 "Creative fields can be difficult to make a living in, so I think whenever you can help out the people that are really putting their life into the arts, then we should support them."