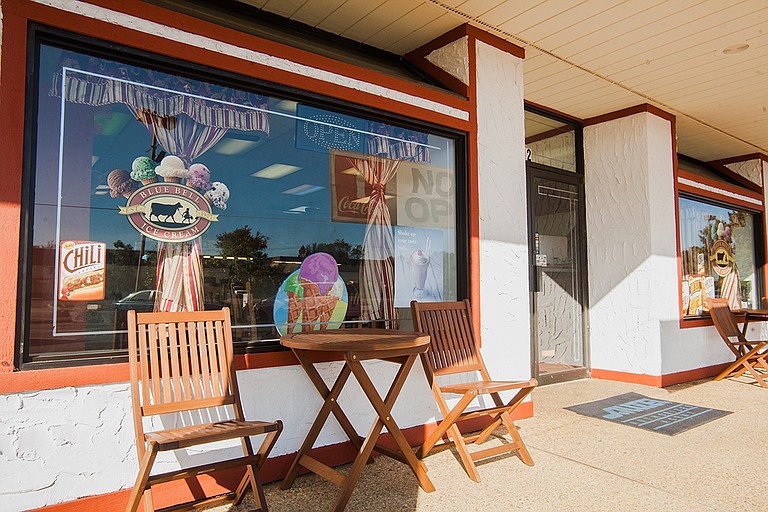 Tuesday, October 31, 2017
South Jackson native Thomas Jones opened his new business, T J's Ice Cream Parlour (1060 E. County Line Road, Unit 12, Ridgeland), on Oct. 10. Jones, who moved back to Jackson in January after living in California for the last five years, says he felt Ridgeland was the perfect place for an old-fashioned ice-cream parlor.
"I love ice cream, and this is a prime location for ice cream with places like Burgers & Blues and Grand China Buffet right nearby," Jones says. "I think this can really explode in a place like this."
T J's serves Blue Bell ice cream, old-fashioned floats, banana splits, milkshakes, buffalo wings, nachos, hot dogs, fresh-baked cakes and cookies, virgin daiquiris, coffee, donuts, and more. Jones will also soon have old-fashioned Coca-Cola products, signs and memorabilia on display and for sale. The 2,000-square-foot restaurant has seven tables inside and three outside.
Jones plans to host a grand opening for T J's after he joins the Ridgeland Chamber of Commerce in three weeks.
T J's Ice Cream Parlour is open Monday through Saturday from 7 a.m. to 9 p.m. and Sundays from noon to 9 p.m. For more information, call 562-388-1104 or follow the restaurant on Facebook.
Waitr Food App Launch Party at Pig & Pint
On Thursday, Nov. 2, Waitr will host a launch party at The Pig & Pint (3139 N. State St.) from 5 p.m. to 8 p.m. to celebrate the arrival of Jackson services for its food app.
Waitr is a food delivery app that allows customers to order food from local restaurants, which Waitr staff will pick up and deliver to the customer's home or another location. The app also allows users to track their food in real time, view photos of a restaurant's menu before ordering and send instant messages through the app's help and support function. Customers can also order carryout through Waitr.
Pig & Pint customers who download Waitr during the party will receive a free appetizer. The restaurant is also offering free drinks, including beers from Lucky Town Brewing Company, to customers who follow Waitr on social media during the event.
For more information on The Pig & Pint, call 601-326-6070 or visit pigandpint.com. Learn more about Waitr Jackson at visit https://waitrapp.com/.
Eastover Market Opening in Spring 2018
The District at Eastover has announced that a food hall, Eastover Market, will be coming to the multipurpose development in spring 2018. A food hall is a large section of a retail site, such as a department store, that is dedicated to selling artisanal and boutique-style foods. Eastover Market is a joint development with another food market called St. Roch Market, which opened in New Orleans in 2014.
Eastover Market will occupy an 8,000-square-foot space on the ground floor of The District's BankPlus building. The market will include eight food and beverage concepts and a craft cocktail bar, and will also be available as an event venue. Construction will begin later this year.
Other businesses in The District include Fine & Dandy, Orange Theory Fitness, Freshii, Results Physiotherapy and Cantina Laredo.
Fondren Lenny's Closes, New Downtown Location Coming
Lenny's Sub Shop (2820 N State St.) in Fondren closed Friday, Oct. 27, after 11 years in business. Owner Lehman Ellis told the Jackson Free Press that the Lenny's in Clinton (753 Clinton Pkwy.) will remain open and that he will open a new Lenny's downtown in January 2018 to replace the Fondren location.
"The new Lenny's downtown is going to be bigger and better than our current location," Ellis said. "This is something that's greatly needed downtown, and folks can look forward to an explosive opening. I also want to thank the Fondren community for all the support over these past 11 years, and hope people will look forward to our new location."
Ellis said the downtown Lenny's will be in the area near the King Edward Hotel, Standard Life building and the Westin hotel, though he does not have a specific location yet. In light of the Fondren Lenny's closing, customers looking to place catering orders should call 601-214-8278.