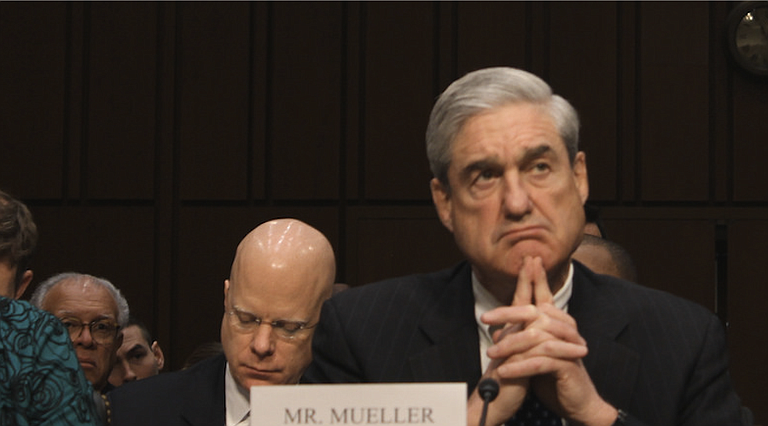 Tuesday, October 31, 2017
WASHINGTON (AP) — Democrats—and a few Republicans—in Congress have a clear message for President Donald Trump: Don't mess with Robert Mueller.
Concerned that the president may fight back after Mueller's investigation into Russian meddling led to two indictments and a guilty plea for his former advisers Monday, top Democrats laid down a marker for the president, who earlier in the year criticized Mueller and the probe.
"The president must not, under any circumstances and in any way, interfere with the special counsel's work," said Senate Democratic Leader Chuck Schumer. "If he does, Congress must respond swiftly, unequivocally, and in a bipartisan way to ensure that the investigation continues and the truth—the whole truth—comes out."
Virginia Sen. Mark Warner, the top Democrat on the Senate intelligence committee, added, "Members of Congress, Republican and Democrat, must also make clear to the President that issuing pardons to any of his associates or to himself would be unacceptable, and result in immediate, bipartisan action by Congress."
Republicans were less explicit, but many sent a similar message.
"I don't think anybody in their right mind at the White House would think about replacing Mr. Mueller unless there was a very good reason," said South Carolina Sen. Lindsey Graham, a Republican who has been both a critic and a friend to Trump over the last year.
Republican Sen. Bob Corker, a Trump critic, said he "can't even imagine" that Trump would fire Mueller.
Jay Sekulow, Trump's personal lawyer, shot down both possibilities of firing Mueller and pardons in an interview Tuesday with ABC's "Good Morning America."
"The president has not indicated to me or to anyone else that I work with that he has any intent on terminating Robert Mueller," Sekulow said.
On pardons, he said: "I have not had a conversation with the president regarding pardons. And pardons are not on the table."
Sekulow's comments came a day after the first charges were announced by Mueller. Former Trump campaign chairman Paul Manafort and his associate Rick Gates both pleaded not guilty to conspiracy and money laundering charges. Another former adviser, George Papadopoulos, pleaded guilty to lying to FBI agents when asked about Russian contacts.
White House spokeswoman Sarah Huckabee Sanders told reporters after the charges were released that "there is no intention or plan to make any changes in regards to the special counsel." But lawmakers have been on guard since May, when Trump abruptly fired FBI Director James Comey and Mueller was appointed.
Trump was initially more critical of the special counsel, and at one point his legal team looked into potential conflicts surrounding the team Mueller has hired, including the backgrounds of members and political contributions by some members of his team to Democrat Hillary Clinton.
After Trump made those rumblings, two bipartisan bills emerged in the Senate Judiciary Committee that would attempt to protect any special counsel. Legislation sponsored by Graham would prevent the firing of any special counsel unless the dismissal was first reviewed by a panel of three federal judges. Legislation co-sponsored by Republican Sen. Thom Tillis of North Carolina would let any special counsel for the Department of Justice challenge his or her removal in court.
After an initial flurry of support, the bills have stalled as Trump has quieted his public criticism of Mueller. Senate Judiciary Chairman Chuck Grassley, R-Iowa, said he was undecided on the bills after some law experts questioned their legality in a hearing.
As senators returned to the Capitol Monday evening for votes, many Republicans were lukewarm or declined to say whether they would support the legislation. Graham said of his own bill, "I don't feel an urgent need to pass that law until you show me a reason Mr. Mueller is in jeopardy."
Some Republicans said they were reviewing the legislation. "It would be a problem" if Trump fires special counsel or pardons indicted people, said Arizona Sen. Jeff Flake, another recent critic of Trump.
The main message from Republicans was that the charges wouldn't affect legislative work. Republicans are hoping to make some progress on tax reform, and are hoping to stay focused on that goal.
"It doesn't distract us in any way," Corker said. "I don't see it being a factor at all."
That remains to be seen, as Republicans have had a difficult time this year enacting any major policy as Trump has taken aim at some in his own party.
It's also unclear how the charges will affect several congressional investigations into the Russian interference and whether it was connected to Trump's campaign. Neither the Senate nor the House intelligence committees have interviewed Papadopoulos or Gates, according to sources familiar with the probes. And only the Senate intelligence panel has talked to Manafort,
The sources declined to be named because the committees' interviews are private.
As the investigations have gone on for several months, some Republicans have called for them to end. The Senate Judiciary Committee probe into the meddling and the House intelligence probe have split along partisan lines. And Democrats fumed last week as House Republicans launched new probes into Clinton and former President Barack Obama.
Some Democrats indicated that the congressional investigations should step up as Mueller's probe found new evidence.
"It is a pretty sobering, shattering moment in American history," Connecticut Sen. Richard Blumenthal, a Democratic member of the Judiciary panel, said of the charges. "It is the end of the beginning, but not the beginning of the end."