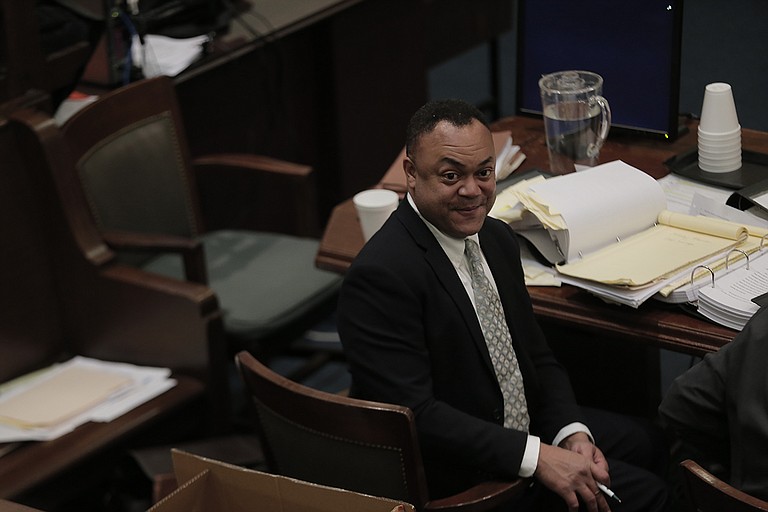 Tuesday, October 31, 2017
JACKSON — An "overwhelmed" Rankin County judge has delayed Hinds County District Attorney Robert Shuler Smith's trial for charges of two counts of domestic violence and aggravated stalking and robbery until Jan. 29, 2018. The State of Mississippi is accusing Smith of stalking, abusing and stealing a gun from his long-time ex-girlfriend during a violent encounter at a family home in Rankin County. The trial was set to open this week.
A major reason for the delay is because Smith changed lawyers, replacing Jackson attorney John Reeves with Vicki Gilliam of Clinton. His new attorney filed motions as late as last week, including a motion to dismiss, and then advocated for a continuance. Gilliam cited "miscommunication issues between Smith and Reeves and a situation where Reeves became a witness."
Early in the day, before the judge dismissed Reeves, Gilliam revealed that the gun allegedly used in Smith's encounter with the victim is currently in Reeves' possession. Assistant Attorney General Stanley Alexander referred to a meeting in the judge's chambers where Reeves revealed he had the gun. Gilliam wants the gun turned over to an evidence vault outside the State's possession—preferably in the Rankin County sheriff's office.
But, Judge Emfinger ordered Reeves to turn over the gun to the state attorney's office to remain in evidence until trial.
A secretary at Reeves' office said he is in court all day and unavailable to comment.
In advocating for a continuance, Gilliam pointed to things not done prior to her coming on board, saying she needs time to "do the work the state (and the FBI) has had time to do" in the two years since the August 2015 incident happened between Smith and the alleged victim, Christie Edwards.
Judge Emfinger, visibly frustrated with both sides, said that a lot of discovery "could have and should have" been done already. But, he continued the trial to give both legal teams time to submit a written list of witnesses, physical evidence, any reports or expert opinions, and written discovery in order to clear up the "overwhelming" amount of motions he had received from both sides thus far.
In one of the few clarified moments in court yesterday, the State backed off evidence alleging Smith's prior drug use after the judge questioned its relevance. Alexander conceded, agreeing not to bring up past drug abuse "unless the defendant opens the door." Smith's defense maintains that he was "clear-eyed and sober" during the alleged attacks.
Gilliam has filed new motions indicating that Smith plans to claim self-defense, telling the court that Edwards was the "aggressor" and had threatened the Hinds DA with the weapon he took from her. Earlier motions by both sides show that the State plans to bring Sandy Middleton, the director of a domestic-violence shelter in Pearl, to the stand to talk about more than one alleged violent incident against Edwards.
Smith has asked the judge to keep evidence about prior incidents, including testimony by another girlfriend and a witness, out of the trial. Judge Emfinger did not rule on whether or not he would allow additional witnesses to testify about prior abuse, as he needs to review case law in the matter.
The legal teams went back and forth over admissibility of text messages between the victim and Smith. Gilliam tried to have the case thrown out, citing that texts on Smith's phone between him and the defendant predating the incident had expired, as texts do over time on Blackberries. Gilliam said those texts, although no one can prove they exist, were exculpatory and prove that the State did no initial investigation because they did preserve those messages while they had Smith's phone in custody.
"I have nothing to show you because there was nothing done," Gilliam said.
Alexander said the State could not analyze the phone because it was password protected.
Gilliam also asked for records from the victim's previous place of employment, St. Dominic's, to come forward because she may have told a co-worker about the alleged abuse. Given that St. Dominic's is a medical facility, Gilliam said, her co-worker would have had a duty to report the abuse. But, the judge denied that subpoena, as well as one for records from the Pearl domestic-violence shelter, for being too broadly scoped.
The defense argued that photos taken of the victim at the Center for Violence Prevention, the shelter in Pearl, needed to be authenticated and dated, but that otherwise they were admissible. Smith's previous attorney, Reeves, had wanted the photos kept out.
After three hours in front of Judge Emfinger, Smith told reporters outside the courthouse that he "appreciated everyone for listening to the court proceedings." Gilliam answered questions on her client's behalf.
"I think the court was serious, and the court took it seriously," Gilliam said to reporters." (Emfinger's) taken some things under advisement, and so we'll know better where we're going from here. But, I think the court was very fair."
Gillam hopes she can bring forth more information and subpoena more documents that will "show a lot of things, including my client's innocence," she said.
Email reporter Ko Bragg at [email protected]. Read more about this case and earlier ones against Robert Shuler Smith at jfp.ms/dafiles.