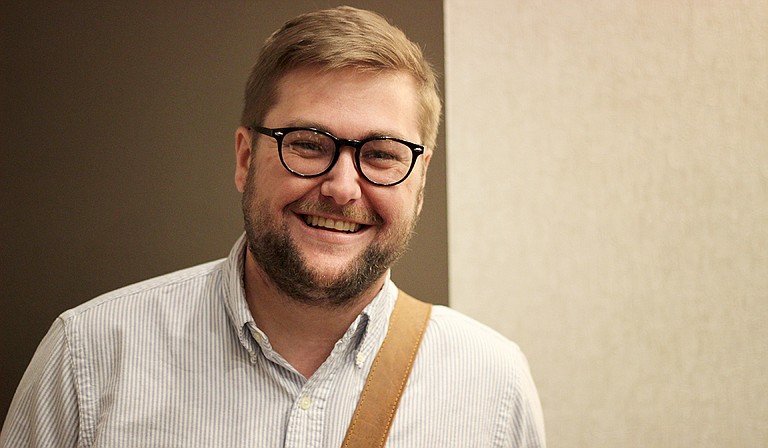 Tuesday, October 31, 2017
David McDowell says that he took up the position of the Mississippi Coalition Against Domestic Violence's policy coordinator in September after his mentor, MCADV interim president and former Mississippi Democratic Trust Executive Director Brandon Jones, inspired him to get involved in the cause.
"Domestic violence has always been something that mattered to me, and advocacy became especially important to me after 2016," he told the Jackson Free Press. "We saw the beginning of a new political conversation then about the importance of safety for women at home and in the workplace. I took this position because I wanted to help make conversation become policy from the point where the rubber hits the road all the way up to our Mississippi senators and congressmen."
McDowell, 28, was born in Slidell, La., and graduated from Slidell High School before attending the University of Mississippi, where he graduated with a bachelor's degree in history with a minor in political science in 2011. He remained in Oxford after graduating and worked on behalf of local congressional and municipal campaigns until 2014, when he joined the Mississippi Democratic Trust. There, he says that he primarily did fieldwork for local Democratic candidates such as advising them on best practices and ensuring that they had the resources to reach voters.
McDowell moved to Jackson in January 2016 to take up Jones' position as executive director of MDT after Jones stepped down.
During the 2016 presidential campaign, McDowell took a temporary leave of absence from MDT to serve as deputy director of Hillary Clinton's Get Out the Vote initiative in North Carolina. He also served as campaign manager for Kathryn Rehner in Hattiesburg's House District 102 before applying to MCADV.
As the MCADV policy coordinator, McDowell now works with local mayors, sheriffs, police chiefs, judges, legislators and organizations to put policies in place to combat domestic violence throughout the state.
He says that he has spent the past few weeks since assuming the position familiarizing himself with both Mississippi and national policy on domestic violence to improve upon existing state laws and identify laws missing from Mississippi's books that could help deal with repeat offenders.
"One of my favorite things about this job is being able to feel, every day, I'm helping to make a difference in Mississippi," he said. "You hear a lot about how many people are statistically likely to know a sexual-assault victim, and men are likely to know an offender, but whether those issues are made public or offenders face prosecution is a different story.
"None of us are perfect, but we can provide opportunities for victims to feel safe and capable of finding help. I know the team here is supportive, knowledgeable and helpful in making Mississippi a place where domestic violence can be made to not exist, and that is the goal."
Victims or anyone who feels in danger of potential domestic violence can contact the MCADV domestic-violence hotline at 1-800-898-3234 or the national hotline at 1-800-799-7233.