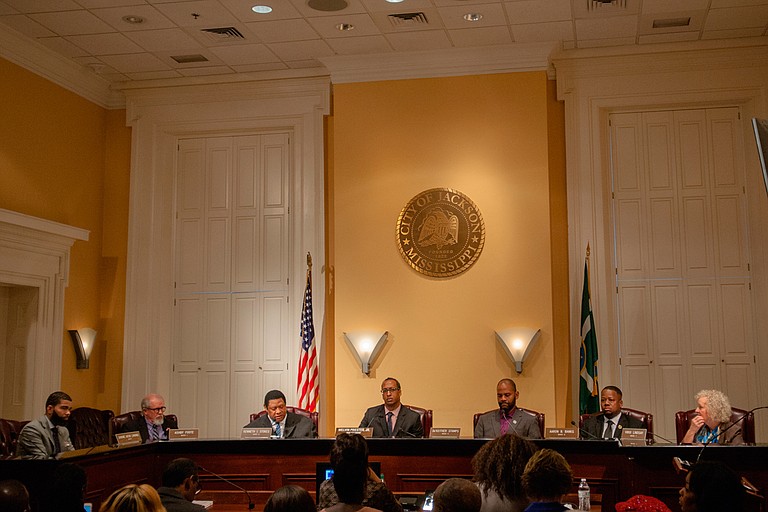 Thursday, October 26, 2017
Police officers, firefighters and at-will employees making less than $40,000 a year no longer must live inside the city limits after the Jackson City Council lifted the requirement in its Tuesday night meeting. That means that people can now come from all over the state to work for the City of Jackson.
Ward 6 Councilman Aaron Banks brought forth the item, and invited Jackson Police Chief Lee Vance to speak about how the residency requirements negatively affect his ability to hire well.
"What we need is quality individuals that can pass our background checks and qualify as police recruits," Vance said. "And, I give this example. The exact year kind of fails me, but one year we had about 1,100 people actually apply to be police officers, and out of that 1,100 we could only find 38 that we could actually qualify to put into the academy."
Vance does not care how far his officers need to travel to make roll call as long as they are qualified, quality individuals fit for the job to serve and protect, he said. Vance did clarify that Jackson is not devoid of talent, but that he still needs a wider pool of applicants.
The council got hung up on discussion about the ethics of having people work in Jackson without being required to live here and the message that sends about the City's standards for itself as it rebuilds.
Ward 4 Councilman De'Keither Stamps persistently advocated for all city officials to live in Jackson, defending his stance as an original author of the residency requirement. He wants to see city officials living, working and paying taxes in Jackson.
When Stamps questioned if the residency requirement was being enforced at all, neither the mayor nor the police chief could confirm that it was.
"It seems as though it doesn't matter what we pass," Stamps said. " Because it's not being enforced. What's on the books is not being enforced. You can't pick and choose what rules you want to follow. We are a nation of laws."
Stamps said it would be better to make Jackson an institution that professionals want to work for and live in rather than pushing more legislation that may or may not be enforced.
But then Chief Vance re-approached the podium with a new tone. His candor, both convincing and passionate, shifted the conversation from residency requirements to safety. Vance said he has already had to move 29 people out of headquarters and put them into patrol because of an officer shortage.
"We're facing not being able to put enough bodies in the patrol cars," Vance said, specifying that patrol cars are the ones that come when people call the police.
"Because if somebody gets hurt out there because they don't have backup, because we don't have enough people assigned to patrol, that's an even larger problem, with all due respect, than where they live," he added. "Or they've got to take a deadly force action against somebody because they don't have enough backup to come and help them. That's a bigger problem than where they live."
Vance finished by underscoring that he is "stuck on safety" because people's lives are at stake, and that residency is not a comparable issue when it comes to safety.
With the exception of Stamps, the council agreed, and the amendment passed 5-1, with Charles Tillman of Ward 5 absent. During the initial vote, the amended residency requirement required police officers, firefighters and at-will employees making under $40,000 to live within a 20-mile radius of Jackson. But late in the meeting, Ward 2 Councilman Melvin Priester Jr. proposed lifting the mileage requirements altogether so they would not have to revisit the matter to add 10 or 20 miles to the radius, for instance.
That proposal passed 4-2, with Stamps and Ward 3 Councilman Kenneth Stokes voting against it.
Under previous Jackson Police Chief Shirlene Anderson, who served under Mayor Frank Melton, the council amended residency requirements for city employees, allowing them to live within 40 miles of the steps of city hall. But then, as Stamps mentioned, the council changed the code as a way to get city workers living and working in Jackson again.
A June 2014 version of the city code reflects that all "new and prospective employees of the city" are required to live in Jackson, with a six-month grace period to move into the city granted to new hires living outside city limits.
However, Tuesday's amendment would make certain that employees of the fire department, police department and those working at-will are exempt from that residency requirement. Stamps mentioned that the Jackson residency ordinance was something he worked on during the late Mayor Chokwe Lumumba's tenure, but the current mayor defended the city council's new action as a necessary step.
"I will acknowledge that my father had great interest in a residency ordinance," Mayor Chokwe Antar Lumumba said at the meeting. "But at the same time, I would recognize the challenges that have arisen based on the ordinance. So, I think we have to strike the problem now."
The mayor closed with promises to explore new procedures to ensure that the residency requirement is actually enforced.
Email city reporter Ko Bragg at [email protected].